Suggest correction - #8585 - 2022-02-25
Show #8585 - Friday, February 25, 2022
Christine Whelchel game 3.
Contestants
Theresa Donohoe, an inventory planning analyst from Waltham, Massachusetts
Max Fronek, a creative director from West Hollywood, California
Christine Whelchel, a piano teacher and church organist from Spring Hill, Tennessee (2-day champion whose cash winnings total $44,600)
Jeopardy! Round
THE DISNEY LADY SINGS
(Ken: You'll have to give us the movie.)

LAST LINE OF A SHAKESPEARE ACT

The Hawkeyes' home is this 2-word town

It hit an all-time high in August 2020, when it was trading at more than $2,000 an ounce

"Belle", performed by Paige O'Hara

In 2021 a staffing shortage at these places led to a wider labor shortfall as parents of babies & toddlers had to stay home

In addition to a shade of red, it can refer to a holy man, a bird or a number

Act II of this play ends, "My Regan counsels well; come out o' the storm"

This Illinois city was originally called West Urbana; here's to it, so say we all!

In 2011 trading ended in these "bellies", a symbol in pop culture of Chicago's arcane commodities trading world

"Someday My Prince Will Come", performed by Adriana Caselotti

It's when you tend to you; goop.com ran a piece on it "For the Cubicle-Bound"

This 3-letter word follows "golden" in a lustrous type of paper

This title character declares, "He shall have every day a several greeting, or I'll unpeople Egypt"

They're the westernmost & the easternmost Big Ten Schools; the westerners are 5-0 in the football rivalry

NG on your ticker stands for this, a nonrenewable hydrocarbon

"How Far I'll Go", performed by Auli'i Cravalho

Respite care gives short-term relief to primary these, a word that begins with "care"

Aubergine means eggplant or something of this color

Act I of this play concludes with, "The motion's good indeed and be it so, Petruchio, I shall be your Ben Venuto"

Named for an explorer, this Big Ten capital city is at the junction of the Olentangy & Scioto rivers

Brazil is the leading producer of these legumes, a top commodity that's exported to China

"Once Upon A Dream", performed by Mary Costa

Opened by emergency physicians starting in the 1970s, in the U.S. these clinics now number more than 10,000

Also the name of a big brown potato variety, this 6-letter word refers to a brownish color

Fortinbras ends act V & this play with "Go, bid the soldiers shoot"

Home to a Big Ten school, this state capital was named for a president who died in the year of its founding, 1836

On the periodic table Hg stands for mercury, but in commodities HG stands for this, a good conductor of electricity

"When Will My Life Begin?", performed by Mandy Moore

An HMO is a type of MCO, short for this organization concerned with keeping costs down

In heraldry, this word means "silver" or simply "white" & is the color of the unicorn here

Stephano tells him, "O brave monster! Lead the way"
Scores at the first commercial break (after clue 15):
| | | |
| --- | --- | --- |
| Christine | Max | Theresa |
| $4,600 | $2,600 | $400 |
Scores at the end of the Jeopardy! Round:
| | | |
| --- | --- | --- |
| Christine | Max | Theresa |
| $3,100 | $3,400 | $600 |
Double Jeopardy! Round
THAT INVENTION IS ELECTRIC

BEFORE SHE WAS FIRST LADY

From the 200s to the 800s, the Ethiopian kingdom of Aksum dominated the southwest coast of this "colorful" sea

In may 1958 an electronics tinkerer & a doctor kept a dog's heart going with a gizmo they called tiknik & this device was born

She was the first woman to become a partner at the prestigious Rose Law Firm in Little Rock, Arkansas

A ferocious X-Man would be less cool if we knew him as "Skunk Bear", this mammal with a nasty odor

Oft spoken on this series: "The tribe has spoken"

To dig beneath, or to subvert via nefarious activity

Legend says the Shona capital of Great Zimbabwe was once the home of this biblical queen

Jack Cover read about a man who survived walking into an electric fence & as a result, police use these devices

She appeared on Broadway in "Lute Song" with Yul Brynner & Mary Martin

Indonesians call the titan arum "bunga bangkai", meaning this dead body "flower"; it can grow 6 fragrant inches a day

On "Game of Thrones", Ygritte told this character, "You know nothing"

"Mission: Impossible" often said the secretary might do this, deny knowledge of the team's actions

The Punic Wars were punitive to this North African empire, destroyed in 146 B.C.

The advocacy of John Counsell, who suffered a spinal injury in the 1942 Dieppe Raid, led to the 1st electric one in the 1950s

In Missouri, where she grew up, she was an accomplished athlete, excelling in several sports including tennis

John Goodman's Sulley gives Mike his choice of odorants

--

old dumpster, smelly garbage or wet dog

--

in this film

On "Star Trek: The Next Generation", this group warned, "Resistance is futile"

The Latin for "speak against" gives us this verb of refutation

This fabled trading city of the medieval Malian Empire was home to 25,000 Islamic scholars

In 1859 Gaston Planté developed "the accumulator", a world-changing one of these found in many cars today

Prior to her marriage she was a teacher & school librarian in Texas

That rotten egg smell can happen when sulfur, this biblical substance used to torment sinners, combines with hydrogen

This 3-word catchphrase gives audience members the chance to play on "The Price Is Right"

In electronics, it means to increase the current or voltage of something; it can also mean to make anything stronger

In ancient times, Nubia had this 4-letter name & it's an easy job to remember it

In the 1830s Joseph Henry invented this 5-letter device used in telegraphs; he used it to send lunch orders from his lab to his home

His wife, the former Lou Henry, was one of the first women in the U.S. to earn a geology degree

Ig Nobel prize-winning work showed that a malaria mosquito was drawn to the smell of this German cheese & human feet, equally

Urkel's catchphrase on "Family Matters" was this question

This word that ends with violence means to rid of misguided notions
Scores at the end of the Double Jeopardy! Round:
| | | |
| --- | --- | --- |
| Christine | Max | Theresa |
| $11,500 | $15,000 | $7,400 |
| | | |
Final Jeopardy! Round
These awards have a retro version & winners include the novel "The Sword in the Stone" & "The War of the Worlds" radio broadcast
Final scores:
| | | |
| --- | --- | --- |
| Christine | Max | Theresa |
| $15,001 | $6,999 | $14,799 |
| 3-day champion: $59,601 | 3rd place: $1,000 | 2nd place: $2,000 |
Game dynamics: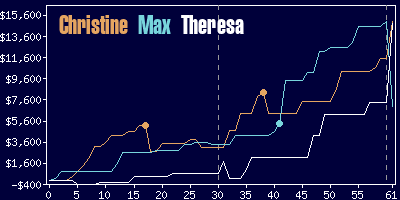 Christine
Max
Theresa
$16,000
$12,200
$7,400
20 R,
3 W
(including 2 DDs)
17 R
(including 1 DD),
1 W
9 R,
2 W