Suggest correction - #7619 - 2017-10-26
Show #7619 - Thursday, October 26, 2017
Contestants
Phil Kohn, a retired engineer from Colonia, New Jersey
Erica Irving, a web developer from Washington, D.C.
Nan Bauer, a writer from Brooklyn, Michigan (3-day champion whose cash winnings total $36,601)
Jeopardy! Round
Invented in 1930, these snack cakes only have a shelf life of 65 days

--

don't stock your zombie shelter with them

The 49th state joins the Union

It takes 640 of these units of land measure to make 1 square mile

All ages are allowed at movies rated G

--

the G is short for this

Cave canem means beware of this

Oddly, this rapper chose "Don't Stop Believin'"

The woman on the poster here was actually a metal presser, yet people still call her by this alliterative name

Aleksey Leonov takes the first space walk

At Starbucks a venti hot drink is this many ounces

Any citizen can sit in this part of the Senate & watch the action; you need to get passes from your senator's office

Meaning "for this (purpose)", this 2-word phrase often precedes committee

Tom Holland used a bit of "Singin' In The Rain" before channeling Rihanna & this hit of hers

Despite the legend, entomologists have known for years how this insect, genus Bombus, can fly

The emir of Kuwait returns after 7 months in exile

Though it sounds like a measure of time,it's a measure of distance, about 32,000 round trips from the Earth to the sun

Got $10,000? You can compete in the main event of this card competition in Las Vegas

It's time to "go on" this 2-word phrase meaning endlessly or without limit

He wore hammer pants when he competed with "U Can't Touch This"

Doing this to remove synovial fluid bubbles in your joints doesn't cause arthritis

The last ad for cigarettes airs on U.S. television

A lively dance is in the name of this measure of booze that can be the equivalent of a shot

You are too popular! You can only invite 750 people at a time for this web-based RSVP service

This means war! Especially after ante- or post-!

Craig Ferguson took a chance on blue eyeshadow & this group, lip syncing to their "Take A Chance On Me"

Despite potentially translating to "no go" in Spanish, this Chevrolet model sold fine in Latin American countries

This type of ounce used in pricing precious metals is a bit heavier than the type used for baseball bats & newborns

Any member of the World Science Fiction Society can vote for this literary award, which has led to some drama

One not "of sound mind" is non this

John Krasinski revealed his inner Tina Turner & a silver dress under his suit when he rolled down the river on this song
Scores at the first commercial break (after clue 15):
| | | |
| --- | --- | --- |
| Nan | Erica | Phil |
| $800 | $200 | $4,000 |
Scores at the end of the Jeopardy! Round:
| | | |
| --- | --- | --- |
| Nan | Erica | Phil |
| $7,800 | $1,600 | $4,400 |
Double Jeopardy! Round
AFTER DINNER
(Alex: Each correct response will begin with "D-I" and will come after "dinner" in the dictionary.)

A quarter honors his national historic site in Washington, D.C., and on the back is the man himself

The largest single optical telescope in the Southern Hemisphere is found in this country's Northern Cape Province

"The English Terence"

--

oh, & also "The Swan of Avon"

In "Game of Thrones", Daenerys has 3 dragons but rides this one whose name is one letter off from "dragon"

Guitarist Dave Navarro hosts the Spike TV tattoo competition show this "Master"

Of the 2 brothers, only Wilbur can be seen clearly in the photo on which this state's quarter was based

You don't have to be making a TV documentary to use the Discovery Channel telescope near Flagstaff in this state

This bailiwick of a bishop

While fighting aliens as part of this Marvel mutant group, Kitty Pryde finds a dragon she names Lockheed

The blog Hanzi Smatter can make sure your tattoo is accurate in this language written entirely in Hanzi characters

This Rough Rider is seen astride a horse on the 2016 quarter for the North Dakota national park named for him

Keck I and II are twin telescopes found on this huge, dormant Hawaiian volcano

In a Harry Potter book, Fleur faces a dragon after being selected for a contest by this title vessel

The safest way to remove tattoos is to break up the pigment using this device

As the victor in this battle, Oliver Hazard Perry is seen on the quarter for the Ohio memorial that bears his name

Arecibo Telescope, located on this West Indies island, discovered the first extrasolar planets

"The Poet of Nature" & "The Great Laker" (also "The Blockhead" & "The Clownish Sycophant")

This 2-terminal electrical device

As Maleficent, this actress doesn't turn into a dragon to guard Aurora

--

she delegates that job to her crow

This Old Testament book that bans a lot of things says, "Ye shall not... print any marks upon you"

Hail this Caesar who signed the Declaration of Independence on behalf of Delaware & is on the state quarter

Though in Chile, the exoplanet-searching telescope dubbed Trappist is a project of this country

"The Lady of Christ's College" (maybe for his fair complexion) & "The British Homer"

A full peasant skirt worn at Tyrolean festivals

While encountering the spirit world, Chihiro discovers Haku has become a white dragon in this Miyazaki animated film

Dotwork tattoos use this technique, from the Dutch for "dot"
Scores at the end of the Double Jeopardy! Round:
| | | |
| --- | --- | --- |
| Nan | Erica | Phil |
| $9,400 | $14,000 | $1,000 |
| | | |
Final Jeopardy! Round
An early edition of this game that debuted in 1949 says that it's "the great new Sherlock Holmes game"
Final scores:
| | | |
| --- | --- | --- |
| Nan | Erica | Phil |
| $16,600 | $18,801 | $1,000 |
| 2nd place: $2,000 | New champion: $18,801 | 3rd place: $1,000 |
Game dynamics: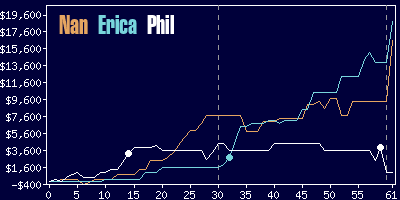 Nan
Erica
Phil
$9,400
$13,200
$3,600
19 R,
4 W
15 R
(including 1 DD),
2 W
14 R
(including 1 DD),
8 W
(including 1 DD)