Suggest correction - #732 - 1987-11-10
Show #732 - Tuesday, November 10, 1987
1987 Tournament of Champions quarterfinal game 2.
Jeopardy! Round
| | | | | | |
| --- | --- | --- | --- | --- | --- |
| | | | | | |
| "The Rome of the North" is how famed sculptor Rodin described this Czech capital | Some 1 million spectators surrounded this space center to watch the lift-off | "Call him" the narrator of "Moby Dick" | In 1962, "Mr. Hobbs Took" this | This cut is a pig's hind leg above the hock | Books about him were written by Plato & Xenophon, both students of his |
| Foreign embassies are located in Jiddah, some 500 miles from this country's capital, Riyadh | "Peaceful" site on the moon where the lunar module touched down | ABC radio commentator who tells "The Rest of the Story" | Though Diane Keaton never found the title character in this 1977 film, she found someone really nuts | A long-standing tradition in France, hippophagy is the consumption of this | This Hebrew king taxed his people into rebellion, which may not have been too wise |
| "From the halls of Montezuma to the shores of Tripoli" refers to the capitals of these two countries | Astronomic name for the booster rocket used to power the launch | Some sources say it was Carnegie Hall; others say it was the '67 Newport Festival where he first sang "Alice's Restaurant" | Of James Cagney, Henry Fonda or Jack Lemmon, the one who won an Oscar for "Mr. Roberts" | These gastropods are sometimes fed aromatic herbs to give them a special savor | The period during which he ruled is often referred to as "The Golden Age of Athens" |
| Founded in 1496 by Columbus's brother, this Dominican capitol is the oldest European city in the new world | The three crew members of Apollo 11 | In addition to her "Fairie Tale Theatre", she now has "Tall Tales and Legends" playing on cable | Of this 1939 film, the "New York Times" said "More fun even than the Senate itself!" | One of the largest edible fish, these huge flatfish can measure over 5 X 10 feet and can exceed 700 pounds | Uncle of Caligula and stepfather of Nero, this Roman emperor was poisoned by his wife, Nero's mother |
| Construction of this planned Asian capital began in 1912; the government was moved there in 1931 | While the lunar lander was code-named "Eagle", the command module was code-named this | He wrote two collections of modern fables, several fairytales, and "My World and Welcome to It" | "Mr. Pennypacker", "Mr. Scoutmaster", and "Mr. Belvedere" are some of his title characters | Used to cure many meats including bacon, it's the creosote & formaldehyde in this that help preserve things | In the 6th century B.C., he conquered Babylon and made Persia the greatest empire in the world |
Scores at the first commercial break (after clue 13):
| | | |
| --- | --- | --- |
| Richard | Frank | Michael |
| $2,600 | $1,200 | $400 |
Scores at the end of the Jeopardy! Round:
| | | |
| --- | --- | --- |
| Richard | Frank | Michael |
| $3,400 | $2,100 | $1,800 |
Double Jeopardy! Round
| | | | | | |
| --- | --- | --- | --- | --- | --- |
| | | | | | |
| A shotgun's powerful recoil is an example of his third law of motion | General whose Presidential campaign song was written by Irving Berlin | The word "pram" is short for this | The sonnet originated in this country with such poets as Guitoni D'Arretzo | It consists of two red triangles outlined in blue with white symbols of the sun and the moon | In 1952, she sprang her "Mousetrap" |
| The term horsepower came about when James Watt compared work done by a horse to work done by this | All elected Presidents who are members of this party died in office | | These funny five-line verses often end with the name of a place; or, a place in Ireland | At Lumbini, you can visit the birthplace of this "Enlightened One" | She played "Hamlet" at the age of 73 and a Vulcan high priestess in "Star Trek III" |
| If it were not for the retarding influence of this, raindrops would attain bullet-like speeds | This Iowan was the first President born west of the Mississippi | This extinct early man is known from fossils found at Chukutien | A deliberate violation of the rules of rhyming or grammar, not a little piece of paper from the DMV | This Sherpa who went to the top of the world with Edmund Hillary died in 1986 at the age of 72 | She helped her husband survive an attempted assassination & was Nureyev's partner for over fifteen years |
| Pulling the cloth off a table without disturbing the dishes is the principle of this | The last President to sport a moustache or beard while in office | As being of great price purchased with all she had, Hester Prynne named her child this | 16th century poet who perfected in "The Faerie Queene" the stanza named for him | "Wooden temple", the meaning of this city's name, refers to the 400-year old one in its central square | She starred as Cleopatra and Olivier's Juliet, long before booking "A Passage to India" |
| Term for the speed of a body in a specified direction | The "54º40' or Fight" fever over Oregon helped elect this president, the only one ever to be speaker of the U.S. House | The small cogwheel that engages a larger cogwheel | It's an echoic term for words like "hiss" that imitate an actual sound | Told to jump from 600 feet, these tough Nepalese soldiers, not knowing they'd get chutes, said 300 feet was easier | This Maori diva from New Zealand sang with Nelson Riddle and at Prince Charles's wedding |
Scores at the end of the Double Jeopardy! Round:
| | | |
| --- | --- | --- |
| Richard | Frank | Michael |
| $8,000 | $4,900 | $7,800 |
| | | |
Final Jeopardy! Round
The first verse of this book says, "There was a man in the land of Uz that feared God and eschewed evil"
Final scores:
| | | |
| --- | --- | --- |
| Richard | Frank | Michael |
| $9,900 | $4,900 | $8,600 |
| Automatic semifinalist | 3rd place: $1,000 if eliminated | 2nd place: $1,000 if eliminated |
Game dynamics: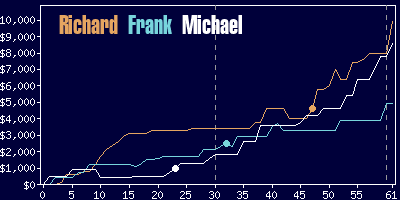 Richard
Frank
Michael
$7,600
$5,100
$7,900
21 R
(including 1 DD),
2 W
15 R,
3 W
(including 1 DD)
17 R
(including 1 DD),
1 W