Show #7918 - Wednesday, January 30, 2019
Jeopardy! Round
| | | | | | |
| --- | --- | --- | --- | --- | --- |
| HOPE YOU'VE BEEN STUDYING! | BRUSHED UP YOUR SHAKESPEARE | | | THE PRESIDENTS, OF COURSE | & EVERYTHING ELSE IN THE WORLD |
| If you practiced "chunking" groups of words, you were probably trying your hand (& eyes) at speed this | In a "seasonal" play, young Mamillius tells us, "A sad tale's best for" this season | After his win for "Wall Street", he thanked dad Kirk for helping him step out of Dad's shadow | One of the 7 deadly sins, it's excessive eating & drinking | President of more than 1.3 billion, Xi Jinping is also general secretary of this party | The Spotted Cheetah was a 2017 pop-up restaurant with dishes like chicken Milanese incorporating this Frito-Lay snack |
| If you can tell a Mindoro hornbill from a Eurasian wigeon, you've really done your homework in this -ology | This villain says, "Now, sir, be judge yourself whether I in any just term am affined to love the Moor" | He won an Oscar for his turn as Winston Churchill in "Darkest Hour" | Monarch, a word for a king or queen, is also slang for this old British coin meaning a monarch | Vicente Fox was the first president of this country since 1929 not to represent the P.R.I. party | In the 1980s, Canadian polymer company executive Steve Hartman made summer more fun by inventing this |
| Are you ready to write this in-depth treatment of a subject, from Latin for "discuss", & get your doctorate? | In "The Merry Wives of Windsor", this comic character courts both Mistress Ford & Mistress Page | Mahershala Ali won an Oscar for this 2016 film that won Best Picture...eventually | 7-letter word for a precociously talented child | In recent years Dilma Rousseff of Brazil & Cristina Kirchner of this neighboring nation left office under a cloud of scandal | During this mammal's hibernation, its heart rate slows from 75 bpm to 5 but could get faster on Feb. 2 |
| Studied Indian history? You know the 1857 revolt known as the Sepoy this type of rebellion against superior officers | These scaredy-cats "die many times before their deaths", says Julius Caesar | This lyricist named Oscar won 2, for Best Song in "Lady Be Good" & "State Fair" | The probably course & outcome of a disease | Ex-candy factory owner Petro Poroshenko leads this nation dealing with Russia & rebellion in its east | His life was quieter working in the Justice department's tax division than it was as Deputy Attorney General in 2018 |
| If you've been hanging in the library, you'll sing the praises of this enclosed private cubicle | In "Much Ado About Nothing", she & Benedick carry on a "merry war" | For 1993 Steven Spielberg's "Jurassic Park" won 3 technical Oscars & this other film of his won Best Picture | It is "a quarrel or squabble" as well as a plant of the buckwheat family "used in making pies" | Harsh policies toward drug dealers have led to condemnation for Rodrigo Duterte, president of this country | Last name of Maria & Marjorie, sisters of Osage descent who danced in different Ballets Russes in 1946 |
Scores at the first commercial break (after clue 15):
| | | |
| --- | --- | --- |
| Jill | Sean | Joan |
| $3,200 | $2,600 | $2,000 |
Scores at the end of the Jeopardy! Round:
| | | |
| --- | --- | --- |
| Jill | Sean | Joan |
| $5,200 | $11,000 | $2,400 |
Double Jeopardy! Round
SPELLEMENTS
(Alex: You have to spell the element whose symbol will be given to you in the clue.)

Crackle's "Supermansion" has this "Breaking Bad" star voice Titanium Rex, leader of the League of Freedom

AKA "Happy Valley", it's the valley where Penn State sits; its athletic teams' name provides a hint

A ceremony for naming an infant or launching a ship

Emmanuel Chabrier traveled through Spain in 1882 & titled this work after what Spaniards call their country

Lamborghini's Reventon was inspired by the F-22 Raptor, this kind of fighter designed to evade detection

On HBO Camille Preaker, a reporter played by this multi-Oscar nominee, must be careful of "Sharp Objects"

In odd-numbered years, Australia's Barossa Valley holds a festival for this, a major product of the region

An adjective in the Boy Scout law, it means not wasteful with money

Claude Debussy titled this work after the peninsula where Spain is located

The U.S. Air Force show squadron rolled off the assembly line in 1953; the popular Fords, a year later

Title last name of Christine, an Emmy-winning role for Louie Anderson

We're off to the valley in California named for this succulent

Before adapting "A Few Good Men", Aaron Sorkin said not only had he never written one of these, he'd never read one

Maurice Ravel's Basque mother gave him a fondness for Spain most famously expressed in this 1928 work

GM added "Le" to the name of the F-86 fighter jet to get the name of this Buick model

Disgraced L.A. lawyer Billy McBride has some "huge" issues to deal with on this Amazon show

Lotsa fuming fumaroles populate the Alaska region known as the Valley of Ten Thousand these

As a noun, it can be a small strip of paper; as a verb, it's slang for rocking out on your guitar

Massenet's opera about this medieval Spanish hero premiered in 1885 with "Le", not "El", in the title

To Dodge, it's a minivan; to Cessna, it's a turboprop; in the desert, it's a group of travelers

"3 things Titus Andromedon does not do" on this Netflix show

--

"apologies, drag & calculus"

Once part of Thebes, this valley was the burial site of many Egyptian pharaohs of the 18th, 19th & 20th dynasties

From the Latin for "opening a vein", it's a medical removal of blood as a therapeutic treatment

Lalo's "Symphonie Espagnole" uses the rhythm of this Cuban dance that's also a famous aria in "Carmen"

Giovanni Michelotti designed the Spitfire, a real winner in the '60s for this British car brand
Scores at the end of the Double Jeopardy! Round:
| | | |
| --- | --- | --- |
| Jill | Sean | Joan |
| $13,600 | $21,200 | $11,200 |
| | | |
Final Jeopardy! Round
One of her circle described her as "a lacy sleeve with a bottle of vitriol concealed in its folds"
Final scores:
| | | |
| --- | --- | --- |
| Jill | Sean | Joan |
| $4,799 | $15,199 | $21,300 |
| 3rd place: $1,000 | 2nd place: $2,000 | New champion: $21,300 |
Game dynamics: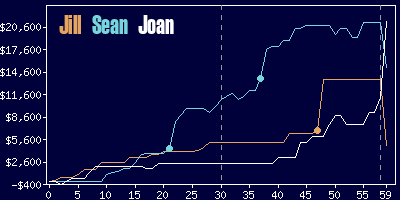 Jill
Sean
Joan
$8,000
$16,600
$11,200
14 R
(including 1 DD),
0 W
25 R
(including 2 DDs),
4 W
12 R,
3 W
Game tape date: 2018-12-04