Show #6408 - Wednesday, June 27, 2012
Jeopardy! Round
This retailer has a line for kids called Crewcuts

The knot at the bottom of the Boy Scout badge represents the Scouting slogan "do" one of these "daily"

This San Francisco landmark celebrated its 75th birthday on May 27, 2012

A well-protected building, perhaps "of solitude"

This British comic actor played bumbling inspector Jacques Clouseau in 5 "Pink Panther" movies

Zooey Deschanel wore a Prada gown to the 2012 Golden Globes, but her nails were painted like these dressy suits

Charles, Thomas, John & Abigail

Happy campers know that with a taut-line hitch, you can tighten or loosen the guyline of one of these

& a big happy Sept. 26 birthday to her, born at Sea World in 1985 & the 1st killer whale to survive being born in captivity

The list of the exact ingredients to make my secret age-reducing elixir

Sacha Baron Cohen wrote, produced & starred in this 2006 mockumentary about a journalist from Kazakhstan

Write it down

--

a very narrow straight skirt popular in the 1950s is named for this implement

2 stepkids: John & Martha

Many Scouting awards include knots; the award for a den leader of these young 'uns has a gold knot on blue

It would have been quite a party for these two people, a politician and a comic, on their October 13th birthday

It's the type of content a radio station specializes in, such as news/talk or jammin' oldies

Hill's Angels were the scantily clad women on this Brit's sketch-comedy show

Carrie on "Sex and the City" worshipped the high-end women's shoes designed by this man, real first name Manuel

Jack, Chip, Jeffrey & Amy

This practice, also done by film editors, joins 2 ropes & makes them almost as strong as the original ones

Bird lovers celebrate the April 26, 1785 birth of this man

10-letter musical direction to play very loudly

After "Monty Python's Flying Circus", he found further comic success as hotel owner Basil Fawlty

The glamour of Hollywood in the '40s inspires designing duo Mark Badgley & him

His 6 include Neil, Marvin & Dorothy

A clove hitch is useful in camping; tie a rope to your sack of food, which you'll hang high to make this alliterative "bag"

The commemoration of this former U.S. senator's June 3, 1808 birthday is a legal holiday in several southern states

An organized meeting for the discussion of a specific topic

His work on shows like "The Office" has been better received than his hosting of the 2011 & 2012 Golden Globes
Scores at the first commercial break (after clue 11):
| | | |
| --- | --- | --- |
| Jon | Anna-Lise | Tim |
| $1,000 | $1,800 | -$800 |
Scores at the end of the Jeopardy! Round:
| | | |
| --- | --- | --- |
| Jon | Anna-Lise | Tim |
| $4,600 | $6,600 | -$200 |
Double Jeopardy! Round
MY BIG FAT GREEK LIT CATEGORY

Pond scum is composed of green & brown forms of these simple organisms

The title character of this musical shows up at 17 Cherry Tree Lane, London & works her magic

It was a border of the Roman Empire, & outposts like Singidunum (now Belgrade) were built along it

A star explosion, or a PBS series

This Ancient Greek wrote, "Ulysses, noble son of Laertes, so you would state home to your own land at once?"

This beetle gets its 4-letter name from its huge jaws that resemble the antlers of a male deer

In this Lerner & Loewe show, Colonel Pickering, author of "Spoken Sanskrit", makes a dare to a colleague

The name of this Michigan waterway that meets up with the

Kalamazoo

River refers to a fight that involved 4 guys

Savasana, the dead body pose, is but one posture in this activity

His "Apology" is seen as a reliable representation of the trial of Socrates

The chickaree is also called the pine type of this rodent; it hides pine cones the way others hide nuts

The MGM Studio Chorus backs up Judy Garland on this movie musical's "The Trolley Song"

Known for her 600s B.C. lyric poetry, she was married & had a daughter named Cleis

A native of Ogden, Brent Scowcroft was this adviser to presidents Gerald Ford & George H.W. Bush

The moonflower, whose blossoms open in the evening, is a fragrant variety of this a.m. flower

The original London soundtrack of this musical features Jonathan Pryce & Lea Salonga

Until the Erie Canal opened, this 981-mile tributary of the Mississippi was the main route west for goods & people

As an adjective, it means stylish; as a noun, it's a prestigious award

Shakespeare used Sir Thomas North's translation of this Greek's "Lives" for some material in his plays

This Beaver-born tinkerer is sometimes considered the inventor of television

There are 3 species of this bird with "wing" it its name: Bohemian, Japanese & cedar

For this 2002 musical, Twyla Tharp used 28 Billy Joel songs

Many Civil War battles had 1 name from a river & 1 from a settlement, as in Stones River/Murfreesboro in this state

This "beast" of a word originated in the 1930s from the Tibetan language of the Sherpas

To refute a claim that he was senile, this playwright read in court from his own play "Oedipus at Colonus"
Scores at the end of the Double Jeopardy! Round:
| | | |
| --- | --- | --- |
| Jon | Anna-Lise | Tim |
| $7,300 | $19,400 | $5,800 |
| | (lock game) | |
Final Jeopardy! Round
EARLY FILMS OF OSCAR WINNERS
The 1995, 2003 & 2006 winners for Best Actor all appeared in this 1982 teen comedy
Final scores:
| | | |
| --- | --- | --- |
| Jon | Anna-Lise | Tim |
| $11,601 | $15,400 | $5,800 |
| 2nd place: $2,000 | New champion: $15,400 | 3rd place: $1,000 |
Game dynamics: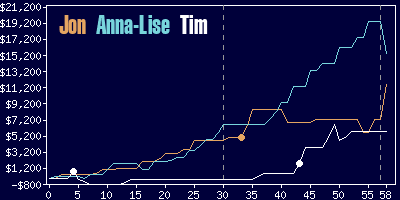 Jon
Anna-Lise
Tim
$7,400
$19,400
$6,400
14 R
(including 1 DD),
2 W
21 R,
2 W
11 R
(including 1 DD),
4 W
(including 1 DD)
Game tape date: 2012-02-15