Show #6409 - Thursday, June 28, 2012
Jeopardy! Round
This Narnia author's first published work was "Spirits in Bondage", a book of verse written as Clive Hamilton

It's the USA's No. 1 office supply superstore

On this scale, normal human body temperature is 37 degrees

When Marx & his pal Engels published this pamphlet in 1848, they made Europe see red

This idealistic solo hit by John Lennon says, "You may say I'm a dreamer, but I'm not the only one"

Under the pen name Carolyn Keene, Mildred Benson wrote novels about this young female detective

This company offers 18,000 new & redesigned cards a year, many sold in its Gold Crown stores

In 1935 Malcolm Campbell became the first man to drive over 300 mph on these Utah salt flats

As editor of Germany's Neue Rheinische Zeitung, Marx repeatedly called for war with this country

--

hmm, is that irony?

1980's "Double Fantasy" has songs about Yoko

--

"Woman"

--

& about him

--

"Beautiful Boy (Darling Boy)"

We all wear masks in life from time to time; spy out this pen name of David Cornwell

A den where a bartlett lurks

In September 1989 Toyota entered the luxury car market with this brand's ES250 & LS400 models

It was the last year that was evenly divisible by 4 but wasn't a leap year

Banished from Germany & expelled from Paris in 1849, Marx moved to this city, his home for the rest of his life

John & Yoko's favorite area of Central Park was officially named this in 1981, after a Beatles song that he wrote

Comic book writer & guru Stanley Martin Lieber is better known by this "marvel-ous" pen name

In 1992 Playskool revamped this construction set by replacing its wooden sticks & spools with plastic parts

In 1240 the city of Pisa put this math man on salary; maybe in the third year they gave him the sum of his pay in the first 2

According to Marx the creation of a classless society would be preceded by the "dictatorship of" this class

John admitted, "But now these days are gone, I'm not so self-assured" in the lyrics of this song

He wrote "A Case of Need" as Jeffery Hudson but used his own name for "Disclosure" & "Rising Sun"

The face on the torch lady who represents this film company is that of muralist Jennifer Joseph

Richard Wagner adapted a story by Heinrich Heine to create this nautical opera

This 1867 Marx masterwork has been called "the Bible of the working class"

When the phrase "pools of sorrow, waves of joy" came to John Lennon, he couldn't rest until he'd written this song
Scores at the first commercial break (after clue 15):
| | | |
| --- | --- | --- |
| Anna-Lise | Amy | Lindsay |
| $2,800 | $800 | $3,200 |
Scores at the end of the Jeopardy! Round:
| | | |
| --- | --- | --- |
| Anna-Lise | Amy | Lindsay |
| $3,200 | $1,600 | $6,200 |
Double Jeopardy! Round
STATE CAPITAL BIRTHPLACES

AFRICAN-AMERICAN ACTRESSES

Sip some Campari or Dubonnet before dinner & you're having this appetite-stimulating drink

Arthur Fiedler & Rose Kennedy

Viola Davis & Octavia Spencer won high praise for their roles as maids in this 2011 flick

Rigel, a blue supergiant, represents the foot of this hunter

This movement to appreciate cooking done with care was founded to counter the "let's grab a burger" lifestyle

The Tokyo headquarters building of this company
is supposed to look like
a glass of beer with a head

For her role in "Monster's Ball", this beauty became the first African-American woman to win the Best Actress Oscar

This dog star is the brightest star in the night sky

It's a jocular term for a righty pitcher

Several Scandinavian countries produce this strong liquor; Aalborg is a product of Denmark

James Dickey & golfer Bobby Jones

In 2008 this Tina Turner portrayer checked into the "ER" as Dr. Cate Banfield

(Kelly of the Clue Crew gives the clue.) The constellation Scorpio was originally larger, but the Romans took the stars that formed the claws & made a new constellation, this one, that's identified with justice

Someone who works with tin, as opposed to someone who works with iron, as in horseshoes

This drink with a dangerous reputation is often mixed with sugar, as seen here

Samuel Colt & Katharine Hepburn

In 1974 she won 2 Emmys for her starring role in "The Autobiography of Miss Jane Pittman"

Mizar is the middle star in its handle

A narrative poem of the century is titled "Sir Gawain and" this color knight

The OED says this 12-letter adjective meaning definitely not amazed & impressed dates back to the 1950s

Often compared to cognac, this French brandy is only distilled once, so it's not as strong

Pulitzer Prize winner William Kennedy

Loretta Devine, one of the original "Dreamgirls" on Broadway, plays Dr. Webber's wife Adele on this medical drama

A y-shaped group of 4 stars depicts a water jar in this constellation

Giovanni De'dondi made one in 1364 that included the movements of the sun, moon & 5 planets & a feast calendar

In January 2012 President Obama praised companies bringing jobs back to America, saying they were doing this
Scores at the end of the Double Jeopardy! Round:
| | | |
| --- | --- | --- |
| Anna-Lise | Amy | Lindsay |
| $7,200 | $10,400 | $8,600 |
| | | |
Final Jeopardy! Round
The title of this scandalous novel set in 1930s Paris symbolizes "the disease of civilization"
Final scores:
| | | |
| --- | --- | --- |
| Anna-Lise | Amy | Lindsay |
| $5,799 | $3,599 | $5,100 |
| 2-day champion: $21,199 | 3rd place: $1,000 | 2nd place: $2,000 |
Game dynamics: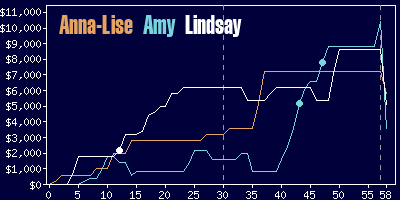 Anna-Lise
Amy
Lindsay
$7,200
$12,000
$8,200
9 R,
0 W
17 R
(including 2 DDs),
4 W
14 R
(including 1 DD),
2 W
Game tape date: 2012-02-15