Show #6310 - Friday, February 10, 2012
2012 College Championship semifinal game 3.
Jeopardy! Round
| | | | | | |
| --- | --- | --- | --- | --- | --- |
| | | | | | |
| A modified 707 used by the President in the 1960s was the first plane to be popularly known by this name | Spend a night in the hotel destroyed every April named for this type of dwelling | A flint spear point from an ancient Mexican civilization was found lodged between 2 ribs of one of these "woolly" animals | Robert Downey Jr. taps Stan Lee on the arm & says, "You look great, Hef" in this movie, first in the series | This future FBI guy learned all about cards & files while working at the Library of Congress in the 1910s | This holiday whose name is from a Swahili phrase meaning "first fruits" |
| In 1957 this satellite, No. 2, carried a dog named Laika into space | He was 11 days shy of 90 when he announced his retirement from the Supreme Court in 2010 | 2 major deities of the Zapotecs of Mexico: Coquihani, the god of light, & Cocijo, the god of this weather phenomenon | Supporting characters in this 2011 film include Sif, Frigga, Heimdall & a few Frost Giants | As an assistant librarian at Peking University in 1919, he read up on Communist theory | This company whose brands include Miracle Whip |
| The Battle of Trafalgar is commemorated aboard the Victory, the restored flagship of this admiral | Snakes have no arms or legs but can have 600 of these bones in their flexible spines | In some myths, Quetzalcoatl was identified with this planet, the Evening & Morning Star | In 2008 this character's disappearing pencil trick was a memorable moment in "The Dark Knight" | From 1855 to 1857 the library of Oxford's Christ Church College was his wonderland | This instrument heard here |
| Accidentally sunk in 1996, this research ship of Jacques Cousteau is being completely & greenly refurbished | These accessories got longer throughout the Victorian Age & reached the elbow by the 1880s | The Aztecs' main weapon, the macuahuitl, was a wooden club edged with sharp pieces of this volcanic glass | "In brightest day, in blackest night, no evil shall escape my sight" begins the oath of this hero; beware his power! | This 18th century Italian lover wrote his memoirs while working as the ubersexy librarian of a count | This condition, seen in low-carb high-protein diets, in which the body is in major fat-burning mode |
| A mortally wounded James Lawrence was referring to the USS Chesapeake when he issued this order | To combat scurvy on his voyages, Captain Cook used this briny shredded cabbage as well as lime juice | In the 15th century the Inca conquered the Chimu Empire & moved its people to this capital | James McAvoy (with hair) & Patrick Stewart (not so much) have both played this X-Men leader | Perhaps it was a pact with the devil that got this German author a 35-year gig as chief of the Weimar Library | This Hindu god, the eighth avatar of Vishnu |
Scores at the first commercial break (after clue 15):
| | | |
| --- | --- | --- |
| Matt | Zack | Connie |
| $2,200 | $3,800 | $3,200 |
Scores at the end of the Jeopardy! Round:
| | | |
| --- | --- | --- |
| Matt | Zack | Connie |
| $4,200 | $4,600 | $7,200 |
Double Jeopardy! Round
THE 54th GRAMMY AWARDS
(Alex: [*] will be on air this Sunday, and we have an entire category about nominees in the Grammys.)

The world's highest active volcanoes lie in this South American mountain range

The U.S. Military Academy has an interface where you indicate an object on a screen, then use your mouse

A temperature scale is named for this Swede who simplified Fahrenheit's scale

Between 1215 & 1225 this British document was reissued 3 times with various changes

e.e. cummings began a poem this Western bison hunter & showman is "defunct"

Lady Gaga's album with this anthemic title track is up for album of the year

Ash from a 1947 eruption of Hekla in this island country landed as far east as Finland

An Ohio school that sounds like a place you'd pick up a spare serves long, thin legumes

Czar, a male emperor of Russia, is a Slavic variation of this Roman name

Heavily outnumbered, the Greeks repelled the invading Persians on this plain in 490 B.C.

Stesichorus wrote a poem about this ancient beauty & was blinded for saying she caused a war

This band is "red hot" with a nomination for best rock album & election to the Rock & Roll Hall of Fame

You'll find Gunung Kerinci, this country's highest volcano, on Sumatra

Rick Perry's alma mater adds the name of an Indian-American movie director

Early investors get rich, later ones lose big in this scheme named for an Italian-American con man

In 1979 the Spanish government granted limited self-rule to this ethnic group from the northern part of the country

Shakespeare wrote about Adonis; Shelley portrayed Keats as this "gentle child"

Brian Setzer, nominated for "Setzer Goes Instru-Mental", long ago sang "Sexy & 17" for this "feline" band

In 1944 Allied forces in Italy had to evacuate an airfield when ash from this volcano damaged planes

The pirates of a Catholic school in New Jersey may need one to get to the bathroom during class hours

Both a horse race & a man's hat are named for Edward Stanley, 12th earl of this

Austrian statesman Prince Klemens von Metternich hosted this 1814-1815 European conference

"I 'ope you liked your drink", says this helpful Kipling character before he dies; he's "a better man than I am"

This band, basically Justin Vernon, is nominated for Best New Artist

Mount Aso on this southernmost main island of Japan is the nation's most active, with 160+ eruptions in the last 1,500 years

These break out at the home of North Carolina's Demon Deacons, horrifying Smokey the Bear

This Hawaiian nut was named in 1858 for a Scottish-born chemist

In 1956 an anti-Communist revolution took root in this country, but Soviet troops quickly ended it

Petit the poet & State's Attorney Fallas are 2 speakers in this Edgar Lee Masters "Anthology"

She's nominated for her 9th Grammy, & the song by Duck Sauce with her name as its title is nominated also
Scores at the end of the Double Jeopardy! Round:
| | | |
| --- | --- | --- |
| Matt | Zack | Connie |
| $13,200 | $11,800 | $8,800 |
| | | |
Final Jeopardy! Round
When Byzantine Emperor Justinian completed Hagia Sophia, he declared, this king, "I have surpassed thee"
Final scores:
| | | |
| --- | --- | --- |
| Matt | Zack | Connie |
| $2,799 | $4,800 | $2 |
| 2nd place: $10,000 | Finalist | 3rd place: $10,000 |
Game dynamics: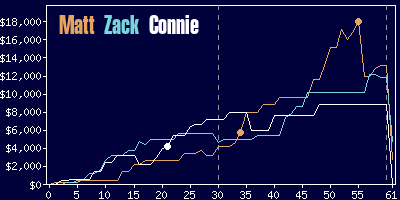 Matt
Zack
Connie
$18,600
$11,800
$8,000
21 R
(including 1 DD),
3 W
(including 1 DD)
17 R,
3 W
15 R
(including 1 DD),
2 W
Game tape date: 2012-01-06