Show #6309 - Thursday, February 9, 2012
2012 College Championship semifinal game 2.
Jeopardy! Round
| | | | | | |
| --- | --- | --- | --- | --- | --- |
| | | | | | |
| L.A. pet owners know that these creatures have moved into urban areas, like our canyons | Stay in & turn on this "Factor"; heck, it was the No. 1 British TV show 7 straight years | Legend says this wife of the Lord of Coventry horsed around to say, "Read my lips. Reduce heavy taxes" | No feeding these birds in Venice, even the carrier type; a $600 ticket can fly your way | In this mega-bestseller, Mitch Albom recounts his weekly visits with his dying college professor | If you've put a scoratorium in place, you're trying to avoid hearing what happened in one of these |
| Shawnee Indians referred to this large member of the deer family as the wapiti | Go out & catch some NHL action; this city's Blues are in town | This love god forbade his wife Psyche to see what he looked like; then put on some clothes, man! | Stopping on this 8-letter German speedway is a somewhat obvious no-no | This late first lady's "Historic Conversations on Life With" her husband was a No. 1 bestseller in 2011 | A carnevoyeur is one of these who derives pleasure from watching others eat meat |
| Found in Southeast Asia, the siamang is the largest of these smallest apes | Stay in with a DVD of this 2011 film whose title is an African-American wedding tradition | An ad campaign for this organization said, "I'd rather go naked than wear fur" | Driving topless could cost you a few hundred bahts (about $10) in this country, formerly Siam | His "A Brief History of Time" is subtitled "From the Big Bang to Black Holes" | Failing to impress a woman you're attracted to can land you in this "zone" |
| Found in tropical regions, a skink, not to be confused with a skunk, is a type of this | Go out & see Matt Bellamy & his mates in this band perform anthems like "Uprising" | The figures in this Flemish man's 1630s work "The Three Graces" are lovely & very him-esque | 2 juice drinkers in the UAE each got a $275 fine for quenching their thirst in daylight during this holy month | Sebastian Junger re-creates the final hours of a fishing boat during a devastating nor'easter in this bestseller | A "cough & call" is a technique to avoid this |
| It's the American salamander seen here; we wonder if its bark is worse than its bite | Go out & see or stay in & hear a live broadcast performance of this Garrison Keillor radio show | Writing on the destruction of the best minds of his generation, this poet also said they were "starving hysterical naked" | It could cost you to stroll around in a bathing suit in this island nation, site of a 1983 U.S. invasion | Dee Brown's classic "Indian History of the American West" is called "Bury my Heart at" this place | "When an ethnic minority makes unfounded accusations", they're pulling this from the deck |
Scores at the first commercial break (after clue 15):
| | | |
| --- | --- | --- |
| Sarah | Greer | Jaime |
| $1,400 | $800 | $5,400 |
Scores at the end of the Jeopardy! Round:
| | | |
| --- | --- | --- |
| Sarah | Greer | Jaime |
| $7,000 | $1,200 | $4,000 |
Double Jeopardy! Round
| | | | | | |
| --- | --- | --- | --- | --- | --- |
| | | | | | |
| | This 1949 play about Willy Loman won a Tony & a Pulitzer Prize for Drama | Monrovia, Liberia is at the mouth of the Mesurado River on this ocean | In Mexico, this chain serves up the cuarto de libra | In October 2011 a Highwood, Illinois festival set a world record with 30,919 of these carved gourds | This brand is a soft, nontoxic, colorful modeling compound for kids |
| The throne of this youthful king depicts him & his wife Ankhesenamun bathed in the sun's protective rays | In 1983 New York's Alvin Theatre was renamed for this playwright whose "Brighton Beach Memoirs" was playing there | This Down Under capital city bears the name of the duke who defeated Napoleon | In France, this franchise specializes in "longs sandwiches" that are "prepares sous vos yeux" | A Japanese lantern lighting ceremony is a part of this 2 week long spring festival in Washington, D.C. | From the Latin for "hinder", it means to forbid by law |
| The Palatine Chapel in Aachen, Germany contains the simple marble & bronze throne of this first Holy Roman Emperor | "Freud's Last Session", about an imagined meeting between Dr. F. & this Narnia creator, is an Off-Broadway hit | The Plaza de la Revolucion in this Caribbean capital was often the site of revolutionary speeches, including a 7-hour one | Mexican sizes for this chain's Blizzard are chico, mediano, grande y hasta un litro! | A Florence, Oregon festival features a cook-off to determine the best of these thick soups containing fish or shellfish | One of the 6 main classes of nutrients that provide energy to the body |
| The throne seen here is known as the cathedra, or chair, of this saint | Dolly Parton wrote 16 new songs for this musical that clocked in on Broadway in 2009 | This Scandinavian capital's Kon-Tiki museum houses mementos of Thor Heyerdahl's voyages | Choose "piezas de pollo que puedes pedir en receta secreta o en cruji pollo" at this fast food place | The film festival in this Colorado mining town began in 1974 with screenings at the Sheridan Opera House | Logically connected or consistent; it describes a good argument |
| You'll find the throne seen here in Deoksugung Palace in this capital city | A play starring Samuel L. Jackson takes its title from a line in Martin Luther King's last speech, "I've been to" this summit | Share the love in Muscat, this Middle Eastern country's capital | French-speaking Canadians can order a flotteur frosty a la vanille avec fresca at this old-fashioned favorite | Newton, Kansas has an annual festival in July honoring this cattle trail that ended farther north in Abilene | The fleece of an Angora goat |
Scores at the end of the Double Jeopardy! Round:
| | | |
| --- | --- | --- |
| Sarah | Greer | Jaime |
| $25,800 | $14,400 | $3,200 |
| | | |
Final Jeopardy! Round
The name of this title heroine of an 1847 poem is from the Greek for "good news"
Final scores:
| | | |
| --- | --- | --- |
| Sarah | Greer | Jaime |
| $29,300 | $2,999 | $1 |
| Finalist | 2nd place: $10,000 | 3rd place: $10,000 |
Game dynamics: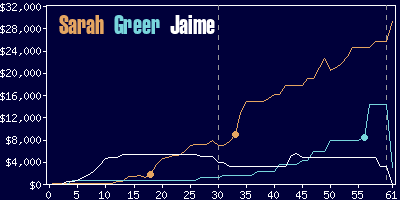 Sarah
Greer
Jaime
$22,400
$9,200
$3,200
28 R
(including 2 DDs),
3 W
10 R
(including 1 DD),
0 W
11 R,
5 W
Game tape date: 2012-01-06