Show #6207 - Tuesday, September 20, 2011
Justin Sausville game 4.
Jeopardy! Round
ONE VOWEL ONLY
(Alex Trebek: ...in each correct response.)

Use lotion to protect your skin from these rays with wavelengths shorter than 4,000 angstroms

For some 2,300 miles, this "Ol' Man River" just keeps rollin' along

It rhymes with dwindle, & your money will dwindle if you fall for one

A planet of our solar system

790,000-year-old flints from a site in Israel provide the oldest known evidence of early man's control of this

Remove dead cells from your skin via this method, from the Latin for "to strip off leaves"

This river that rises in the Rockies forms the Arizona-California border

A proverbial mistake is buying swampland in this state, maybe around Sunniland

Basketball's Mr. Nowitzki knows it's a small Scottish dagger

Moisturizer with glycolic acid helps prevent these alliteratively named results of years of chuckling

Fort Smith & Little Rock are among the cities located on its banks

Add "D" to a word for sheep's wool & you've been this, meaning taken

A twisting tool that's "thrown into" a situation to mess it up

The evolution of a large flexor pollicis muscle in this digit was key to early man's ability to use tools

"Free" these aren't out to overthrow your government; they accelerate age-related diseases, so avoid them

This river is formed by the confluence of the Tallapoosa & Coosa Rivers, north of Montgomery

This sensory word follows "soft"' to mean someone easy to take advantage of

A country in Central Africa

This alphabetically second-to-last element is an antioxidant & good for cell repair

Trenton, New Jersey lies at the head of navigation on this river

This phrase for a house that keeps needing costly repairs is also the name of a home improvement radio show

Last name of the president when the California Gold Rush began
Scores at the first commercial break (after clue 15):
| | | |
| --- | --- | --- |
| Justin | Alex | Ken |
| $1,200 | $2,800 | $2,800 |
Scores at the end of the Jeopardy! Round:
| | | |
| --- | --- | --- |
| Justin | Alex | Ken |
| $3,600 | $5,800 | $3,000 |
Double Jeopardy! Round
THIS IS A JOB FOR A HERO
(Alex Trebek: You have to name each literary hero's profession.)

Photocopy pioneer Robert Gundlach, 1926-2010, helped transform the Haloid Company into this office-equipment giant

Celtic independence on the European continent came to an end with this leader's 58 to 51 B.C. conquest of Gaul

It's Venice, Italy's main waterway

With the 1866 remodeling of offices, Andrew Johnson installed a room for this communications device

The loopy comedy "Raising Arizona" was written & directed by these brothers

Morrie Yohai, 1920-2010, "sketched" out the idea for these puffy cheese-flavored snacks

Begun more than 2,000 years ago & meaning "summer's end", Samhain was a Celtic festival that has evolved into this holiday

Titles in this mega-selling video game series include "Vice City" & "Chinatown Wars"

Once a stable, the Rose Garden lies in the ell of this part of the White House, also the name of a TV show

"In Living Color" featured siblings Kim, Marlon, Damon, Shawn & Keenen Ivory of this family

"Piper Bill" Millin, 1922-2010, played "Hieland Laddie" while under heavy gunfire on Sword Beach on this day in 1944

Irish, a form of this language, is one of the only Celtic languages to receive full state recognition & support

In bridge, it's when you take all 13 tricks

This distinctively shaped room was designed by Nathan C. Wyeth at the order of President Taft in 1909

The real first names of this comedy troupe were Julius, Leonard, Milton, Adolph & Herbert

Composer Milton Babbitt, 1916-2011, received a 1986 "Genius Grant" from this American foundation

Celts were divided into social classes such as warriors, commoners & this priestly class, performers of religious rituals

Used for flood control & power production, it's been called the "8th Wonder of the World"

On June 2, 1886 Grover Cleveland married Frances Folsom in this "colorful" room

The dark comedy "Grosse Pointe Blank" starred this actor as an assassin & this sister of his as his office manager

Professor Nicolae Popescu, 1937-2010, made many contributions to this branch of math with an Arabic name

Celtic folklore told of this "woman of the fairies" whose mournful wails & screams foretold death

How sweet the sound of this composition by Ferde Grofe

The White House's general manager is the chief this, from the time when his chief duty was escorting visitors to the president

Last name of writers & siblings Amy & David, who collaborated on the play "The Book of Liz"
Scores at the end of the Double Jeopardy! Round:
| | | |
| --- | --- | --- |
| Justin | Alex | Ken |
| $16,600 | $12,200 | $10,000 |
| | | |
Final Jeopardy! Round
Name shared by a popular world sport & a member of the Gryllidae family
Final scores:
| | | |
| --- | --- | --- |
| Justin | Alex | Ken |
| $24,401 | $15,601 | $16,801 |
| 4-day champion: $101,201 | 3rd place: $1,000 | 2nd place: $2,000 |
Game dynamics: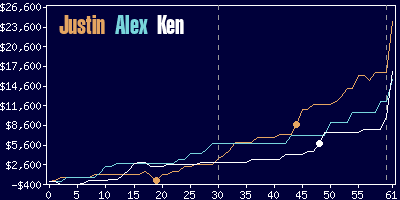 Justin
Alex
Ken
$16,400
$12,200
$9,800
22 R
(including 2 DDs),
3 W
12 R,
0 W
16 R
(including 1 DD),
2 W
Game tape date: 2011-08-02