Show #6206 - Monday, September 19, 2011
Justin Sausville game 3.
First game of Season 28.
New title graphics.
First show closed captioning sponsor message aired at end of second break rather than before Final Jeopardy!
Alex limps onstage wearing a boot for his Achilles tendon injury, and conducts contestant interviews from behind his own host's lectern.
Jeopardy! Round
WHO'S BIBLICALLY SPEAKING?

NOBEL PRIZE CATEGORIES BY WINNER
(Alex: We'll give you the winner.)

(Alex: In honor of our 28th season...)
28 IS GREAT

FROM "B" TO "Y"
(Alex: Each correct response will begin with the letter B and end in a "Y".)

FRIENDS WITH BENEFITS
(Alex: But be careful with this one. Uh, I don't think it's what you think it is.)

"I indeed baptize you with water; but one mightier than I cometh"

Setting sail for the Paris Peace Conference in December 1918, he became the first sitting president to cross the Atlantic

In September 1984 "Jeopardy!" began its run & P.W. Botha began a more modest 6 years as pres. of this country

Chapter 7 of this federal code provides for liquidation

Tim McGraw & Faith Hill spearheaded the 2010 concert called this Tennessee city "Rising", a benefit for flood victims

"Ye shall not surely die... ye shall be as gods, knowing good and evil"

Sir Alexander Fleming,
1945

In 1855, when he was 21, he moved to Paris to study art; that painting of his mother would come later

This literary character spent 28 years marooned on a desert island

In a theater, the mezzanine is the lowest one

Annie Lennox joined David Bowie & the surviving members of Queen on "Under Pressure" at a 1992 AIDS benefit & tribute to this man

"Art thou the King of the Jews?"

Familiar with France from experimenting there, in 1779 he became our first ambassador to France

The Z28 Camaro is a classic muscle car from this automaker

All hail the grain of this plant, used in making beer

The Rolling Stones brought their pals to this Canadian city for a 2003 benefit to help it recover from a SARS outbreak

"Ye shall return unto the land of your possession, and enjoy it, which Moses... gave you on this side Jordan"

He was studying at the Sorbonne in Paris when he published "The Naked and the Dead"

Seen here is one of the 28 hurdles that are part of this track event

The temperature is so mild & pleasant, it's downright this 5-letter adjective

"My friend... told me that he wanted help before" this country "died", George Harrison sang in 1971; he had a benefit for it

"Hail, thou that art highly favoured, the Lord is with thee: blessed art thou among women"

Sadly, this dancer's 2 children drowned in the Seine years before that scarf cut her own life short

This great king succeeded his brother Ethelred in 871 & reigned in Wessex for 28 years

A tongue twister mentions rubber bumpers on this 2-word conveyance (both words fit the category)

Many rockin' friends have joined this guy with a heart of gold at his annual Bridge School Benefits
Scores at the first commercial break (after clue 15):
| | | |
| --- | --- | --- |
| Justin | Glenn | Jane |
| $2,200 | $4,200 | $600 |
Scores at the end of the Jeopardy! Round:
| | | |
| --- | --- | --- |
| Justin | Glenn | Jane |
| $5,600 | $5,600 | $2,800 |
Double Jeopardy! Round
(Alex: In honor of National Hispanic-American Month...)
HISPANIC-AMERICAN FIRSTS

FRIENDS WITH BENEFITS
(Alex: And once again, [*]. But be careful.)

The origin of "smart as" this referred to the pain caused by its lash

Revealed in "Goldmember", the real name of this twin is Dougie Powers

He's the first labor leader & the first Hispanic American to be honored with a public legal holiday

Steve is a big fan of this federal insurance program that began covering those over 65 back in '65

Haile Selassie:
1930 to 1974

This phrase meaning "to admit defeat" comes from boxing, where a trainer does it to stop the fight

In 1950 a U.S. F-80 shot down a Soviet-made MiG-15 in the first dogfight between 2 aircraft propelled by this engine type

Under this 1997 title alias, FBI agent Johnny Depp infiltrates the mob

In 1982 Richard Cavazos became the first Hispanic American with this many stars as a full general in the Army

Eric could use a new health plan; he's got a $50,000 this, the amount he pays out of pocket before insurance kicks in

John III Sobieski:
1674 to 1696

A Thomas Gray poem says, "Where" this "is bliss, 'tis folly to be wise"

In an early dogfight, British ace Lanoe Hawker was outdueled & killed by this notorious German

Prior to volunteering for experimental research, he was Steve Rogers; now we know him as this

In 1973 this late Pittsburgh Pirate became the first Hispanic American inducted into the Baseball Hall of Fame

Jennifer loves this as a type of trim on her clothes & as a type of benefit, like her free company gym

This 2-word term for first prize comes from what serves as the badge of Britain's Order of the Garter

WWI ace Oswald Boelcke advised attacking pilots to keep this behind them so as to interfere with an enemy's vision

Matt Damon as this title character murders Dickie Greenleaf & assumes his identity

This onetime husband of Rosemary Clooney was the first Hispanic American to win the Oscar for Best Actor

Matt's employer lets him choose among various benefits; it's this type of plan, like his favorite eating spot

Canute IV (& later "the Holy"):
1080 to 1086

This type of victory in which the losses are ruinous is named for a cousin of Alexander the Great

In "The Usual Suspects", Verbal Kint might have been this killer

In the 1990s he was the first Hispanic Secretary of Transportation & Secretary of Energy

Shh, don't tell! Suzanne used her medical FSA, short for this, to pay for botox treatments
Scores at the end of the Double Jeopardy! Round:
| | | |
| --- | --- | --- |
| Justin | Glenn | Jane |
| $9,200 | $14,000 | $13,600 |
| | | |
Final Jeopardy! Round
In the 1840s he wrote, "I ask for, not at once no government, but at once a better government"
Final scores:
| | | |
| --- | --- | --- |
| Justin | Glenn | Jane |
| $18,399 | $799 | $3,200 |
| 3-day champion: $76,800 | 3rd place: $1,000 | 2nd place: $2,000 |
Game dynamics: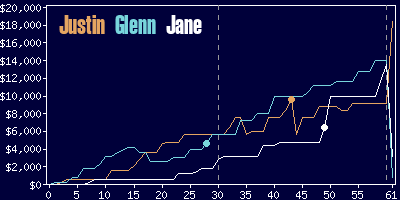 Justin
Glenn
Jane
$13,200
$13,800
$12,000
18 R,
3 W
(including 1 DD)
20 R
(including 1 DD),
2 W
13 R
(including 1 DD),
0 W
Game tape date: 2011-08-02