Suggest correction - #5132 - 2006-12-26
Show #5132 - Tuesday, December 26, 2006
Contestants
Jocelyn Beer, an attorney from Washington, D.C.
Robert Alden, a middle school math teacher from Ames, Iowa
Glenn Woertz, a home inspector and minister from Alpine, New Jersey (1-day champion whose cash winnings total $27,800)
Jeopardy! Round
| | | | | | |
| --- | --- | --- | --- | --- | --- |
| | | | ANAGRAMMED CABINET DEPARTMENTS | | |
| | The AP's Alexander Zemlianichenko won a Pulitzer for his 1996 photo of this Russian president dancing at a rock concert | A well-marbled steak is streaked with this substance | | Performers who have played this boss of Bond include Bernard Lee, Robert Brown, & most recently, Judi Dench | |
| It's the University of Colorado Campus founded in 1876, & we hear that its parties really "rock" | This photographer famous for her Rolling Stone covers has been called the "portraitist of the rock generation" | The government grades for beef include Select, Choice & this highest one | | Ian Fleming's 6th novel, this story about a fanatical "physician" bent on world domination was the 1st Bond film released | Frank Sinatra was often described as this type of smooth-singing balladeer |
| | This American-born Dadaist was known for his "cameraless" pictures, which he called rayographs | This "steak", a seasoned & broiled hamburger patty, is named for an American doctor, not a British city | | Call him Blond, James Blond; this star of 2006's "Casino Royale" is the first blond actor to play 007 | In this billiards game, players have 15 red balls to shoot as well as 6 balls of other colors |
| If you know what this state's name means, you'll know that the "C" on its flag is this color | This Californian's books include "My Camera in the National Parks" & "Parmelian Prints of the High Sierras" | The cut of beef between the neck & shoulder blade has this masculine name | | A Bond girl in "Die Another Day", she won an Oscar for "Monster's Ball" | It's the scientific study of animals |
| The "Springs" in this city's name could be changed to "Strings, as it hosts the Strings in the Mountains Music Festival | Best known as a writer of children's stories, he was also a fine photographer; Alice Liddell was a subject | As its name indicates, Steak au Poivre is covered with this before cooking | | Author Ian Fleming wrote that James Bond looked a lot like this composer of "Stardust' | This slang word meaning "scat!" or "leave quickly" comes from the Spanish for "let us go" |
Scores at the first commercial break (after clue 16):
| | | |
| --- | --- | --- |
| Glenn | Robert | Jocelyn |
| $3,400 | $2,000 | $2,200 |
Scores at the end of the Jeopardy! Round:
| | | |
| --- | --- | --- |
| Glenn | Robert | Jocelyn |
| $3,000 | $7,400 | $3,600 |
Double Jeopardy! Round
To help the baby's nervous system develop, pregnant women need lots of the B vitamin known as this acid

Many of the tracks on his 1977 release "Moody Blue" were recorded at Graceland

This children's classic begins, "Chug, chug, chug. Puff, puff, puff"

Sportswriter Shirley Povich was this talk-show host's dad (& he wouldn't stop you from calling him Shirley)

Influential Archduke Matthias went on to achieve this Imperial title in 1612 following his brother's death

This term first appeared in print in 1971 & refers to the many electronics firms in Santa Clara County, California

Seen here is one of the original tubes used by Roentgen at the time of his discovery of these

"Grease" was second only to this Bee Gees release as the top soundtrack LP of the 1970s

Antione de Saint-Exupery illustrated this fable about a boy visitor from another planet

This actress has played a vice president, a chief justice, Homer Simpson's mom & Cruella de Vil

Despite his epilepsy, Archduke Charles ably led Austrian forces to victory over this man in May 1809

The reindeer-herding Nenets came up with this term for the hooded jacket they invented

De Quervain disease, affecting a tendon at this joint, is found in those with repetitive jobs, as on assembly lines

This rocker "comes alive" in a 1976 LP that included 2 Top 10 hits: "Show Me The Way" & "Do You Feel Like We Do"

In this 1935 novel Laura & her family leave the big woods & go west in a covered wagon

His "Trees" first appeared in Poetry Magazine in 1913

In 1599 Archduke Albert married Isabella, the Infanta of this country, & together they ruled Belgium

This phrase referring to rich or important people came from the part of the loaf given to honored guests

Far away from Lyme, the lone star type of this parasite carries ehrlichiosis, a bacterial infection

His 1978 album "52nd Street" was named for a NYC area famous for its jazz scene

James Frey's tale of addiction & rehab; turns out it wasn't really nonfiction

In 1910 Joyce Hall founded what would be this company; his autobiography is called "When You Care Enough"

His resume includes Austrian Archduke & (tragically) Emperor of Mexico

Anyone who pretends to hold opinions that he really doesn't share; it once was a Greek term for an actor

In 2005 a French team performed the first of these procedures

--

some fear the recipient will look just like the donor

"I Feel The Earth Move" is the first track on this 1971 Carole King album

Uncle Tom is devoted to the angelic daughter of his owner, who's called this

In 1945 he wrote "Brideshead Revisited"

--

& FYI, the "e" that starts his 1st name is pronounced "ee", not "eh"

A member of this family, Archduke Otto is heir to the Austro-Hungarian throne but renounced his claim

This plant's name is derived from the Greek for "dolphin" because a part of it resembles a dolphin
Scores at the end of the Double Jeopardy! Round:
| | | |
| --- | --- | --- |
| Glenn | Robert | Jocelyn |
| $9,000 | $24,000 | $10,800 |
| | (lock game) | |
Final Jeopardy! Round
THE STOCK MARKET
(Alex: Where you can spend your money.)
In 2006 this Milwaukee-based co. announced its new stock symbol, "HOG", at a gathering in Sturgis, S.D.
Final scores:
| | | |
| --- | --- | --- |
| Glenn | Robert | Jocelyn |
| $17,000 | $25,000 | $18,800 |
| 3rd place: $1,000 | New champion: $25,000 | 2nd place: $2,000 |
Game dynamics: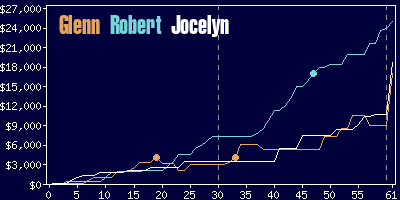 Glenn
Robert
Jocelyn
$9,200
$24,600
$10,800
14 R
(including 1 DD),
4 W
(including 1 DD)
27 R
(including 1 DD),
0 W
14 R,
0 W