Suggest correction - #2844 - 1997-01-02
Show #2844 - Thursday, January 2, 1997
Claudia Perry game 2.
Contestants
Kurt Bodden, an industrial designer from San Francisco, California
Nancy Senter, a medical administrator from Los Angeles, California
Claudia Perry, a pop music critic from San Jose, California (1-day champion whose cash winnings total $10,101)
Jeopardy! Round
| | | | | | |
| --- | --- | --- | --- | --- | --- |
| | | | | | |
| Of the 63 members the league had over the years, this was the only one expelled, for attacking Finland | This pale-color "chocolate" contains no chocolate liquor & therefore is not true chocolate | Chemist Paul Lecoq de Boisbaudran named gallium after the Latin word for this country | Her best-selling autobiography was titled "I, Tina: My Life Story" | Commander's Palace is an elegant restaurant in this Louisiana city's Garden District | In 1995 this secret agent played by Don Adams was promoted to chief of CONTROL |
| After Italy invaded Ethiopia in 1935, this emperor made a vain plea for the league's help | Chocolate-covered boysenberry squares are a specialty of this theme park in Buena Park, CA | In 1877 American astronomer Asaph Hall discovered this planet's moons, Phobos & Deimos | B.B. King joined this band on "When Love Comes To Town" on their "Rattle And Hum" album | Children can dress up in old clothes in The Dress Up Shop, part of this Mass. city's Children's Museum | Looking for the Enterprise's chief Miles O'Brien? He's been transferred to this Star Trek station |
| The committee that drafted the league's covenant included this U.S. president | Schnecken are spiral-shaped sweet rolls; their name is German for these gastropods | Astronomer Sosigenes advised this Roman on the development of the calendar named for him | This 1960s pop & country star opened a hotel in Nashville called King Of The Road | See where Johnny Weissmuller swung as Tarzan on the Lost River Voyage at Silver Springs in this state | He starred as Chief Petty Officer Otto Sharkey |
| Like the U.N., the league's administrative branch was headed by a person with this title | This "trivial" English dessert is made with sponge cake, wine, jam & custard | In 1661 Isaac Newton entered this university's Trinity College as a subsizar, a student with domestic duties | Elvis' one appearance on this WSM country music program, October 2, 1954, was considered lackluster | This Las Vegas hotel named for a Robert Louis Stevenson novel is home to Cirque Du Soleil's "Mystere" show | PBS children's game show that features the following chief: (Picture of Lynne Thigpen) |
| On September 5, 1929 Aristide Briand presented a plan to create a "United States Of" this | Mascarpone, a rich type of this dairy product, is an ingredient in tiramisu | | In 1969 this lead singer of Paul Revere & The Raiders began pursuing a solo career | Not far from Lahaina, Kaanapali Beach on this Hawaiian island is noted for its luxury resorts | This San Francisco chief of detectives was assisted by Ed Brown & Eve Whitfield |
Scores at the first commercial break (after clue 15):
| | | |
| --- | --- | --- |
| Claudia | Nancy | Kurt |
| $2,500 | $500 | $1,300 |
Scores at the end of the Jeopardy! Round:
| | | |
| --- | --- | --- |
| Claudia | Nancy | Kurt |
| $3,300 | $400 | $2,500 |
Double Jeopardy! Round
| | | | | | |
| --- | --- | --- | --- | --- | --- |
| | | | | | |
| Martha Graham's "Night Journey" tells the tragic tale of Jocasta & this "complex" man, her mate | This Italian Adriatic seaport is situated on 118 islands formed by about 180 canals | In 1876 Elisha Gray tried to file for a telephone patent just hours after this inventor | Queen Anne's Lace is a wild variety of this orange vegetable, but its woody roots aren't good to eat | Before joining the court Lewis F. Powell was president of this lawyers' group abbreviated ABA | "The Eagle Has Flown" was Jack Higgins' 1991 follow-up to this novel |
| The ballet "Apollo" features Polyhymnia, Terpsichore & Calliope, 3 of these 9 sister-goddesses | In 1788 Agha Mohammad Khan made this city the capital of Persia; it's now the capital of Iran | This "divine" actress of the French stage & screen was known to travel with & sleep in a coffin | Sugar & snap are edible podded varieties of this vegetable | | In 1992 this "One Flew Over The Cuckoo's Nest" author published "Sailor's Song", his first novel in 28 years |
| In a Michel Fokine ballet, this heroine, Daphnis' beloved, is kidnapped by pirates | In the 1960s Europoort, a large harbor area, was built in this Dutch city | At his death in 1995, this polio vaccine developer was working on another vaccine to prevent full-blown AIDS | The deodar type of this tree is straight grained but the Lebanon is usually knotty | In 1924 justice Owen J. Roberts first came to national attention as a prosecutor in this scandal | "The Great Santini" was the first novel by this "Prince of Tides" author |
| A cigarette poster depicting this Egyptian goddess inspired Ruth St. Denis to specialize in Oriental dance | The tomb of Dom Pedro I stands on the grounds of Ipiranga Park in this largest Brazilian city | This carver of Mt. Rushmore also sculpted the apostles outside NYC's cathedral of St. John the Divine | The boojum tree was named for the mysterious monster in his poem "The Hunting of the Snark" | This Vienna-born justice placed many of his former students, dubbed "Hot Dogs", in jobs in the New Deal | The movie "Get Shorty" was based on a 1990 book by this crime novelist |
| Maria Tallchief played this mythological wife in her husband George Balanchine's ballet "Orpheus" | This capital of Hong Kong lies on the northern shore of Hong Kong Island | As Chopin could tell you, it was the pen name of Amandine Aurore Lucie Dupin | Some of these bearded flowers bloom once in spring & again in late summer or fall | This future chief justice played a key role in securing the GOP nomination for Eisenhower | Published in 1996, "The Flaming Corsage" is the latest in his Albany cycle |
Scores at the end of the Double Jeopardy! Round:
| | | |
| --- | --- | --- |
| Claudia | Nancy | Kurt |
| $10,300 | $6,600 | $5,500 |
| | | |
Final Jeopardy! Round
This word is from the Old English for "the farmer who lives near you"
Final scores:
| | | |
| --- | --- | --- |
| Claudia | Nancy | Kurt |
| $13,201 | $13,100 | $11,000 |
| 2-day champion: $23,302 | 2nd place: Broyhill Home Theater & Panasonic 27-inch Color TV | 3rd place: Daniel Mink Bolero Watch |
Game dynamics: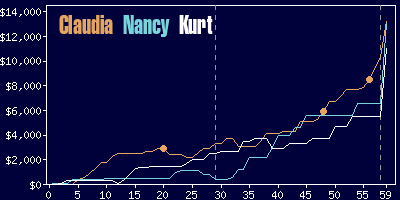 Claudia
Nancy
Kurt
$10,800
$6,600
$5,500
26 R
(including 2 DDs),
3 W
(including 1 DD)
13 R,
2 W
17 R,
2 W