Suggest correction - #6505 - 2012-12-21
Show #6505 - Friday, December 21, 2012
Contestants
Jessica Young, a recent college graduate originally from Charleston, West Virginia
Chrisanne Eastwood, a bookseller from Moorpark, California
Mike Wallace, a real estate agent from Sunnyside, New York (1-day champion whose cash winnings total $28,800)
Jeopardy! Round
The revamped main part of the library reopens tomorrow, December 22nd, which would have been this person's 100th birthday

This breed was kept by fierce Asian tribes for hunting & guarding

The Trump building at 40 Wall St.

This term for a diploma refers to the parchment from which it was once made

The NCAA has trademarked this alliterative nickname for the semifinals of its championship tournament

The second movement of his Third Symphony, the "Eroica", is a funeral march

A lifelong passion, including working with young people, is honored by having LBJ's name on the headquarters of this cabinet department

The music for this high-kicking dance of France is heard here

Republic Plaza, rising 714 feet (not a mile)

As as verb, it means to swindle

In one of college basketball's biggest upsets, Villanova beat this Patrick Ewing-led D.C. school for the 1985 men's title

His Slavonic March of 1876 was commissioned by the Russian Musical Society to support Serbs at war with Turkey

From Chinese, this piece of double talk can be a toast or casual, light chatter

The John Hancock Center at 875 N. Michigan Avenue

The New York Times reports that this nighttime method doesn't work as it's too boring to do for very long

The Lady Bears of this Texas school went 40-0 en route to winning the 2012 women's champtionship

Hector Berlioz' "Symphonie Fantastique" contains the grim "March to" this place where the hangman awaits

The library has a replica of this, which LBJ was the first to use to contact Moscow; as you can see, it wasn't a red phone

It's also called the dolphinfish

Named for an insurance company in a big insurance town, Travelers Tower

Ventriloquist Shari Lewis first appeared with this sock puppet on a 1957 episode of "Captain Kangaroo"

In the 1957 men's final, N. Carolina sent 5'11" Tommy Kearns to jump center against this 7' Kansas "stilt"

--

& won the game

Yale played this march for Edward Elgar when it gave him an honorary Ph.D. in 1905; he probably loved it

--

he wrote it

LBJ reminded world leaders that "we are one world" with copies of the photo taken from Apollo 8 with this 9-letter name

The Marriott Rivercenter at 101 Bowie St.

In "Little Boy Blue" "the sheep's" here, "the cow's in the corn"

It's said to have been inspired by a "colonel" who would whistle its distinctive 2-note phrase rather than shout "fore!"
Scores at the first commercial break (after clue 16):
| | | |
| --- | --- | --- |
| Mike | Chrisanne | Jessica |
| $1,800 | $3,600 | -$400 |
Scores at the end of the Jeopardy! Round:
| | | |
| --- | --- | --- |
| Mike | Chrisanne | Jessica |
| $6,000 | $6,000 | $600 |
Double Jeopardy! Round
SIGNATURE SONGS
(Alex: We'll give you the [*], you name the singer or the group.)

WORDS WITHIN WORDS
(Alex: Each response appears within the text of the clue.)

Dec. 25, this year:
5 months into WWI, German & British troops emerge from their trenches for a game of soccer

Hormel makes a "hot & spicy" version of this canned meat product for Guam, where folks are crazy for it

To astronomers, the presence of this type of "matter" is descerned from its gravitational pull

Grandma in Johannesburg sent my birthday check in this currency

December 25, 1776:
2,400 U.S. troops cross this river for a surprise attack

"(Sittin' on) The Dock Of The Bay"

Brought to Guam from the Philippines, Paksiw is a dish of fish cooked in this pungent acidic liquid

This principal muscle of respiration contracts when you breathe in & relaxes when you breathe out

In his "Sunflower Sutra", he wrote, "Jack Kerouac sat beside me on a busted rusty iron pole"

One of these raised at Sonoma in 1846 was lost in a conflagration in 1906

Dec. 25, 1837:
U.S. troops suffer heavy casualties fighting this Florida tribe at the Battle of Lake Okeechobee

The name of this part of a neuron comes from the Greek for "pertaining to a tree"

"I never turned anyone into a pig. Some people are pigs", Louise Gluck wrote in this enchantress' "Power"

Wheezing & fainting are distinguishing signs of an allergic reaction to this ouchie

December 25, 1939:
The Battle of Jelja commences in the "Winter War" between these 2 foes

(I'm Dr. Oz.) Replace half your sugary drink with water; sugar releases this neurotransmitter that travels along reward pathways in the brain, making you crave more sugar

Emily Dickinson wrote, "I'm" this! "Who are you? Are you" this "too?"

An irrational number can't be expressed as one of these between 2 integers

December 25, 1944: The U.S. 101st Airborne repels a German attack on this town at the heart of the "Bulge"

This "D"-man noted that the frequency of sound waves is afctby the relative motion of the source & detector

There's no danger in reheating this soup

--

microwaves use nonionizing radiation
Scores at the end of the Double Jeopardy! Round:
| | | |
| --- | --- | --- |
| Mike | Chrisanne | Jessica |
| $17,000 | $4,800 | $6,800 |
| (lock game) | | |
Final Jeopardy! Round
One of the 3 national capitals made up of 2 words that begin with the same letter
Final scores:
| | | |
| --- | --- | --- |
| Mike | Chrisanne | Jessica |
| $20,000 | $4,800 | $5,347 |
| 2-day champion: $48,800 | 3rd place: $1,000 | 2nd place: $2,000 |
Game dynamics: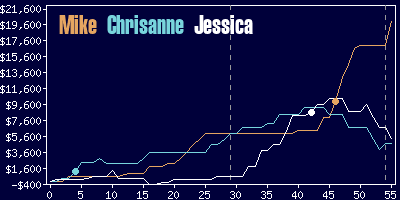 Mike
Chrisanne
Jessica
$15,200
$4,600
$7,000
17 R
(including 1 DD),
0 W
14 R
(including 1 DD),
5 W
16 R
(including 1 DD),
5 W