Alan Bailey game 2.
Jeopardy! Round responses
THE FRENCH REVOLUTION
(Alex: Guess what tomorrow is.)

PUPPETS FOR DUMMIES
(Alex: We want you to name the puppeteer most closely associated with the puppets we will mention.)

PRESENTING THE PLAYWRIGHTS

(Bill: Who is Sheree North?)

Shari Lewis



(Bill: What is Nicaragua?)

Panama



[Alex reads in an imitative voice.]

Señor Wences



(Bill: Who is Jean-Paul Sartre?)

(Samuel) Beckett


Scores at the first commercial break (after clue 15):
| | | |
| --- | --- | --- |
| Alan | Mark | Bill |
| $2,600 | $1,300 | -$100 |
Scores at the end of the Jeopardy! Round:
| | | |
| --- | --- | --- |
| Alan | Mark | Bill |
| $3,700 | $3,800 | $300 |
Double Jeopardy! Round responses
THE WORDS OF BEN FRANKLIN

2 "RY"s
(Alex: We are expecting and hoping for a correct response that will have 2 words that sound a lot alike and each word ends in the letters "RY.")

WHYS
(Alex: You have to give the reason in that one.)

(Bill: What is the yeti?)
...
(Alex: Not a match made in heaven, if you ask me.)

a monkey



a laboratory & a lavatory



why you shouldn't look at the sun



Why was the Empire State Building built to the height it was built?



(Mark: What is democracy?)

a republic



(Alan: Who is Richard Hatch?)
(Alex: No.)
(Mark: What is [*]?)

why Richard Hatch was the Survivor



the Yeti (the Abominable Snowman)



(Alan: What is experienced?)

grateful



(Alex: You'll be hearing a lot more from him in the months to come

--

Mr. [*].)

Snyder



(Bill: [After blowing a raspberry] Try saying that with a straight face.)
[Laughter]

Why was Odysseus lashed--why did he have himself lashed to the mast?


Scores at the end of the Double Jeopardy! Round:
| | | |
| --- | --- | --- |
| Alan | Mark | Bill |
| $5,700 | $8,700 | $5,700 |
| | | |
Final Jeopardy! Round responses
(Alex: "The Tin Star". At the end of the film Gary Cooper drops the star. He doesn't want to have anything to do with that town any more.)
Alan
What is High Noon?
$5,700
Bill
What is High Noon?
$3,500
Mark
What is _
$2,701
High Noon
Final scores:
| | | |
| --- | --- | --- |
| Alan | Mark | Bill |
| $11,400 | $5,999 | $9,200 |
| 2-day champion: $21,601 | 3rd place: $1000 shopping spree, courtesy of the Sony Card | 2nd place: Trip to the Lucayan on Grand Bahama Island |
Game dynamics: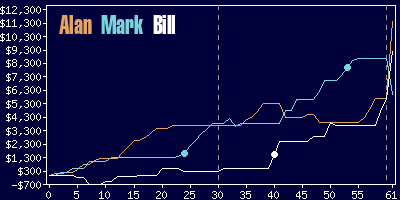 Alan
Mark
Bill
$5,700
$8,700
$5,500
21 R,
2 W
21 R
(including 2 DDs),
1 W
11 R
(including 1 DD),
4 W
Game tape date: 2001-03-21