Last game with George Stephanopoulos as guest host.
Champion's winnings & consolation amounts matched to Share Our Strength's No Kid Hungry campaign.
Jeopardy! Round responses
THE WEEKLY CONFERENCE CALL

(Lois: What is spoken?)

oral



(Lois: What is Walden Pond?)

Walden



(Josh: What is "19"?)
(Lois: What is "Hello"?)

"Rolling In The Deep"


Scores at the first commercial break (after clue 15):
| | | |
| --- | --- | --- |
| Tyler | Lois | Josh |
| $6,400 | $600 | $2,200 |
Scores at the end of the Jeopardy! Round:
| | | |
| --- | --- | --- |
| Tyler | Lois | Josh |
| $7,600 | $2,400 | $8,000 |
Double Jeopardy! Round responses
POP CULTURE BEFORE & AFTER

(George: That one made me laugh too.)

Zachary Taylor Swift



(Josh: Who is Aristotle?)

Socrates



(Josh: What is the cerebral cortex?)

the medulla



(Lois: What is Beauty and the Beast?)

American Beauty and the Beast



(Tyler: Who is Tennessee Williams?)

(Damon) Runyon



(Tyler: What is the University of Mississippi?)

the University of Alabama



(Josh: What is How Green Is My Valley Girl?)

How Green Was My Valley Girl


Scores at the end of the Double Jeopardy! Round:
| | | |
| --- | --- | --- |
| Tyler | Lois | Josh |
| $12,400 | $8,800 | $21,600 |
| | | |
Final Jeopardy! Round responses
(George: [To Lois] It's called the Mazarin Bible after a powerful minister in 17th century France.)
Lois
What was the Gut Gutenberg Bible
$8,800
Tyler
What is Don Quixote
$12,400
Josh
What is Magna Carta?
$3,205
the Gutenberg Bible
Final scores:
| | | |
| --- | --- | --- |
| Tyler | Lois | Josh |
| $0 | $17,600 | $18,395 |
| 3rd place: $1,000 | 2nd place: $2,000 | New champion: $18,395 |
Game dynamics: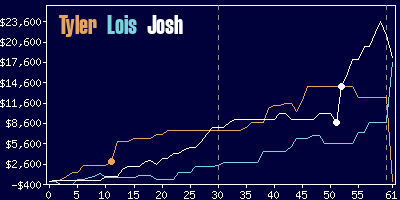 Tyler
Lois
Josh
$10,200
$8,800
$17,200
16 R
(including 1 DD),
2 W
15 R,
4 W
23 R
(including 2 DDs),
4 W
Game tape date: 2021-04-21