2019 Tournament of Champions quarterfinal game 4.
Jeopardy! Round responses
NAME & NUMBER
(Alex: We're going to need a name and a number in each correct response.)

SPANISH TO ENGLISH RHYME TIME
(Alex: The example they have given me is gato gordo. What is a fat cat?)

(Eric: What is "Reveille"?)
...
(Alex: Obviously, you haven't seen enough John Wayne movies.)
[Laughter]

"Charge"



(Alex: Yes, "broo-skeh-tuh.")

bruschetta



(Eric: What is Myrtle Beach?)

Hilton Head



(Emma: What is "Surrender"?)

"Cease Fire"



(Josh: What is the "Cattle Call"?)

"Mail Call"


Scores at the first commercial break (after clue 15):
| | | |
| --- | --- | --- |
| Josh | Eric | Emma |
| $1,800 | $1,000 | $3,800 |
Scores at the end of the Jeopardy! Round:
| | | |
| --- | --- | --- |
| Josh | Eric | Emma |
| $4,200 | $3,000 | $5,000 |
Double Jeopardy! Round responses
(Alex: Yeah, you gotta love 'em, though.)

macadamias



(Josh: What are... endocrine glands?)

sebaceous glands



The Count of Monte Cristo


Scores at the end of the Double Jeopardy! Round:
| | | |
| --- | --- | --- |
| Josh | Eric | Emma |
| $12,200 | $13,000 | $23,800 |
| | | |
Final Jeopardy! Round responses
(Alex: And the artist is one of the founders of this art movement.)
Josh
What is minimalism
$1,603
Eric
What is Art Deco?
$5,000
Emma
What is Cubism?
$0
Cubism
Final scores:
| | | |
| --- | --- | --- |
| Josh | Eric | Emma |
| $10,597 | $8,000 | $23,800 |
| 2nd place: $5,000 if eliminated | 3rd place: $5,000 if eliminated | Automatic semifinalist |
Game dynamics: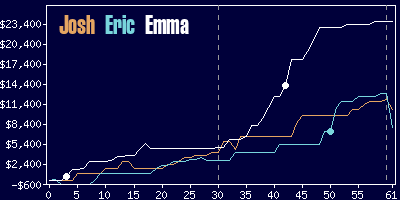 Josh
Eric
Emma
$12,200
$10,200
$20,400
16 R,
2 W
15 R
(including 1 DD),
2 W
23 R
(including 2 DDs),
1 W