Michael Rankins game 5.
Jeopardy! Round responses
the Gibb Brothers (Bee Gees)



blow the door (house) down



making a lasso (or lariat)



(Alex: We've got a minute to go.)

his spots



(Richard: What is on your face behind a horse?)
(Alex: Um... no.)

riding behind the herd



(Michael: Who are Les Ford and...)

Les Paul & Mary Ford



[The end-of-round signal sounds.]

flash



["Conga"]
…
[The song is reprised going into the break.]

Miami Sound Machine



(Richard: What is "Accidental"... the "Accidental President"?)
(Alex: We'll give it to you. We weren't clear enough as to what we were looking for in the clue.)

"His Accidency"


Scores at the first commercial break (after clue 8):
| | | |
| --- | --- | --- |
| Michael | Kristie | Richard |
| $1,600 | $0 | $1,100 |
Scores at the end of the Jeopardy! Round:
| | | |
| --- | --- | --- |
| Michael | Kristie | Richard |
| $3,700 | $800 | $2,100 |
Double Jeopardy! Round responses
(Alex: They were Siamese twins.)

separate them



(Kristie: Who are Jews?)
(MIchael: Who are women?)

the Moors



(Alex: South America was the 4th.)

Africa, Asia & Europe



(Michael: Who were the Incas?)

Mayans



(Richard: What is hearing and sight?)

hearing & touch



(Alex: We've got a minute to go.)

Ivan the Terrible



(Richard: Um...)

Claude Monet



(Kristie: What is Papa Hemingway?)

A Moveable Feast



(Michael: What is Nicaragua?)
(Richard: What is Honduras?)

Guatemala


Scores at the end of the Double Jeopardy! Round:
| | | |
| --- | --- | --- |
| Michael | Kristie | Richard |
| $10,100 | $1,900 | $3,500 |
| (lock game) | | |
Final Jeopardy! Round responses
Kristie
What is Spanish-American War?
$0
Richard
What was the Spanish-American War?
$3,450
Michael
What was the Vietnam War?
$3,001
the Spanish-American War
Final scores:
| | | |
| --- | --- | --- |
| Michael | Kristie | Richard |
| $7,099 | $1,900 | $6,950 |
| 5-day champion: $52,098 | 3rd place: Scott audio system | 2nd place: Broyhill roll-top desk & chair & Smith-Corona portable electric typewriter |
Game dynamics: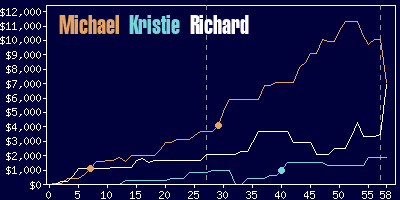 Michael
Kristie
Richard
$9,700
$2,000
$3,500
25 R
(including 2 DDs),
4 W
9 R
(including 1 DD),
2 W
15 R,
4 W