2004 Teen Tournament quarterfinal game 5.
Jeopardy! Round responses
(Alex: In honor of St. Valentine's Day tomorrow, we have...)
LOVE LINES

[Alex read "HQ'ed" as "headquartered".]

Hallmark



a roundabout (or traffic circle)



(Lauren: [*]? What are [*]?)

red blood cells



(Jason: What is "...to have never loved at all"?)
(Lauren: What is...)
...
(Alex: Jason, I'll tell you what cost you

--

the split infinitive: it's [*].)

"...never to have loved at all"


Scores at the first commercial break (after clue 15):
| | | |
| --- | --- | --- |
| Lauren | Chris | Jason |
| $1,600 | $1,200 | $2,200 |
Scores at the end of the Jeopardy! Round:
| | | |
| --- | --- | --- |
| Lauren | Chris | Jason |
| $3,400 | $4,400 | $1,800 |
Double Jeopardy! Round responses
(Chris: Open Sesame

--

what is [*]?)

Open Sesame Street



The Yellow Brick Road Runner



(Jason: What is caribou?)

seals



Hit Me Baby One More Time Machine



(Alex: Sorry, Chris, not quickly enough.)

the miller



(Lauren: What is Salem?)

Bismarck



(Lauren: What is a sea urchin?)

a starfish



(Alex: [*], yes indeed; the man who conquered Mount Everest. Well done.)

Nepal


Scores at the end of the Double Jeopardy! Round:
| | | |
| --- | --- | --- |
| Lauren | Chris | Jason |
| $9,700 | $14,000 | $5,400 |
| | | |
Final Jeopardy! Round responses
(Alex: Because it flows into the Dead Sea, it is [*].)
...
[The four wild card semifinalists are: Kerry Lambeth, Meghan Apfelbaum, Heather Goodlett and Muhammad Meigooni.]
Jason
What is the widest?
$5,400
Lauren
What is the deepest?
$5,000
Chris
What is the saltiest?
$6,000
the lowest in elevation
Final scores:
| | | |
| --- | --- | --- |
| Lauren | Chris | Jason |
| $4,700 | $8,000 | $0 |
| 2nd place: $2,500 if eliminated | Automatic semifinalist | 3rd place: $2,500 if eliminated |
Game dynamics: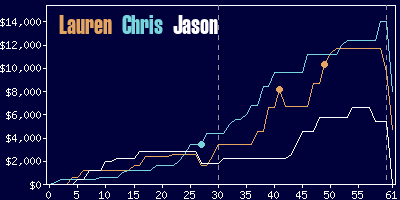 Lauren
Chris
Jason
$12,200
$13,600
$5,400
14 R
(including 1 DD),
3 W
(including 1 DD)
20 R
(including 1 DD),
0 W
11 R,
2 W