Jeopardy! Round responses
THE 5 BOOKS OF MOSES
(Alex: A theme is a-building!)

(L: What is September?)

December



(J: I can't think of it, Alex.)

Gen. Bernard Montgomery (of El-Alamein)



(D: What is Leviticus?)

Deuteronomy



(with about a minute to go...)

Paula Abdul



(L: Who is Nimitz?)
(J: Who is Bradley?)
(Alex: Both of you making the same mistake, the clue said this admiral directed JAPAN's naval operations.)

Isoroku Yamamoto



"The winter of our discontent"


Scores at the first commercial break (after clue 12):
| | | |
| --- | --- | --- |
| Jeremy | Laura | Darren |
| $0 | $400 | -$100 |
Scores at the end of the Jeopardy! Round:
| | | |
| --- | --- | --- |
| Jeremy | Laura | Darren |
| $1,100 | $2,400 | $2,000 |
Double Jeopardy! Round responses
SPELL IT OUT
(Alex: And you have to spell it out!)

[The end-of-round signal sounds.]
(Alex: Ohhh... saved by the buzzer!)

S-E-X-A-G-E-N-A-R-I-A-N



(Alex: And guess what, guys, spelling is all that remains!)

Advertising



(less than a minute to go...)

Medium



John F. Kennedy & Aristotle Onassis



(Alex: At least he would always leave the light on for you!)

The Bates Motel



(Alex: You want to go back to that category, teacher?)

E-X-T-R-A-T-E-R-R-E-S-T-R-I-A-L



(D: What is party?)

Receiver



(J: What is Burger King?)

McDonald's


Scores at the end of the Double Jeopardy! Round:
| | | |
| --- | --- | --- |
| Jeremy | Laura | Darren |
| $4,600 | $8,000 | $3,800 |
| | | |
Final Jeopardy! Round responses
Darren
What is The Supreme Court?
$3,200
Jeremy
What is the U.S. Supreme Court?
$4,600
Laura
What is the Supreme Court?
$1,201
The Supreme Court
Final scores:
| | | |
| --- | --- | --- |
| Jeremy | Laura | Darren |
| $9,200 | $9,201 | $7,000 |
| 2nd place: Trip to Loew's L'Enfant Plaza Hotel, Washington, D.C. | New champion: $9,201 | 3rd place: Panasonic DVD Player |
Game dynamics: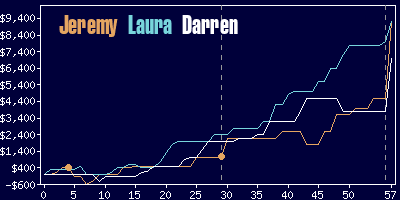 Jeremy
Laura
Darren
$4,600
$8,000
$3,800
14 R
(including 1 DD),
3 W
(including 1 DD)
20 R,
2 W
13 R,
2 W