Super Jeopardy! show #4 - Saturday, July 7, 1990
Super Jeopardy! semifinal game 1.
Jeopardy! Round
| | | | | | |
| --- | --- | --- | --- | --- | --- |
| | | | | | |
| When Houston became Texas' capital in 1842, this city kept the archives & forced a move back to it | He expected a debate but didn't expect to start a new church when he posted his "95 Theses" in 1517 | Unlike other artists of the time, Leonardo based these angel parts on the ones that birds have | In 1947 Britain's George VI dropped his title as emperor of this country | "Blow The Man Down" is an example of this type of song sailors sang while working on sailing ships | The Pilgrims used the maps & books of this founder of Virginia, but did not accept his services |
| It's named for a Maine general's daughter | Mark's gospel says this woman whom Jesus cured of seven demons was the first to see him resurrected | He was the subject of Gilbert Stuart's "Vaughn", "Landsdowne" & "Athenaeum" portraits | On May 30, 1967 it declared itself a republic & seceded from Nigeria | In 1802 Napoleon instituted this award, France's highest | This former ABC News anchor played himself in "Close Encounters of the Third Kind" & "The Candidate" |
| Listing the states alphabetically, this is the capital of the state at the top of the list | St. Monica's son, who lived a dissolute youth as he admitted in his "Confessions" | Look around Goya's works & you'll spot several bichon frises, which are these | After discovering the Philippines in March of 1521, he stayed there for about a month & was killed | The Royal Opera House in London has staged this Beethoven opera over 100 times since World War II | This New York Daily News columnist once said that gossip is "news in a red satin dress" |
| These 2 capitals both end in "-polis" | The king who had St. Thomas More put to death | "A Portrait of Dr. Gachet" by this artist sold in 1990 for $82.5 million | By 1906 British New Guinea had become a territory of Australia & was renamed this | This Scottish missionary explored the Kalahari Desert & discovered the Zambezi River in 1851 | Much of this British poet's works dealt with death including her most famous, "Not Waving, But Drowning" |
| State capital closest to Philadelphia | The king who had St. Thomas of Becket put to death | His 1863 work "Luncheon on the Grass" was based on "Concert Champetre", painted centuries earlier | This smallest Balkan country didn't become independent until the 20th century | "All The King's Men" can't bring this U.S. Poet Laureate back again; he died September 15, 1989 | She wrote over 70 one-act plays but is best known for her first novel, "A Tree Grows In Brooklyn" |
Scores at the first commercial break (after clue 16):
| | | |
| --- | --- | --- |
| Bob | Eugene | Eric |
| 5,400 | 800 | 6,000 |
Scores at the end of the Jeopardy! Round:
| | | |
| --- | --- | --- |
| Bob | Eugene | Eric |
| 6,400 | 2,600 | 6,200 |
Double Jeopardy! Round
Last name shared by musical theatre greats Moss & Lawrence

Wallace K. Harrison designed the Metropolitan Opera House as part of this NYC complex

In May 1990 Daniel Akaka became this state's new junior senator, replacing Spark Matsunaga

The people Aeneas led to Italy to found Rome were the losers in this war

The original cast album of this Broadway musical features a rose & a mask on the cover

Occuring nearly 1,500 times a year, one of these led to more than 100,000 deaths in 1923

The cathedral of Santa Maria del Fiore in Florence is called this after its massive dome

Colorado congresswoman who was an almost-ran in the 1988 presidential race

The Elder wrote natural history & the Younger, his nephew & adopted son, was known for his books of letters

The title character of this comical 1956 musical almost marries Apassionata Von Climax

In a traditional Japanese home, floors are covered with straw mats called these

At age 13 he emigrated from Finland to the United States with his architect father Eliel

William A. O'Neill has been governor of Connecticut since she resigned because of illness

Philosopher who was grossly caricatured in Aristophanes' "The Clouds"

The second-largest deer in the world, it's also called the wapiti

1-word title of the 1980 musical which featured the following:

"When the pills the doctor gave you turn your cold to the grippe /
When a stitch to save nine others comes apart with a rip /
When the rats invade your attic and start leaving your ship /
Follow my tip /
Come away on a trip /
Just join the circus..."

The first Japanese film director to become famous internationally; his films include "Rashomon" & "The Seven Samurai"

Pseudonym of Swiss architect & city planner Charles-Edouard Jeanneret

He's been an Arizona congressman since 1961 when his brother vacated the seat to join JFK's cabinet

This first Greek historian attempted to write a history of the world up to his own time

The disease mixomatosis was introduced to Australia in the 1950s to control them

Gertrude Lawrence was the "lady" in the title of this 1941 musical about psychoanalysis

The Ainu, most of whom live on this northernmost island, may have been Japan's first inhabitants

Chicagoan who has been called "The Father of the American Skyscraper"

He lost the presidential nomination to Hubert Humphrey in 1968 & ran as an independent in 1976

This Roman poet fought for Brutus before settling down to write his epodes & odes
Scores at the end of the Double Jeopardy! Round:
| | | |
| --- | --- | --- |
| Bob | Eugene | Eric |
| 24,800 | 16,100 | 10,400 |
| | | |
Final Jeopardy! Round
In area, it's the second-largest country on the second-largest continent; both begin with the letter "A"
Final scores:
| | | |
| --- | --- | --- |
| Bob | Eugene | Eric |
| 32,201 | 21,100 | 20,800 |
| Finalist | 2nd place: $10,000 | 3rd place: $10,000 |
Game dynamics: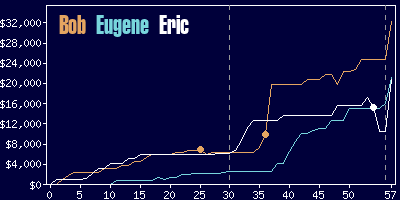 Bob
Eugene
Eric
17,900
16,100
15,200
20 R
(including 1 DD),
2 W
(including 1 DD)
16 R,
1 W
15 R,
2 W
(including 1 DD)