Show #2191 - Monday, February 28, 1994
Jeopardy! Round
EDITH HEAD
(Alex: The designer.)

In 1496 he returned to Spain, leaving his brother Bartolome in charge of Hispaniola

Edith said "The most beautifully dressed man in the world" was this actor she costumed in "To Catch a Thief"

This company's cheese brands include Casino & Cheez Whiz

Some of these on the trunk & branches of the honey locust tree may be 4 inches long

--

ouch!

Among the words this language contributed to English are kayak & igloo

Sam rode this animal on the shore

In 1521 this Spaniard died of an arrow wound received during his second trip to Florida

This actress wore an ice-blue satin dress designed by Edith when she won her Oscar for "The Country Girl"

Traditionally, Roquefort cheese is ripened in one of these; spelunkers, be careful where you step

It's the common term for the external buds on a potato

There are as many speakers of Mongolian in this country as in Mongolia

When bidding on items here, use caution

In 1609 this Englishman claimed the present-day site of Albany, N.Y. for the Dutch

This actress preferred to wear purple but Edith put her in a gray suit in "Vertigo"

The blue in blue cheese is veins of this

It's the color of the largest living rhinoceros

Dialects of this language include Brazilian & Galician

They're a smart form of transportation

In January 1519 he was beheaded in Acla on the coast of Panama under orders of rival Pedrarias Davila

Edith emphasized this beauty's 19-inch waist in the dresses she designed for "A Place in the Sun"

The cheese often called American for short is a type of this cheese

This major cotton pest will also feed on okra & hollyhocks

This language evolved in 4 phases: Ancient, Hellenistic, Byzantine & modern

In 1853, this Scot said about Africa, "I shall open up a path to the interior or perish"

Edith called this Italian actress she costumed for "The Rose Tattoo" "a human Vesuvius"

The past participle of the French for "to melt", it's the name of a dish of melted cheese

In June 1993 there were only 73 of these vultures left in the U.S., all but 6 of them in captivity

Urdu, this country's official language, is also spoken in northern India

Stephen King wrote about a Dark one
Scores at the first commercial break (after clue 15):
| | | |
| --- | --- | --- |
| David | Walter | Anne |
| $1,000 | $1,800 | $1,500 |
Scores at the end of the Jeopardy! Round:
| | | |
| --- | --- | --- |
| David | Walter | Anne |
| $2,400 | $3,000 | $2,300 |
Double Jeopardy! Round
MYTHOLOGICAL WORDS & PHRASES

On March 9, 1862, this ship had turret troubles

--

either it was hard to turn or it wouldn't stop turning

Grand Prairie in this "Lone Star State" hosts the annual World Championship of pickled quail egg eating

"Les Miserables" is a musical adaptation of an epic 1862 novel by this Frenchman

These gems have been fished from the waters off Sri Lanka's coast for 2,000 years

"Once Upon a Midnight Dreary", Edgar Allan Poe began this poem

We don't think this Roman love goddess ate insects, but a plant named for her does

When the war broke out, she was a patent office clerk; she later became "The Angel of the Battlefield"

There's a park named for Patrick Henry in this Virginia capital

This Shakespeare play opens aboard ship during a storm at sea

In Spanish this gem is called Esmeralda

Edwin Arlington Robinson began his Arthurian trilogy with a poem about this magician

Fiercely loyal, pitiless people are called Myrmidons after Achilles' brutal followers during this war

It's said that southern ladies' silk dresses were used to build one of these launched by the Confederacy

If you're hooked on fishing, head for Racine, home of this state's annual Salmon-a-Rama

Deborah Kerr played the title role in a 1977 revival of this playwright's "Candida"

Prehistoric DNA has actually been extracted from creatures fossilized in this

In "The Vision of Sir Launfal", James Russell Lowell asked, "What is so rare as a day in" this month

A free-swimming jellyfish, or the Gorgon whose "hair" its tentacles resemble

Put on top of the U.S. Capitol during the war, Jefferson Davis had a hand in its design

You'll find this state's railway museum in French Lick

This playwright won his first Pulitzer Prize in 1987, for "Fences"

Fergus County in this "Treasure State" produces some flawless sapphires

In 1757 this poet famous for his "Elegy" was offered the laureateship of England, but turned it down

This word for a soft, gentle breeze comes from the name of the god of the west wind

Gen. McClellan was told by this new Secretary of War, "Now we two will save the country"

A paddlewheeler called the Spirit of Ethan Allen provides sightseeing cruises in this state

Jason Robards is noted for his performances in this man's plays, including "Hughie" & "The Iceman Cometh"

St. John's Island in the Red Sea has produced the finest of these olive-green gems since at least 70 A.D.

It's the longest poem in Walt Whitman's collection "Leaves of Grass"

A type of mirror bears the name of this maiden who was beloved by Cupid
Scores at the end of the Double Jeopardy! Round:
| | | |
| --- | --- | --- |
| David | Walter | Anne |
| $9,800 | $9,000 | $3,300 |
| | | |
Final Jeopardy! Round
Real name of the American jazz musician whose compositions include "Ornithology"
Final scores:
| | | |
| --- | --- | --- |
| David | Walter | Anne |
| $18,001 | $11,300 | $3,300 |
| 3-day champion: $33,002 | 2nd place: trip to Poconos in Pennsylvania | 3rd place: Go Video dual-deck VCR + Wheel of Fortune & Jeopardy! games for the Super Nintendo & Sega Genesis |
Game dynamics: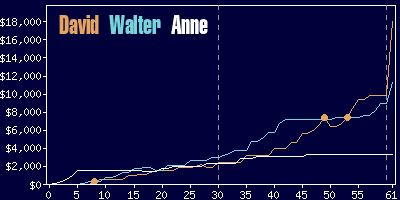 David
Walter
Anne
$10,800
$9,000
$3,300
23 R
(including 2 DDs),
2 W
(including 1 DD)
22 R,
1 W
11 R,
1 W
Game tape date: 1993-12-01