Show #2069 - Thursday, September 9, 1993
Brian Moore game 3.
Jeopardy! Round
SPELL THAT NAME
(Alex: Yes, the dreaded spelling category early on in our tenth season.)

Its scientific name is Mantis religiosa

In 1955 this creator of Mickey Mouse was a recipient of the Audubon Medal for Conservation

George B. Hansburg invented this stick in 1918; we wonder if the B. in his name stands for bounce

In the 19th c. Schenectady in this state was nicknamed "The City that Lights and Hauls the World"

A bad dancer is said to have 2 of these

Ex-Partridge Susan, who became an "L.A. Law"yer

Unlike most other sockeyes, the kokanee type of this fish lives entirely in fresh water

In 1961 the Nat'l Geographic Society's Special Gold Medal was given to this undersea explorer

In 1972 Nina Kuscsik became the first woman to officially win this in Boston

Loretta Lynn, Ernest Tubb & Conway Twitty have stores named for them in this capital city

Pierre Beauchamps codified the positions of the feet in this type of dance

Ms. Garr, who played "Mr. Mom"'s Mrs.

A metalmark, whose wing markings look metallic, is this kind of insect

France's Order of Liberation was founded in 1940 by this general

The first of these balls used in Scotland were small round leather bags stuffed with feathers

Ca'd'zan, John Ringling's winter home in this state, was inspired by the Doge's Palace in Venice

This ceremony is performed on Maundy Thursday

A horned toad isn't really a toad; it's one of these

The Alumni Association of Columbia College annually bestows a medal named for this first Treasury Sec'y

In 1917 Trico electrified this auto accessory

There's a statue of Ceres, the goddess of agriculture, atop Vermont's state capitol in this city

In 1939 this president said, "A radical is a man with both feet firmly planted

--

in the air"

The Tammy who taught us to spell D-I-V-O-R-C-E

The honey possum, a marsupial that feeds on nectar, is native to this continent

The Henrietta Szold Award is given by this Women's Zionist organization

Invented c. 1800 by Ralph Wedgewood, this office supply was made obsolete in offices by the Xerox machine

Lechuguilla Cave, the deepest known cave in the U.S., lies 1,601 feet underground in this SW state

Song with the line "O, be swift, my soul, to answer him! Be jubilant, my feet! Our God is marching on"

In "Double Indemnity", this Barbara was a "Ball of Fire"
Scores at the first commercial break (after clue 15):
| | | |
| --- | --- | --- |
| Brian | Don | Judith |
| $600 | $1,500 | $1,300 |
Scores at the end of the Jeopardy! Round:
| | | |
| --- | --- | --- |
| Brian | Don | Judith |
| $2,500 | $3,300 | $1,900 |
Double Jeopardy! Round
On April 3, 1862 the Senate voted 29-14 to abolish this in the District of Columbia

On May 3, 1952 CBS ran the first live telecast of this horse race

This composer played for the Austrian Empress at 6 & began working for the Archbishop of Salzburg at 13

This cat feature comes in 3 basic types: round, almond-shaped & slanted

Located at the mouth of the Gulf of California, Mazatlan is this country's largest Pacific port

"Loss of Eden" is a dual biography about this aviator & his wife Anne & their 45 years together

Named general-in-chief February 6, 1865, he convinced Davis that a pardon for deserters was necessary

"An Evening with" this dancer, which aired Oct. 17, 1958 & co-starred Barrie Chase, won 9 Emmys

Some date the birth of modern music to the May 29, 1913 premiere of his "The Rite of Spring"

This cat was so named because its coloring resembles a popular type of printed cotton

Founded in the 8th century, Fez is this country's oldest city

"Man of Steel" by Jules Archer isn't about Superman but about this late Soviet leader

As a new way to take Vicksburg, Grant tried to change the course of this major river

--

it didn't work

Ward Bond starred in this Western as well as "Wagonmaster", the 1950 film on which it was based

Dissatisfied with his opera "Fidelio", he wrote 4 overtures for it

The Cymric is essentially a long-haired version of this tailless cat

Concepcion, Encarnacion & Asuncion are among this nation's largest cities

Published in 1927, "The Girl in White Armor" is a biography of this saint

From his flagship, the Hartford, he led his fleet into Mobile Bay August 5, 1864

The theme song to this singer's musical variety program was "See The U.S.A. In Your Chevrolet"

This Hungarian composer's daughter Cosima was married to Hans von Bulow & then to Richard Wagner

The Seal-Point was the first variety of this breed to be recognized

The name of this Portuguese possession near China comes from A-Mangao, meaning "bay of the goddess A-Ma"

James Boswell's celebrated "Life of" this man was published on the 28th anniversary of their first meeting

General Albert Sidney Johnston was killed in Tennessee during this 1862 battle

This mid-1950s series featured a ghostly St. Bernard named Neil who had a penchant for brandy

In 1826, the year he entered the University of Berlin, he wrote his overture for "A Midsummer Night's Dream"

This state's coon cat is America's oldest breed

Frederick the Great built the Sans Souci Palace in this German city, site of a 1945 conference

"Sassy" is a recent biography of this female jazz singer who died in 1990
Scores at the end of the Double Jeopardy! Round:
| | | |
| --- | --- | --- |
| Brian | Don | Judith |
| $12,500 | $8,100 | $4,000 |
| | | |
Final Jeopardy! Round
This word for one who willfully destroys comes from a group that sacked Rome in 455
Final scores:
| | | |
| --- | --- | --- |
| Brian | Don | Judith |
| $16,500 | $16,100 | $8,000 |
| 3-day champion: $38,302 | 2nd place: a trip to London, England aboard Delta Airlines & week's stay at Saint James Court + Jeopardy! computerized version or home game | 3rd place: Emperor Clock Company cherry wood grandfather clock with solid brass German movement + Jeopardy! computerized version or home game |
Game dynamics: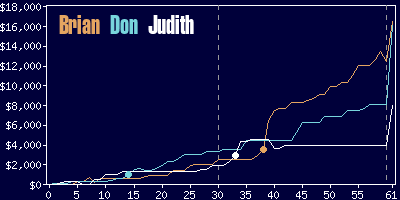 Brian
Don
Judith
$10,300
$8,100
$3,300
24 R
(including 1 DD),
2 W
21 R
(including 1 DD),
1 W
12 R
(including 1 DD),
2 W
Game tape date: 1993-07-19