Show #134 - Thursday, March 14, 1985
Paula Tupper game 3.
Jeopardy! Round
Indy cars & track stars all begin here

Tallyho, it's "Vulpes fulva" or Fred Sanford

It's how Brian Hyland sealed his letter in '62

Level of sport played by the Bad News Bears in films

Marilyn Monroe movie which sounds like a public transportation sign

The sloth bear is also known by this sticky name of his favorite food

Song that starts "Get down to that kitchen & rattle those pots & pans"

Country with the most land within the Arctic circle

French actress who played Lili, Fanny & Gigi

Bumper to bumper traffic movement

According to Everly Bros., "When I want you in the night...all I have to do" is this

Some of the seas that surround this area are the Wendell, Ross, Amundsen & Davis

He's famous for singing "Hello, Dolly!" in "Hello, Dolly!"

Jimmy Durante uttered it to halt the show

It's why Danny & the Juniors "don't care what people say"

Smallest of the central American countries, it's the only one without a Caribbean coastline

She starred in "Comes a Horseman" & "The Electric Horseman"

Position Billy Barty frequently plays on celebrity baseball teams

'59 Fleetwoods hit that begins "dahm dahm da-ahm doo dahm oo-doo-be-doo"

Cape Horn, southernmost part of South America, lies at tip of Horn Island in this country

'43 film where Bogart met Bacall

A "Supreme" effort in 1965:

"Baby baby, I'm aware of where you go / Each time you leave my door"
Scores at the first commercial break (after clue 12):
| | | |
| --- | --- | --- |
| Paula | Marty | Linden |
| $500 | $300 | $500 |
Scores at the end of the Jeopardy! Round:
| | | |
| --- | --- | --- |
| Paula | Marty | Linden |
| $1,500 | $1,700 | -$100 |
Double Jeopardy! Round
| | | | | | |
| --- | --- | --- | --- | --- | --- |
| | | | | | |
| Calendar date "which will live in infamy" | Subject of a song in "Oklahoma!", this type of carriage was 1st made in a county in England | This family of animals has brains which most resemble humans' | After owning it less than 2 weeks, this actor was killed in a '55 Porsche 550 Spider | His last published novel before his death was "You Only Live Twice" | King of Thebes who unwittingly killed his father and married his mother |
| Country to which the term "arsenal of democracy" referred | From the French for "Croatian", it's a synonym for necktie | Side of the brain which is the center for music and emotion | For more air, the Mercury Turnpike cruiser had the unique ability among sedans to lower this | This Missouri native wrote, "Never let schooling interfere with your education" | 2nd mightiest Greek warrior after Achilles & 2nd best selling cleanser in USA |
| Country not invited to '38 Munich conference which decided its fate | The earl who led the Light Brigade was said to have worn this button-front sweater | The brain stem links downward to this in humans, but not in spineless jellyfish | | 6'9" M.D. who wrote "The Andromeda Strain" & "The Terminal Man" | Hygeia was the Greek goddess of this |
| Under Hitler, Joseph Goebbels was Minister of this | From account of 7 martyred brothers in book of Maccabees, it means ghastly or gruesome | | | In 1919, he won a Pulitzer Prize for "The Magnificent Ambersons" | Roman Bacchanalia was festival dedicated to the god of this |
| Turning point in N. Africa came when Rommel's army was defeated at this Egyptian town | To refuse to patronize, from name of English land agent in Ireland who wouldn't lower rents | | | Jewish author Franz Werfel "composed" this story of a modern saint from Lourdes | Synonymous with doomsayer, this daughter of Priam, king of Troy, predicted the city's fall |
Scores at the end of the Double Jeopardy! Round:
| | | |
| --- | --- | --- |
| Paula | Marty | Linden |
| $5,100 | $5,700 | -$300 |
| | | |
Final Jeopardy! Round
Besides JFK, 1 of 4 presidents who was a Harvard graduate
Final scores:
| | | |
| --- | --- | --- |
| Paula | Marty | Linden |
| $10,199 | $8,200 | -$300 |
| 3-day champion: $22,299 | 2nd place: Heath Hero Jr. personal robot + Vitamaster portable exerciser | 3rd place: Bushnell telescope |
Game dynamics: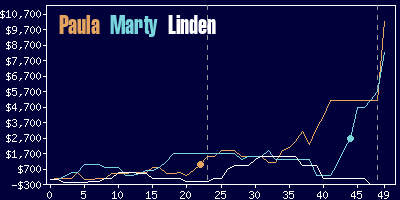 Paula
Marty
Linden
$5,100
$4,700
-$300
18 R
(including 1 DD),
6 W
16 R
(including 1 DD),
5 W
8 R,
7 W
Game tape date: 1984-12-04