Show #291 - Monday, October 21, 1985
Jeopardy! Round
She's "altared" the lives of 6 men, 7 if you count Burton twice

Alice Heine was the 1st American princess of this country, Grace Kelly, the 2nd

"Organic" usually indicates food grown without artificial forms of these

The number 33 is worn by Pat Ewing, Kareem Abdul-Jabbar, & this "high-flying" Celtic

From Latin for "to care", the director of a museum

Name of the mule who's a good old pal on the "Erie Canal"

Destroying dreams of girls born in the U.S.A., Julianne Phillips became Mrs. Boss by marrying him

During his reign, England got labor unions & lost the American colonies

The million-dollar Woodlawn Vase is the trophy for this Triple Crown race

You can't hold a candle to her London Chamber of Horrors

In "Billy Boy" the wife he seeks can bake this kind of pastry

After leaving John DeLorean in the driveway, she hitched up to ABC president Tony Thomopoulos

History knows the Mongol chieftain Temujin better by this name

This former Dodger 2nd baseman holds the record for consecutive stolen bases with 38

Of history, art, & science museums, the type that's most numerous

In "Aunt Rhody", the old gander's mournin' & the goslins are cryin' because this animal is dead

In famous 1981 weddings, it's the name Laura got marrying Luke, & Diana lost marrying Charles

House restored to the throne of France in 1814, with the crowning of Louis XVIII

Of A.J. Foyt,
Dan Gurney, &
Richard Petty,
driver with most Indy 500 wins

This billionaire's art museum is a reconstruction of a Roman villa buried by Vesuvius

In song "My Bonnie", amount of times "Bonnie" is mentioned in chorus

Maria Callas said, "I lost... weight, then... my voice, & now I've lost" this man, who wed again in 1968

In 1867, these 2 European nations became a dual monarchy under Franz Josef

The Dodgers & Giants were playing this when their broadcast was interrupted with news of Pearl Harbor

This "Museum's" board of regents includes the Chief Justice & the Vice President of the U.S.

These people lost their lives when "The Ship Titanic" went down
Scores at the first commercial break (after clue 10):
| | | |
| --- | --- | --- |
| Nina | Amy | Larry |
| $1,300 | -$300 | $0 |
Scores at the end of the Jeopardy! Round:
| | | |
| --- | --- | --- |
| Nina | Amy | Larry |
| $3,200 | $1,200 | $800 |
Double Jeopardy! Round
Hopatcong, Hackensack, & Hoboken are Indian names of places in this state

Steve Reeves & Lou Ferrigno both have played this mythical man of steel

Bradley, Sharif, or the tent maker

He became a lord at the age of 10, a poet at age 19

Alcoa, Tenn. is noted for the manufacture of this metal

General who broadcast on 6/6/44, "People of Western Europe; a landing was made this morning..."

In 1847, Choctaws raised money to aid victims of potato famine in this country

Juggler whose roles included Cuthbert J. Twillie, Egbert Souse, & Dickens' Mr. Micawber

Art craze of the '60s which turned science of optics into mechanical abstractions

"All art is quite useless" is how his introduction to "The Picture of Dorian Gray" ends

Tennessean who sold 2,000,000 copies of this record in just 9 weeks:

"Some people say a man is made outta mud / A poor man's made outta muscle and blood / Muscle and blood and skin and bones / A mind that's a-weak and a back that's strong..."

She told her troops as the armada approached, "I have the heart & stomach of a king"

A variety of salmon is named for this NW tribe, for whom it was mainstay of their diet

His 1st big part was as Brando's brother in "On the Waterfront"

It was the longest of the overland routes used in westward expansion of the U.S.

Bysshe was his grandfather's name

He wrote to one of his generals that the word impossible "is not French"

Sachem, to the Algonquins

She juggled in roles in her 1st film, "Wrong Movement", in "One from the Heart", & in "Cat People"

Most ancient Greek city-states had this form of government in which power is in the hands of the few

He originally conceived "The Rainbow" & "Women in Love" as one novel called "The Sisters"

Known for the command to his flagship captain, "You may fire when you are ready, Gridley"

In the "Hallelujah Chorus" descriptive word between "The Lord God" & "reigneth"

Shakespeare acted in this humourist's "Every Man in His Humour"

"There are no warlike people

--

just warlike leaders", said the 1st Black Nobel Peace Prize winner
Scores at the end of the Double Jeopardy! Round:
| | | |
| --- | --- | --- |
| Nina | Amy | Larry |
| $3,200 | $3,200 | $4,500 |
| | | |
Final Jeopardy! Round
State capital where Mark Twain lived 20 yrs. & wrote "Tom Sawyer", "Huck Finn", & "Life on the Miss."
Final scores:
| | | |
| --- | --- | --- |
| Nina | Amy | Larry |
| $0 | $100 | $7,500 |
| 3rd place: Spoiler recliner by Action Recliners by Lane | 2nd place: trip on Eastern to Orlando & stay at the Quality High Q | New champion: $7,500 |
Game dynamics: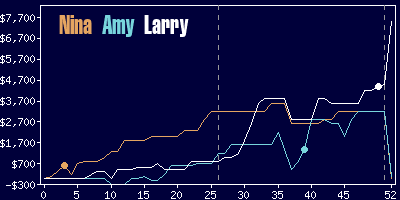 Nina
Amy
Larry
$3,600
$2,600
$4,800
15 R,
2 W
(including 1 DD)
13 R
(including 1 DD),
6 W
16 R
(including 1 DD),
4 W
Game tape date: 1985-08-05