Show #2423 - Wednesday, March 1, 1995
Missing prizes.
Contestants
Ray Harp, a credit manager from Anaheim, California

Ben Macrory, a law student originally from Washington, D.C.

Stephen Krisa, a municipal finance officer from Round Hill, Virginia (whose 1-day cash winnings total $12,801)

[next game >>]
Jeopardy! Round
MACHINE PARTS
(Alex: We will give you the parts and you identify the machine for us.)

This system that involved vassals & lords flourished in Europe from the 9th-13th centuries

Ed Asner won 5 Emmys for playing this role on 2 different series

It's the length of a senator's term

These small, pug-nosed dogs are known as Pekes for short

Germans call this day before Ash Wednesday Fastnacht, or eve of the fast

Presser foot,
spool pin,
bobbin winder

In 1800 Robert Fulton launched the submarine Nautilus in this country

On Nov. 21, 1980 it was revealed that Kristin Shepard shot him

Of the 3 branches of government, the one the vice president doesn't work in

Many Schnauzers have coats that are described as the color of these 2 seasonings

The British burn effigies of this man on the November 5 holiday named for him

Extension wand,
suction fan,
crevice tool

Established as a training camp in 1918, the U.S. depository was built there in 1936

On the premiere telecast of "Bewitched", Samantha, a witch, married this mortal

To introduce one of these in the House, first drop it in the hopper

For centuries the Bernese mountain dog has pulled wagons in the canton of Bern in this country

It's been a legal holiday in the U.S. since 1892; some folks call it Discovery Day

Drum,
exhaust duct,
lint trap

On old maps, it's the name of Taiwan

On "WKRP in Cincinnati", night disc jockey Gordon Sims used this on-air handle

The surgeon general is part of this Cabinet department

Types of this sporting dog include the Brittany, American water & Irish water

A zoologist might call it Marmota Monax Day

Push button,
refill, spring,
ball bearing

Part of this group of Woodrow Wilson demands were an independent Poland & freedom of the seas

This doctor's chief of neurosurgery at County General Hospital was Dr. David Zorba

The Constitution is divided into 7 of these

The name of this dog is probably a shortened & altered form of "Eskimo"

Vasanta Pancami, a festival of this religion, honors Sarasvati, the goddess of learning & wisdom

Temperature control,
heel rest,
steam button
Scores at the first commercial break (after clue 15):
| | | |
| --- | --- | --- |
| Stephen | Ben | Ray |
| $1,100 | $2,000 | $1,400 |
Scores at the end of the Jeopardy! Round:
| | | |
| --- | --- | --- |
| Stephen | Ben | Ray |
| $2,200 | $2,800 | $2,300 |
Double Jeopardy! Round
| | | | | | |
| --- | --- | --- | --- | --- | --- |
| | | | | | |
| In 1984 the city of Bhopal in this country was the site of one of history's worst industrial accidents | Henry Luce & Briton Hadden brought out the first issue of this newsmagazine dated March 3, 1923 | In 1950 Giacomo Manzu won a commission to create bronze doors for this Roman basilica | In 1993 Gen. John Shalikashvili replaced this man as Chairman of the Joint Chiefs of Staff | A favorite for Welsh rarebit, Lancashire is a type of this | Lynn Redgrave appeared in a 1992 Broadway revival of "The Master Builder" by this Norwegian playwright |
| Capital of Japan until 1868, it was modeled on the ancient Chinese capital of Ch'ang-an | It's the numerical name of the magazine for young women started by Walter Annenberg in 1944 | Antoine Coysevox produced much of the sculpture in this French palace & its gardens | In 31 B.C. Marcus Agrippa, in command of Octavian's fleet, beat the forces of this Roman & this Egyptian | Not surprisingly, the name of this pasta is from the Italian word for "strings" | This "Major Barbara" playwright's "Back to Methuselah" is really five plays in one |
| The Laotian port city of Louangphrabang lies on this river, 130 miles northwest of Vientiane | In 1941 authors Frederic Dannay & Manfred Lee published the first issue of this "Mystery Magazine" | Canadian artist James Wilson Morrice was the model for Cronshaw in his novel "Of Human Bondage" | He shot down his first plane April 29, 1918 & by the end of WWI was the top ace | These 2 fruit flavors account for over half the jellies sold in the U.S. | Aristotle said that this form of Greek drama evokes pity & fears which lead to catharsis |
| Jogjakarta in this country was the site of an early 19th century revolt against Dutch rule | Priscilla L. Buckley is a senior ed. of this magazine & her brother William F. Buckley Jr. is editor-at-large | Austrian painter Egon Schiele died in 1918 of this disease that swept Europe | In 1953 this American general became the first soldier to receive the Nobel Peace Prize | It's a round tart with a sweet or savory filling, or a Spanish baked custard coated with caramel | This "Endgame" author wrote "Catastrophe" in 1982 as a tribute-to Vaclav Havel who was then in prison |
| Basra is this country's principal port | In 1994, after 6 years of publication, this magazine, aimed at women over 40, folded | Camille Pissarro's work after 1884 was influenced by this pointillist's theory of optical mixture | In March 1923 he joined the Royal Tank Corps under the name T.E. Shaw | It's the Hawaiian term for hot or cold appetizers, often served on a platter | Great Russian acting teacher who explained his famous "system" in his 1936 book "an actor prepares" |
Scores at the end of the Double Jeopardy! Round:
| | | |
| --- | --- | --- |
| Stephen | Ben | Ray |
| $4,600 | $10,200 | $2,500 |
| | (lock game) | |
Final Jeopardy! Round
In the 1870s he wrote "The Molly Maguires and the Detectives" & "Criminal Reminiscences and Det. Sketches"
Final scores:
| | | |
| --- | --- | --- |
| Stephen | Ben | Ray |
| $2,499 | $9,201 | $2,500 |
| 3rd place | New champion: $9,201 | 2nd place |
Game dynamics: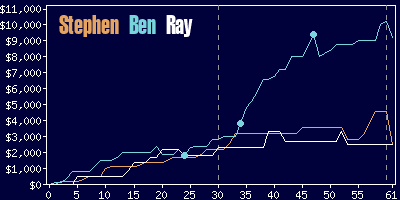 Stephen
Ben
Ray
$4,600
$11,600
$2,500
17 R,
1 W
29 R
(including 2 DDs),
3 W
(including 1 DD)
8 R,
3 W
Game tape date: 1994-11-16