Show #120 - Friday, February 22, 1985
Jeopardy! Round
| | | | | | |
| --- | --- | --- | --- | --- | --- |
| | | | | | |
| Arctic terns fly farther doing this than any other bird | Of the average shower & bath, the one that uses less water | | Once upon a time in a galaxy far, far away, she was Princess Leia | Beluga is considered the best | Some people have one "up their sleeve" or "in the hole" |
| This flightless bird has been clocked at up to 40 mph | Revolving tabletop or tray named for a lax lass | Male animal Teddy Roosevelt said he was "as strong as" | She made a big noise as "The Little Drummer Girl" | Vichyssoise's major vegetable | Radiators, felt-tipped pens & toothpaste tubes all have one of these |
| Some European homes have wicker basket platforms to attract these birds | Truckle, trundle, Murphy & now futons | Asking Congress to declare war, he said, "The world must be made safe for democracy" | Things were a little "Rocky" when she played Adrian | Ovens & the Friars Club both do it to hams | |
| | Reclining chair known by this French name, meaning "long chair" | President who survived several duels & the 1st presidential assassination attempt | Though politically outspoken, he was "The Quiet Man" | Cheese used in Mexican dishes named for the Calif. town that originated it | A baby tailor might throw a perfect one |
| | Winding stairs, or the '46 movie thriller that featured them | One of two presidents who died on July 4, 1826, the 50th anniversary of U.S. independence | Believe it or not, he dressed all in black to play the gunslinger in "Shane" | Culinary cargo that led to the mutiny on the Bounty | Marcel Marceau's silent alter ego |
Scores at the first commercial break (after clue 10):
| | | |
| --- | --- | --- |
| Mark | Tru | Michael |
| $400 | -$200 | $1,400 |
Scores at the end of the Jeopardy! Round:
| | | |
| --- | --- | --- |
| Mark | Tru | Michael |
| $800 | -$500 | $2,600 |
Double Jeopardy! Round
The Hilton Hotel in this Nevada city claims to be world's largest with over 3,000 rooms

Country in which opera began

Big 3 automaker that makes Delco parts

His fans are known as "Arnie's Army"

Based on Lynn Riggs' "Green Grow the Lilacs", it was Rodgers and Hammerstein's 1st musical

"Jovial" name for the skull & crossbones

Over 720 bridges, more than any other U.S. city, are in this "steel city"

Known as "The New Caruso", this Italian lyric tenor never attends operas he isn't in

The VW Bug & Chevy Corvair used this as an engine coolant

The surface players play on at Wimbledon

Lady Windermere "stirred things up" with this fashion accessory

Flag known as the Stars & Bars

In 1822, the 1st fireproof building was built in this South Carolina city

Country in which this opera takes place and language in which it is sung:

"Ah ! Près des remparts de Séville /
Chez mon ami Lillas Pastia /
J'irai danser la séguedille /
Et boire du manzanilla..."

It's '57 Skyliner had an all-steel convertible top

Harlem Globetrotters' "Clown Prince of Basketball"

Part of the rising action, it gives the audience essential background about plot

This city is often called the "Heart of America" since it lies near the center of the U.S.

In '55, this contralto became 1st Black to sing with the Met

This team lost all 4 times it appeared in the Super Bowl during the '70s

From Greek for "goat song", type of drama developed as sub. for ripping a goat apart as a sacrifice

World's largest wooden buildings, over 1,000 ft. long, are in this Ore. city best known for cheese

Parts of opera which most resemble ordinary speech

The lowest weight division in boxing

Irish dramatist who spend 6 yrs. in prison for activities with I.R.A.
Scores at the end of the Double Jeopardy! Round:
| | | |
| --- | --- | --- |
| Mark | Tru | Michael |
| $1,400 | -$900 | $2,200 |
| | | |
Final Jeopardy! Round
Nation that is not a member of the United Nations, but is home to U.N. European headquarters
Final scores:
| | | |
| --- | --- | --- |
| Mark | Tru | Michael |
| $0 | -$900 | $4,300 |
| 2nd place: Speed Queen washer & dryer & Andis Company hair appliances | 3rd place: Alsy-Cycle II lamps | New champion: $4,300 |
Game dynamics: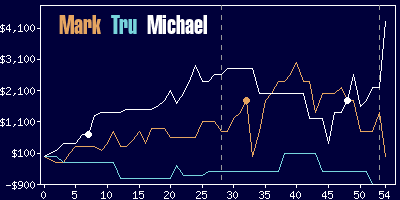 Mark
Tru
Michael
$3,200
-$900
$2,100
20 R,
12 W
(including 1 DD)
3 R,
5 W
20 R
(including 2 DDs),
6 W
Game tape date: 1984-10-31