Show #8746 - Monday, November 21, 2022
2022 Tournament of Champions final game 6.
Jeopardy! Round
WELCOME TO THE NEW MILLENNIUM

This electric car company was founded in 2003 in San Carlos, California

It was said, "2/3 of the earth is covered by water, the other third is covered by Garry Maddox", specialist at this MLB position

In most states, an elected official:
DA

A sacred hand gesture called anjali mudra, palms placed together at the heart, is a pose & a salutation in this practice

Geraldine Brooks' "March" is narrated by the father from this classic 1860s novel

A 1930s ad for a razor gave us this phrase for the beginnings of a beard at the end of the day

In 2004 armed robbers stole 2 of this artist's best-known paintings from his museum in Oslo

In 2018 this NHL team was on a roll, making it to the Stanley Cup finals in its very first season

Runs the set on a movie: AD

Here's the ASL sign for this 3-word phrase

More than a decade before "A Wrinkle in Time", she wrote her first book for kids, "And Both Were Young"

NBA coach Pat Riley trademarked this term for a certain number of consecutive title wins

In November 2002 an outbreak of this viral disease that involves breathing problems began in Guangdong Province, China

In 2017 this Irish UFC champ tried boxing & got TKO'd by Floyd Mayweather

Advises on investing & saving for the future:
CFP

During World War II Churchill held up 2 fingers to signify this 3-syllable word

About Robert Moses & by Robert Caro, this 1,300-page tome is a must-have for bookshelf backgrounds during Zoom interviews

The idea that everyone is interconnected was proposed in a 1929 story before John Guare used it as this play's title

It was the title flight in "The Flight that Fought Back", a docudrama first aired in September 2005

In 2020, Iga Swiatek won the French Open, the first Grand Slam single's title for a player from this country

Oversees recruiting & onboarding:
HRM

At the 1968 Mexico City Olympics, Tommie Smith & John Carlos raised their fists, each wearing 1 of a pair of these

Left unfinished at his death, "Juneteenth", his second novel, was published in 1999

A James K. Polk campaign slogan claimed all of Oregon up to this latitude "or Fight"

The funeral of this woman, the wife of George VI, was held at Westminster Abbey on April 9, 2002

This superstar forward, for both the Minneapolis & L.A. Lakers, was GM of the L.A. Clippers for 22 years

Helps those with communication disorders including stuttering:
SLP

The mano pantea, the first 2 fingers & thumb extended, are a gesture to ward off this bit of malevolence, malocchio in Italian

In "The Namesake" by Jhumpa Lahiri, a couple names their baby after this author of "Dead Souls"

It's really not a compliment if you are called this term from an 18th century story for an extremely well-behaved person
Scores at the first commercial break (after clue 15):
| | | |
| --- | --- | --- |
| Amy | Andrew | Sam |
| $3,000 | $4,400 | $600 |
Scores at the end of the Jeopardy! Round:
| | | |
| --- | --- | --- |
| Amy | Andrew | Sam |
| $6,400 | $5,800 | $1,400 |
Double Jeopardy! Round
"P.J."s
(Ken: Penn Jillette, for example.)

In the first map of the new U.S.A. by an American, Pennsylvania doesn't have access to this lake which it got in a 1792 purchase

1976:
"His whole life was a million-to-one shot"

In math, LCD stands for this

Chemist Robert Chesebrough formulated Vaseline, a brand name for this

The key world event of Hegel's youth was this, which broke out in the spring & summer of 1789 when he was 18

marthastewart.com says the cream cheese frosting is just as tasty as this crimson-hued cake

Formed in Chihuahua, the Fuerte River of Mexico flows southwestward 180 miles into this gulf

1986:
"The first casualty of war is innocence"

If x = -10,
this is the additive inverse of x

Serrano & other chiles help flavor & name this cheese

Much of Hegel's work reacts to this older German philosopher, though his son Immanuel was named for someone else

Kraft wants you to frost your carrot cake using this brand that Kraft took over in 1928

The Komandorski Islands are part of a 1,200-mile arc separating this sea from the Pacific Ocean to the south

2017:
"Just because you're invited, doesn't mean you're welcome"

A line that divides a curve into two mirror images is called its axis of this

One legend says she reigned between Leo IV & Benedict III & was ousted from Rome after giving birth

Hegel thought understanding comes at the end of a process: this bird "of Minerva spreads its wings only" at dusk

Wrap a tortilla around chicken & cream cheese to get this dish whose Spanish name means "spiced with chile"

This strait west of Malaysia is the shortest sea route from India to China

2021:
"Every family has its own language"

This term for one side of a right triangle comes from Greek for "stretching under"

In 1979 this architect famous for his "Glass House" in Connecticut was the first recipient of the Pritzker Prize

Opera lover Hegel befriended Anna Milder-Hauptmann, the first to sing the role of this woman who disguises herself as Fidelio

As cream cheese goes into cheesecake, so cheesecake goes into this pan named for the clamp on it

The island nation of Sao Tome & Principe is found in this gulf near the equator

2017:
"When 400,000 men couldn't get home, home came for them"

Circles, ellipses, parabolas & hyperbolas are these sections, created by the intersection of a plane with a three-dimensional figure

Alexander Pope wrote of this literary term, "with her lifted scale, where, in nice balance, truth with gold she weighs"

It's the method of using opposing views to seek truth; Hegel thought his own style of it was better than Plato's

Turn cream cheese mayonnaise into sauce parisienne by adding this parsley relative, one of the 4 classic fines herbes
Scores at the end of the Double Jeopardy! Round:
| | | |
| --- | --- | --- |
| Amy | Andrew | Sam |
| $15,600 | $14,200 | $8,000 |
| | | |
Final Jeopardy! Round
The January 12, 1864 Washington Evening Star reported on a performance of this "dashing comedy" to "a full and delighted house"
Final scores:
| | | |
| --- | --- | --- |
| Amy | Andrew | Sam |
| $28,600 | $17,001 | $0 |
| Winner: $250,000 | 2nd place: $100,000 | 3rd place: $50,000 |
Game dynamics: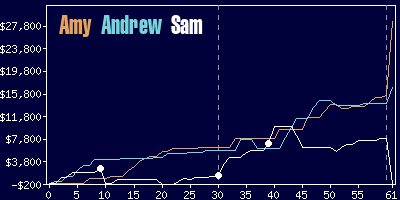 Amy
Andrew
Sam
$15,600
$14,200
$8,400
19 R,
1 W
17 R,
2 W
19 R
(including 2 DDs),
6 W
(including 1 DD)
Game tape date: 2022-09-22