Show #8665 - Friday, June 17, 2022
Megan Wachspress game 4.
Jeopardy! Round
HOME SWEET HOME RENOVATION

POP ROCKS
(Mayim: Since Father's Day is this weekend, this is something for the musical dads.)

A hope of joining this alliance is in Ukraine's constitution

Only one vowel:
The main building of a parish

They say "No man is" one, but no kitchen of ours will be without one of these! Maybe with a wine rack, too!

This title object of a 1963 film doesn't refer to a large feline but to a large gem targeted by a thief

John Wesley Powell was one of the first to explore the Grand Canyon by boat on this river

Seen here, he is pops to British model Georgia May & to 7 other kids

The Seneca & the Tuscarora were members of an 18th century confederacy bearing the name of this group of Native American people

Crossword clues "P":
Next to the last (11 letters)

Time to change the look with a new this but which type? Mansard, gambrel or Dutch gabled?

In 1939 Paul & Betty Pink began selling soda & these from a cart on La Brea & Melrose in L.A. & the rest is history

Its name derived from words for "truth" & "head", Lake Itasca is the head or starting point for this river

In an interview, Frances Bean said of this late father, his "artistry was on another level"

Created during the Cold War in 1955, this alliance joined together several countries including Bulgaria & Albania

5-syllable words:
A person aged 100 years or older

This type of flooring named for two parts that fit together is a nice choice, easy to install & with tight seams

Introduced in 1957, this brand was packaged in little pink packets so that it would stand out in sugar bowls

Great Falls, Montana was named for the nearby falls of this river

A few years back daughter Liv posted a sweet video of her & dad, this Aerosmith frontman, singing, "Can't take my eyes off of you"

The Eight-Nation Alliance was formed to protect Western interests in this Asian nation during a 1900 uprising against foreigners

Change a letter:
A convenient way to get your bills paid & an examination of a body after death

Out of the barn & into the kitchen for this type of big sink, installed just under the counter-top & a bit in front of cabinets below

2020 marked the 20th anniversary of this fashion designer's Pink Pony initiative to fight cancer

The Schuylkill & Lehigh Rivers are tributaries of this river

At his Rock Hall of Fame induction, this late legend's son Dhani joined Tom Petty & others in playing "While My Guitar Gently Weeps"

Around 1428 Texcoco, Tlacopan & this Aztec city-state formed the Triple Alliance

Overlaps:
Home city of the NHL sabres
+
a type of leather step-in shoe

It's the transportation name for the tile that's seen here in a kitchen

In Hawaii, these flowers, often with a touch of pink, are popular for leis

It empties into Long Island Sound between the towns of Old Saybrook & Old Lyme

In 2000 Duncan Jones directed a concert film of this legendary pop, born David Jones, rocking out at the Roseland Ballroom
Scores at the first commercial break (after clue 15):
| | | |
| --- | --- | --- |
| Megan | Sadie | Molly |
| $1,600 | $2,000 | -$400 |
Scores at the end of the Jeopardy! Round:
| | | |
| --- | --- | --- |
| Megan | Sadie | Molly |
| $2,000 | $4,600 | -$400 |
Double Jeopardy! Round
In "Ink" by Sabrina Vourvoulias, Mari & Meche have their immigrant status displayed in the form of these on their wrists

Then in her 70s & a widow for 2 decades, Maud Gage Baum was a consultant on this 1939 movie

The giant & colossal species of this are the world's 2 largest cephalopods & may reach 60 feet & 2,000 pounds

This restraining item from which Houdini used to escape can also mean anything that confines you

"It can't be bargained with. It can't be reasoned with... & it absolutely will not stop, ever, until you are dead"

After working dawn to dusk, it's time for some mead, an alcoholic concoction brewed from water & this sweet stuff

In an H.G. Wells tale, Griffin, whose face is wrapped in rags, turns out to be this title guy

Until 2020 you could book a tour of this country that included a visit with its first lady Jehan Sadat, widowed in 1981

A new theory says that as cetaceans evolved from land animals, the nostril moved to the top of the skull & became this orifice

Passports: check; tickets: check; kids: check; & this, a schedule of your journey & planned activities

From 2004:
"On Wednesdays we wear pink"

Our lord's away fighting again, across the channel in the battles of Blanchetaque & Caen; hope this war is over soon

Paul Atreides is the messiah-like Kwisatz Haderach in the novels named for this desert-like planet

35 years after the death of this beloved Yankee first baseman, his widow Eleanor is seen at a 1976 game

The movement of invasive species from the Red Sea to the Mediterranean via this waterway has been called Lessepsian migration

This split of the Korean Peninsula took place in August 1945

"McLovin? What kind of a stupid name is that, Fogell?"

You might think I'm revolting, but I swear I did not join Wat Tyler's peasant revolt that stormed this fortress on June 14, 1381

In Kameron Hurley's novel, Dietz is reduced to particles & beamed to war in this title corps, sounding like one in a Tennyson poem

Last name of Frank, the "How to Succeed in Business..." composer who died in 1969; Jo, his widow & collaborator, lived until 2019

Benthic organisms that live on the ocean bottom include sponges, bristle worms, & these prickly echinoderms

Methuselah had more of it than anyone else in the Bible

From 2015:
"I don't do romance. My tastes are very singular. You wouldn't understand"

Not much travel for us normally, but I am considering a pilgrimage to Glastonbury to see the grave of this legendary queen

Walter M. Miller Jr. won a Hugo Award for penning "A Canticle for" this saint

Wife Geneviève outlived this "Carmen" composer by 50 years, but even after she stopped wearing black, stuck mostly to mauve

This smallest North American marine mammal is a key species in kelp forests, keeping consumers of the kelp in check

Having a right to something, or acting like you have a right to just about anything

"I drink your milkshake. I drink it up"

No more back-breaking farm labor for me; I've got this new job at the manor, curing hides & making leather
Scores at the end of the Double Jeopardy! Round:
| | | |
| --- | --- | --- |
| Megan | Sadie | Molly |
| $9,200 | $9,800 | $3,300 |
| | | |
Final Jeopardy! Round
19th CENTURY CONTEMPORARIES
Congratulating her on the 1869 release of her biography, Frederick Douglass wrote, "I have wrought in the day

--

you in the night"
Final scores:
| | | |
| --- | --- | --- |
| Megan | Sadie | Molly |
| $17,199 | $2,300 | $6,500 |
| 4-day champion: $51,601 | 3rd place: $1,000 | 2nd place: $2,000 |
Game dynamics: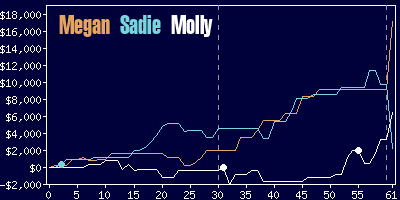 Megan
Sadie
Molly
$9,200
$9,800
$6,800
14 R,
3 W
17 R
(including 1 DD),
4 W
14 R,
6 W
(including 2 DDs)
Game tape date: 2022-04-20