National College Championship game #14 - Thursday, February 17, 2022
2022 National College Championship semifinal game 2.
Jeopardy! Round
CONSTITUTIONAL AMENDMENTS

It begins, "Congress shall make no law respecting an establishment of religion"

This state leads the U.S. in potato production

A passenger compartment attached to the frame of a motorcycle

The Occupy Wall Street movement used this term for the wealthiest part of the population

Let's go to the red planet!
Let's bring everyone home from said red planet! Hey... where's Matt Damon?

This expression for madly in love is 2 body parts & a preposition

Our favorite: this number, which says a person can't "be twice put in jeopardy" for the same offense

South Carolina politician James Hammond, who in 1858 said this crop "is king", was an awful man

Five-letter word for the type of one-horse carriage seen here

This soap claimed to be "99 and 44/100ths percent pure"

We're all living in a simulation! Only a bank teller can save us!; life is a video game

3-word way to wish a performer good luck

The Fourth Amendment guards against unreasonable these 2 related things

The 1,100-mile Grand one was built to carry rice from southern China to the north

As its name hints, around 1900 the Lohner-Porsche Mixte was the first of these cars that gained popularity 100 years later

On this sitcom, Ron Swanson wisely said, "Give 100%. 110% is impossible. Only idiots recommend that"

Opening Pandora's box; Sigourney Weaver, dealing with different aliens; unobtanium? Really?

To deal with the consequences of your actions; hope the tune is at least catchy when you do

This number amendment says the right to vote cannot be denied on the basis of sex

Ancient Egyptians loved beer, so they grew this, as you see

The Freightliner M2 106 & the Tonka Mighty are different-sized these vehicles that put the dirt where it belongs

Often attributed to Thomas Edison is the saying that it is "one percent inspiration & 99 percent perspiration"

PTA PTSD;
maternal instinct, lapsed;
liberty for Bell (& Hahn, & Kunis)

To be hit hard by something is to "take it on" this

These 2 adjectives describe the trial guaranteed by the Sixth Amendment

In the King James Bible, this daughter-in-law of Naomi gleans "corn", unknown in the ancient Middle East

An open, 4-wheeled carriage, a Phaeton bears the name of a son of this Greek sun god

The book & movie "The Seven Per-Cent Solution" featured this fictional hero collaborating with Sigmund Freud

Where have you gone, Joe DiMaggio?
To war, so girls

--

play ball!
You're Dottie if you want to play catcher

Isaac Newton said he had seen further by "standing on" these
Scores at the first commercial break (after clue 15):
| | | |
| --- | --- | --- |
| Lauren :) | Isaac | Stephen |
| $400 | $0 | -$200 |
Scores at the end of the Jeopardy! Round:
| | | |
| --- | --- | --- |
| Lauren :) | Isaac | Stephen |
| $2,000 | $2,400 | $1,400 |
Double Jeopardy! Round
NIGHTTIME NEWS WITH WORLD NEWS NOW
(Andrew Dymburt: I'm Andrew Dymburt.) (Mona Kosar Abdi: And I'm Mona Kosar Abdi from ABC's World News Now.) (Andrew: A lot happens in the U.S. and around the world at night.) (Mona: We cover it all, and today, we have clues about nighttime news in history.)

He's second in line to the British throne

This video conferencing service was founded in 2011

"Into Thin Air" by Jon Krakauer explores a 1996 tragedy while summiting this mountain

In a 2018 finale, Shonda Rhimes's daughter looks at this woman's picture in the Smithsonian National Portrait Gallery

Vatican City:
Say your prayers & name this city

(Mona Kosar Abdi delivers the clue.) After fleeing slavery in Maryland, she began returning to help others, planning escapes for Saturday nights because wanted notices could not be sent out on Sundays, giving her groups a one-day head start

This actress born in 1982 shares her name with Mrs. Shakespeare, born circa 1556

It's a summer squash & a classic ratatouille ingredient

He covered stuff like how did the universe begin in "A Brief History of Time"

On the finale of the original "Gilmore Girls", this character met her heroine, CNN correspondent Christiane Amanpour

Queens:
This borough, with which it shares an expressway that does not always provide an express way

He came to the forefront of social activism during the 2016 NFL season

It's the personification of the west wind

This book by Rachel Carson is called "the classic that launched the environmental movement"

This actress was Madame President by the time "Madame Secretary" wound up with a White House wedding episode

Kazakhstan & Iran:
This body of water

(Mona Kosar Abdi delivers the clue.) Thousands of people with lights gathered at Le Bourget Aerodrome on the night of May 21, 1927, confusing this man, who expected pitch blackness & circled the field several times before landing at 10:24 PM

Like everything else about him, this North Korean leader's birth year is somewhat of a mystery

In Poland, 100 groszy make up one of this monetary unit

This "Nation" is Elizabeth Wurtzel's account of being "Young & Depressed in America"

As this show wrapped up in 2021, Sam, a young man on the autism spectrum, finally made it to see the penguins

Northwest Territories:
This territory, "Our Land" in an Inuit language

"Black Ballerinas: My Journey to our Legacy" is the latest book by this principal dancer with American Ballet Theatre

This Pueblo people of the Southwest celebrate the Shalako festival in winter

"Outliers", "Blink" & "The Tipping Point" are all by this journalist

When this show ended in 2021, seems Mr. Wednesday (an alias of Odin) wasnt so dead after all

Tunisia:
Algeria & this country, all enjoying Mediterranean views

(Mona Kosar Abdi delivers the clue.) Vacationing on his family farm on an August night in 1923, this man was awakened with news that Warren Harding had died; by the light of a kerosene lamp, he was sworn in as president by his father, a justice of the peace
Scores at the end of the Double Jeopardy! Round:
| | | |
| --- | --- | --- |
| Lauren :) | Isaac | Stephen |
| $14,800 | $13,000 | $9,400 |
| | | |
Final Jeopardy! Round
A 1525 textbook on anatomy says this, being "so different of colours", could also be called "rain bowys"
Final scores:
| | | |
| --- | --- | --- |
| Lauren :) | Isaac | Stephen |
| $3,599 | $18,801 | $3,602 |
| 3rd place: $20,000 | Winner: finalist, if one of 3 top-scoring winners; $35,000 for 4th place | 2nd place: $20,000 |
Game dynamics: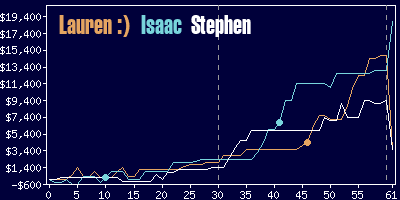 Lauren :)
Isaac
Stephen
$13,600
$11,400
$9,400
20 R
(including 1 DD),
4 W
16 R
(including 2 DDs),
5 W
13 R,
5 W
Game tape date: 2021-11-23