Show #8575 - Friday, February 11, 2022
Jeopardy! Round
| | | | | | |
| --- | --- | --- | --- | --- | --- |
| | | | I'M TOO SEXY: A LYRICAL POTPOURRI | | |
| His body emaciated from years of fasting, he didn't last long after an assassin's bullets felled him in 1948 New Delhi | He used 2 hammers to bore a 14-foot hole in rock & defeat a drill; however, he died doing it | The USS Pennsylvania was in drydock at this naval base on December 7, 1941 | ... for my this, be it t-, guayabera or flannel; so sexy it hurts | Jimmy Stewart, in "Mr. Smith Goes to Washington" (after going to Washington) | Intuition not arrived at via sight, hearing, touch, taste or smell |
| Known to Israelis as "Arik", this ex-general was prime minister from 2001 to 2006 | Some teach that the ghost of this pirate who died in 1718 glows under the waters off North Carolina, searching for his own head | John Quincy Adams argued the case of the Africans who had mutinied aboard this slave ship & won their freedom | ...for your this, which we can only assume is a choice of Know-Nothing, Likud or Bull Moose | Denzel Washington, stepping up in "Philadelphia" | It's a nickname for Chicago |
| This "Waltz King" was 23 when he combined his orchestra with his dad's | He was big, he was blue & one story said his footprints filled with water & became Minnesota's 10,000 lakes, so to repeat... he was big | Tamil words for tie & wood give us the name of this type of twin-hulled boat | ... for this northern Italian city & fashion capital, site of Sforzesco Castle | Margot Robbie, gliding through "I, Tonya" | The parable of the workers in the vineyard in Mark 20 gave us this idiom for anything done at the last minute |
| The couple seen here, Menkaure & wife, were found near one of the three main pyramids at this city | "Stand in front of the bathroom mirror with a... candle & say" this witch's name "3 times"; if it works, you'll need that drink, too | These boats in the lagoon at Boston's Public Garden were inspired by the opera "Lohengrin" & declared a Boston landmark | ... for this animal "Who Walks Through Walls" in a Robert A. Heinlein title | Sidney Poitier, taking a tough assignment in "To Sir, with Love" | If you're taking the subway, keep your distance from this electrified part of the tracks |
| In 451 it took a combined army of Roman & Germanic forces to stop this leader of a Central Asian people at a battle near Troyes | Were you raised by coyotes?! Well, this cowboy was, after being lost by his parents near a certain Texas river | The world's first nuclear-powered aircraft carrier, it was launched in 1960 & was the 8th U.S. naval vessel to carry the name | ... for this island nation whose largest freshwater lake is the 260-square-mile Biwa | Holly Hunter, before saying hi to motherhood in "Raising Arizona" | In the 19th century this phrase began its association with all things press-related |
Scores at the first commercial break (after clue 15):
| | | |
| --- | --- | --- |
| Nick | Gillian | Dave |
| $2,800 | -$400 | $2,600 |
Scores at the end of the Jeopardy! Round:
| | | |
| --- | --- | --- |
| Nick | Gillian | Dave |
| $1,200 | -$400 | $7,200 |
Double Jeopardy! Round
"S.T." ON THE TV
(Mayim: A response might be "Shadow Theater".)

The colossus is long gone, but on this sunny island of Greece you can visit the Acropolis of Lindos

Completes the title of legendary animal trainer Mabel Stark's memoir "Hold That..."

This word for a throwing stick comes from an Aboriginal language

Be at peace! The columbine gets its name from Latin for this bird

Black tie with turn-ups on the trousers? Appalling

Hume, Marx, Freud, "Voyager", "Next Generation" & others combined in an Indiana University class about this show "& Religion"

After flying over the Nazca Lines in this country, get away to Huacachina, an oasis in the middle of the desert

Seen here, singer Mary Wilson wrote a memoir titled "Dreamgirl: My Life as..." a member of this trio

Hamlet mentions this stone-throwing weapon & the book of Judges says the children of Benjamin included 700 experts in it

Kansas' state flower, the common this, is in the genus Helianthus

Old Mrs. Dudge still has an aerial on her telly

Fact-checking this Netflix show, the Energy Department said in 2016, we don't "explore parallel universes"

Take the 3:10 to this city at the southwestern tip of Arizona that frequently ranks as the sunniest city in the United States

"Freedom in Exile" is the autobiography of Tenzin Gyatso, better known by this religious title

Originally a Cavalry sword with a curved blade, it's also the name of a fencing weapon

The thoughtful should know that the name of this flower comes from French for "thought"

Let's take our seats & meet for a drink at the interval

Seen here, this rocker told most of the hopefuls on "American Idol" to "Dream On"

With over 300 sunny days each year, this tourist destination in the south of Spain has a name meaning "sun coast"

Toni Morrison edited the memoir of this woman who was a Black Panther, a UCLA professor & a fugitive

Sir Walter Scott popularized this name for a type of heavy broadsword favored by Scots Highlanders

This flower seen here is also called a fairy bell which is a better description than a random animal & some handware

Can't remember the last name of this multi-limbed neighbor of SpongeBob? Remember his multiple limbs

It looks like a different planet, but one of the hottest places on Earth is Dallol, in this largest Horn of Africa country

"Every Secret Thing" by Patty Hearst includes a firsthand account of her abduction by this militant group

The name of this combo stabbing & chopping weapon is from the Middle German for "halm", "handle" & "barte", "hatchet"

This flower whose name is derived from "wolf" is also a word used to describe wolves

Oh no! Colin has stopped on the verge of the M1; his car broke down

John Bradley played this "better with a book than a sword" character on "Game of Thrones"
Scores at the end of the Double Jeopardy! Round:
| | | |
| --- | --- | --- |
| Nick | Gillian | Dave |
| $13,600 | $4,000 | $29,800 |
| | | (lock game) |
Final Jeopardy! Round
INTERNATIONAL PLAYWRIGHTS
A piece of writing advice from this man who died in 1904 concludes, "Otherwise don't put it there"
Final scores:
| | | |
| --- | --- | --- |
| Nick | Gillian | Dave |
| $8,300 | $0 | $30,000 |
| 2nd place: $2,000 | 3rd place: $1,000 | New champion: $30,000 |
Game dynamics: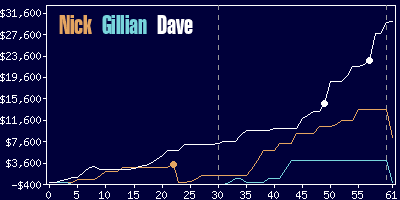 Nick
Gillian
Dave
$17,000
$4,000
$24,000
17 R,
1 W
(including 1 DD)
5 R,
2 W
30 R
(including 2 DDs),
1 W
Game tape date: 2021-11-30