Show #8556 - Monday, January 17, 2022
Amy Schneider game 34.
Jeopardy! Round
| | | | | | |
| --- | --- | --- | --- | --- | --- |
| | | | | ARTHUR CONAN DOYLE CHARACTERS | |
| Near where it joins the Tigris, parts of this river flow through the marshes of Iraq's Lake Hammar | He reached nirvana as a drummer but went on to fight foo as a frontman | This "handy" measure of booze is a pour of about 3/4 of an inch | Accepted in advance, like a guaranteed credit card application | In addition to all the evil & crime, this man had time to write the book "The Dynamics of an Asteroid" | Artist-scientist William Henry Holmes painted cliff dwellings in the 1870s, & soon helped establish this -ology in America |
| The east coast of the state of Michigan is known as the sunrise side because of daybreak over this lake | This top-hatted guitarist left Guns N' Roses & brandished a new musical weapon, Velvet Revolver | Tire pressure is measured in psi, short for these | Before a contest, or to toss a few back before hitting the bars | Charles Augustus Milverton, "the worst man in London", is using imprudent letters of lady Eva Brackwell in this evil deed | At Jarama in 1937 anti-fascist Alonzo Watson became the first African American killed in this country's Civil War |
| Known for its tourist resorts, Lake Tahoe is a high elevation lake in these mountains of the western United States | Hollywood Vampires were brought to life in 2015, led by Alice Cooper, Johnny Depp & guitarist Joe Perry of this band | This unit of measure also means to come to understand | This word means secondhand, like a used car | Mrs. Hudson is Sherlock's landlady at this alphanumeric London address | This heavyweight boxing champ of the 1970s & '80s was nicknamed the Easton Assassin |
| Found in a volcanic crater & ringed by Mayan villages, Lake Atitlán is in the highlands of this nation | Drummer Travis McNabb rocked for Better Than Ezra, then went country with this Jennifer Nettles band | At one time, a nook was a measure of land equal to about 20 of these | It means biased or inclined in a particular direction, though it sounds like it means thrown away early | In "A Study in Scarlet", this Scotland Yard inspector is described as "lean and ferret-like" | As part of this company, the Thomas J. Watson Research Center conducts work on A.I. & quantum computing |
| Lake Peipus forms part of the border between this northernmost Baltic republic & Russia | Neil Finn, formerly of Split Enz, formed this band named for a cramped place on Sycamore Avenue in Los Angeles | This length used in horse racing is equal to 220 yards, or 1/8 of a mile | Some agrarian societies are considered this, not yet having developed manufacturing capability | Irene Adler is known as the woman who outwitted Sherlock, but she only appears in one story: "A Scandal in" this kingdom | Called "The Great Dissenter", he was appointed to the Supreme Court in 1902 & served there for 29 years until the age of 90 |
Scores at the first commercial break (after clue 15):
| | | |
| --- | --- | --- |
| Amy | Frances | Jorge |
| $1,800 | $1,600 | $600 |
Scores at the end of the Jeopardy! Round:
| | | |
| --- | --- | --- |
| Amy | Frances | Jorge |
| $6,400 | $1,000 | $1,600 |
Double Jeopardy! Round
| | | | | | |
| --- | --- | --- | --- | --- | --- |
| | | INTERNATIONAL FOOD & DRINK | | | |
| In 1979, Jimmy Carter installed the first of these at the White House; one is now at his presidential library | It was the principal residence of French kings from Louis XIV to Louis XVI | The name of this traditional Austrian dish is German for "Viennese cutlet" | N.C. Wyeth contributed illustrations to the story about this guy who slept for 20 years | A 2021 documentary celebrates this legend who, after leaving Ike, reinvented herself to become the Queen of Rock & Roll | This synonym for knowledge is said to be dispensed in pearls |
| The Immigration Act of 1903 banned these no-government types with their wild eyes & smoking bombs from entering the United States | The Winter Palace in St. Petersburg was long the official residence of the Russian monarchy & today is part of this museum complex | Belgians are fond of their moules-frites, these with French fries | On YouTube, children's author & illustrator Marc Brown teaches you how to draw this beloved aardvark | His life & lessons were the subject of "Won't You Be My Neighbor?" | It's the container & specialty sporting good seen here |
| The May 24, 1934 Dallas Morning News had a hometown angle with the headline these "Dallas desperadoes shot to death in Louisiana" | The Doge's Palace in Venice is connected to a prison complex by this fateful bridge built around 1600 | Danes really love their beer, especially this type of pale golden lager that Tuborg introduced to the country in 1880 | Like Langston Hughes, painter & illustrator Aaron Douglas was a leading figure of this arts movement centered in New York | "The Mushroom Club", a 2005 documentary short, is a portrait of this city & its people, 60 years after the bombing | To light a fire one can enjoy while using the same-named e-reader |
| Named for a god, this line of cars from Ford got cooler when James Dean drove one in "Rebel Without a Cause' | Built in the 1740s, Sanssouci Palace in Potsdam was the summer residence of this "Great" Prussian | With or without masala, this Indian dish that often contains chicken literally means "bits" or "pieces" | British surgeon & artist Henry Vandyke Carter was the man behind the illustrations for this classic 1850s textbook | Filmmaker & diver Craig Foster forged an unusual bond with a sea creature in this Netflix documentary | A Spanish wine cellar, or a corner grocery store |
| This naturalist died in California in 1914, shortly before a dam flooded his beloved Hetch Hetchy Valley | Once a home of Henry VIII, Hampton Court Palace was expanded at the behest of William & Mary by this 17th century architect | Popular in South America & said to have health benefits, the first part of this tea's name is from Spanish for "herb" | "Blue-winged Teal" was among the 435 illustrations he did for a book published in four volumes between 1827 & 1838 | "Bombshell" is about this Austrian-born actress whose credits also include developing a communication system during WWII | Alphabetically, this fertilized egg is darn near last |
Scores at the end of the Double Jeopardy! Round:
| | | |
| --- | --- | --- |
| Amy | Frances | Jorge |
| $26,800 | $7,800 | $400 |
| (lock game) | | |
Final Jeopardy! Round
The 1905 paper that gave this its name also referred to it as "Dynamosaurus imperiosus"
Final scores:
| | | |
| --- | --- | --- |
| Amy | Frances | Jorge |
| $36,800 | $12,800 | $800 |
| 34-day champion: $1,148,600 | 2nd place: $2,000 | 3rd place: $1,000 |
Game dynamics: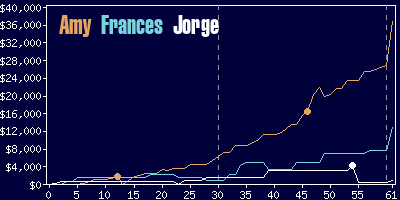 Amy
Frances
Jorge
$25,800
$7,800
$4,400
33 R
(including 1 DD),
3 W
(including 1 DD)
9 R,
3 W
7 R,
2 W
(including 1 DD)
Game tape date: 2021-11-08