Show #1375 - Friday, July 20, 1990
1990 Seniors Tournament final game 2.
Last game of Season 6.
Jeopardy! Round
Robert Frost said it consists of "twelve persons chosen to decide who has the better lawyer"

Sir Henry Morgan became Lt. gov. of Jamaica despite his naughty nautical career as one of these

On weather maps isobars connect points of equal pressure & isotherms connect points equal in this

In a song from "Okhaloma!", "Everythin's up to date in" this city that's not in Oklahoma

The Counter-Reformation was this church's way of trying to check the spread of Protestantism

A way to say goodbye to someone who's taking a trip, it's French for "good journey"

Ironically, it was Abraham Lincoln who said, "The ballot is stronger than" this

This Welsh singer once billed himself as Tommy Scott, the twisting vocal

The highest known barometer reading in the U.S., 31.85, was recorded in this state during a 1989 cold wave

"By the light of" this "I want to spoon, to my honey I'll croon love's tune"

Tradition holds that this religion's calendar began at creation, 5750 years ago

When one actor leaves the stage; it's an "exit"; when more than one leaves, it's called this

Will Rogers once said, "I belong to no organized party

--

I am" one of these

A 1989 PBS documentary about this actor was subtitled "In From the Cold"

During a storm this can occur in a cloud, between clouds or from a cloud to the ground

"Many a heart is aching, if you could read them all; many the hopes that have vanished, after" this

In 630 Mohammed returned in triumph to this city he had fled in secret about 8 years earlier

From the Latin for "to say farewell", it's the student who says farewell at a graduation ceremony

John Nance Garner called this office "a spare tire on the automobile of government"

A Welshman named Owen is considered the founder of this family which ruled England from 1485-1603

The wind direction most commonly observed during a given period is called this

"I'm just a kid again doin' what I did again singing a song" when this happens

In Romans 6:3-4 he likened baptism to sharing in the death, burial & resurrection of Christ

Title of a 1985 book by William F. Buckley, or a 1956 hit song by Bill Haley & His Comets

This French short story writer called patriotism "the egg from which wars are hatched"

This Welsh playwright played a murderer in his own 1935 play "Night Must Fall"

The 2 seasons when icebergs are most likely to be formed

"Not a soul down on the corner, that's a pretty certain sign, that those wedding bells are" doing this

For Zoroastrians it's the Avesta

R. Chandler wrote 7 novels about Philip Marlowe, among them "The Long Goodbye" & this "Farewell" book
Scores at the first commercial break (after clue 14):
| | | |
| --- | --- | --- |
| Bernard | Hank | George |
| $1,100 | $1,100 | $600 |
Scores at the end of the Jeopardy! Round:
| | | |
| --- | --- | --- |
| Bernard | Hank | George |
| $2,200 | $1,400 | $2,800 |
Double Jeopardy! Round
When founded in 1934, this agency regulated interstate radio, telephone & telegraph service

Mediterranean island comprising 2 French departments: Haute-Corse & Corse du Sord

He's the star of the Apollonius Rhodius epic "Argonautica"

Term for news photographers who swarm around celebs, from a character in "La Dolce Vita"

A

jellyfish

does this by alternately relaxing & contracting its bell

This federal corporation provides flood control & navigable waterways for 7 southern states

Cloves are the main cash crop of this island region of Tanzania

The cornucopia, or horn of plenty, was a horn from this kind of animal who suckled baby Zeus

In the 1970s this conservative columnist shared his views in TV debates with Shana Alexander

Tapeworms live within this system of a human body but don't have one of their own

Since 1934 it has administered & enforced laws governing the purchase & sale of stocks & bonds

Islands named Charles & Darwin can be found in this group off the coast of South America

He fell in love with a statue & Venus brought it to life for him

The U.S. has its AP & UPI while Great Britain's major news service is this

Common name of the "Hirudo medicinalis", they can be described as medicinal bloodsuckers

It was created in 1933 to insure the money in the accounts of approved banks

Honiara, the capital of this South Pacific island nation, is located on Guadalcanal

Orion's father, he gave his son the power to walk on the sea

He was a newspaper sports columnist & the author of "Mrs. 'arris Goes to Paris"

These soil-eating creatures can make 40 tons of castings per acre in a year

This agency hired unemployed young men to perform such activities as planting trees & building dams

This Canadian province was named for the father of Queen Victoria

His mother, Calliope, might have been amused when he took up the lyre

This radio commentator's initials stood for "Hans von"

"The Man in the Glass..."
Scores at the end of the Double Jeopardy! Round:
| | | |
| --- | --- | --- |
| Bernard | Hank | George |
| $3,000 | $10,000 | $7,400 |
| | | |
Final Jeopardy! Round
In 1839 & '40 France & Great Britain signed commercial treaties with this new republic
Final scores:
| | | |
| --- | --- | --- |
| Bernard | Hank | George |
| $6,000 | $7,000 | $14,800 |
Cumulative scores:
| | | |
| --- | --- | --- |
| Bernard | Hank | George |
| $18,100 | $10,000 | $25,000 |
| 1st runner-up: $18,100 | 2nd runner-up: $10,000 | Tournament champion: $25,000 |
Game dynamics: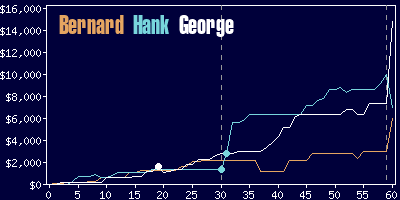 Bernard
Hank
George
$3,000
$7,200
$7,900
12 R,
2 W
18 R
(including 2 DDs),
2 W
20 R,
2 W
(including 1 DD)