Show #2432 - Tuesday, March 14, 1995
Jonathan Groff game 1.
Jeopardy! Round
MUSICAL "EYE"s
(Alex: Notice "eye", E-Y-E, in quotation marks. That will appear in each correct response.)

In 1600 the first published edition of this comedy spelled the title word "Ado" Adoe

After his encounter with the Great Fish, he warned Nineveh of its great evil & the city repented

Eggs Sardou, like Eggs Benedict, is topped with this sauce

Ling-Ling, the oldest of these creatures outside China, died at the National Zoo in December

According to The Eagles, "You can't hide" these

Enobarbus says Antony won't leave her because "Age cannot wither her, not custom stale her infinite variety"

To get one's bearings, or another term for the Far East

He sent Igal the Issacharite to scout the Promised Land in Numbers 13:7

In the Mideast this pocket bread is cut into wedges & used as a dipper for hummus

In December Premier Constantine Mitsotakis made his daughter Culture Minister of this country

In a 1921 hit title, this exclamation followed "Ma!"

This woman tells her husband, "Your face, my thane, is as a book where men may read strange matters"

To move about hurriedly, or a framework formerly worn by women to puff out their skirts

Originally an agricultural festival, the Feast of the Unleavened Bread was combined with this holiday

It's the tall narrow glass used to serve a dessert of ice cream layered with fruit & whipped cream

In September this "Long Island Lolita" pleaded guilty to shooting Mary Jo Buttafuoco

Van Morrison's first Top 10 hit was this colorful tune

The play "Cymbeline" gave us the song that says, "Hark! Hark!" this bird "at heaven's gate sings"

It's the club-shaped tool used to pound substances in a mortar

The King James Version translates the Hebrew word Sheol as this place

When milk coagulates, it separates into these 2 parts

She married Timothy Laurence after divorcing Captain Mark Phillips in April

This 1912 songs is perfect for St. Patrick's Day

In this play Mercutio says, "A plague o' both your houses!" 3 times before he dies

From the Latin word for "bear", it's an adjective meaning bearlike

Joab killed this rebellious son of David though David had said to spare him

In the leg & shoulder section of a pig, this cut is between the picnic ham & the pig's feet

This former World Chess Champion was indicted for breaking U.S. sanctions against Yugoslavia

It was the theme to "Rocky III"
Scores at the first commercial break (after clue 15):
| | | |
| --- | --- | --- |
| Julie | Kathy | Jonathan |
| $1,100 | $200 | $2,900 |
Scores at the end of the Jeopardy! Round:
| | | |
| --- | --- | --- |
| Julie | Kathy | Jonathan |
| $2,000 | $3,000 | $3,700 |
Double Jeopardy! Round
| | | | | | |
| --- | --- | --- | --- | --- | --- |
| | | | | | |
| In 1831 this state's first railroad, the Mohawk & Hudson, began operating between Albany & Schenectady | The liquid inside the stem of a plant, it's lunch for an aphid | The Royal Society of this English capital established the Copley Medal ini 1731 | This country's jarabe tapatio dance is so named because a tapatio is a person from Guadalajara | You can reach Fort Sumter by boat from this city's municipal marina or from Patriots Point | Gloria Naylor's 1982 novel "The Women of" this "Place" won an American Book Award & became a TV miniseries |
| In 1824 the Army built 2 forts in this present state to prepare for immigration of the Five Civilized Tribes | Some plants' seeds are dispersed by animals or birds; dandelion seeds are designed to be spread by this | The reverse of this oldest U.S. medal says "For Military Merit" | 18th century dancer Sebastian Cerezo, not Maurice Ravel, added ballet steps to this Spanish dance | More than 30 thoroughfares in this city contain the word "Peachtree" in their names | Ole E. Rolvaag's "Giants in the Earth" is set on the American frontier but was 1st published in this language |
| From 1968 to 1970, this future running mate of George McGovern was Ambassador to France | Lichens are formed by algae combining with this type of organism | Chartered in 1919, this U.S. veterans' organization awards medals to elementary & high school students | The legong is a pantomimic dance traditionally performed by little girls on this Indonesian island | Native Americans called the site of this Louisiana capital Istrouma | "Tsotsi" is the only published novel by Athol Fugard, this country's most famous playwright |
| When President Kennedy selected him to be Sec'y of Defense, he was President of the Ford Motor Company | The barbs on a bird's feathers are made of this protein, like your hair | In 1964 this Illinois poet was awarded the Presidential Medal of Freedom | Bharata natyam, which originated in temples in this country, features symbolic hand gestures called mudras | Incorporated in 1828, Louisville became an important port on this river | "Streets of Night" is a novel about Harvard by this Harvard graduate who also wrote "U.S.A." |
| In 1890 2 bituminous labor organizations merged to form this union | Many female moths attract males by releasing scented chemicals known as these | In 1904 this U.S. steel magnate established his Hero Fund Commission | The thigh-slapping schuhplattler is popular in Bavaria & in this country that borders it on the south | Flagler Street divides this Florida city into northern & southern areas | He once considered calling his novel "This Side of Paradise" "The Romantic Egotist" |
Scores at the end of the Double Jeopardy! Round:
| | | |
| --- | --- | --- |
| Julie | Kathy | Jonathan |
| $5,600 | $3,200 | $16,000 |
| | | (lock game) |
Final Jeopardy! Round
This shipowner was at the helm of the Britannia as it left Liverpool for Boston in 1840
Final scores:
| | | |
| --- | --- | --- |
| Julie | Kathy | Jonathan |
| $6,600 | $1 | $12,000 |
| 2nd place: Gibson 3-piece kitchen + Ashley dining collection | 3rd place: PeopLoungers chaise lounger | New champion: $12,000 |
Game dynamics: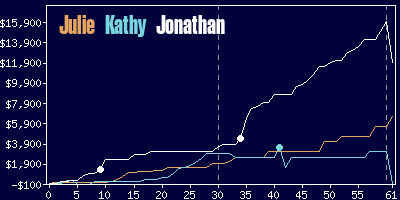 Julie
Kathy
Jonathan
$5,600
$5,200
$14,400
15 R,
0 W
14 R,
3 W
(including 1 DD)
29 R
(including 2 DDs),
0 W
Game tape date: 1994-11-30