Show #8145 - Friday, January 24, 2020
Jeopardy! Round
THOSE ARE MY LITERARY CHARACTERS!
(Alex: We want you to name the author.)

POST HASTE
(Alex: Each correct response will begin with "H-A", but will come after "haste" in the dictionary.)

In September Pope John Paul II visited this country & spoke up for the rights of the Inuit

Spoka, meaning "to haunt", is a line of these to illuminate kids' rooms

In July 2019 this D.C. monument was "turned" into a rocket for the 50th anniversary of Apollo 11

A classic line from this 1972 film is "I'm gonna make him an offer he can't refuse"

This last name, alone or paired with McCoy

1984 was the first model year for the minivan from this company with Lee Iacocca as its CEO

Billy, a popular one of these especially for your library, is named for IKEA employee Billy Liljedahl

A giant sculpture of a dead Norwegian blue parrot in London celebrated the 2014 reunion of this comedy troupe

Jason Bourne, a whole lot of people chasing Jason Bourne

Movie that gave us "Dynaguy, snagged on takeoff! Splashdown, sucked into a vortex... no capes!"

The tough way to pledge a fraternity

"The rainbow is mandating a new definition of greatness", he told the 1984 Democratic Convention

Alkalisk is the name for these sold at IKEA

O. vulgaris, a species of this mollusk, has been called the most intelligent of all invertebrate animals

Robert Langdon & "the hulking albino named Silas"

"I am not Mr. Lebowski. You're Mr. Lebowski. I'm" this moniker

In ye olden days this 2-word stuff was thick boiled flour often eaten as a quick breakfast

Thousands gathered at this iconic L.A. location for Olympic track & field events

This item that you often need to buy at checkout for $1.50 is called Frakta

The U.S. Navy wanted to paint this bridge that opened in 1937 with yellow & black stripes so that it would be more visible in the fog

Arthur Dimmesdale, (Young) Goodman Brown

From 1984, it "is out there!...it doesn't feel pity, or remorse, or fear. & it absolutely will not stop, ever, until you are dead"

Prince Charles came to give Brunei independence as an Islamic one of these, based on the title of the man to Charles's right

Rugs called Roskilde, Silkeborg & Osted are among things bearing names of towns not in Sweden but in this country

Qualatex, which offers an exam to become a CBA, certified this artist, is a brand of microfoil & latex ones

Mr. Sammler, who had a "Planet"; Von Humboldt Fleisher, who had a "Gift"

Jennifer Lawrence to Bradley Cooper in this film: "Calm down, crazy"
Scores at the first commercial break (after clue 15):
| | | |
| --- | --- | --- |
| John | Heather | Ashwin |
| $2,800 | $2,200 | $600 |
Scores at the end of the Jeopardy! Round:
| | | |
| --- | --- | --- |
| John | Heather | Ashwin |
| $7,400 | $3,200 | $1,400 |
Double Jeopardy! Round
THE ROYAL SOCIETY OF LONDON

Before Neil Gorsuch, A.B. Neil similarly believed in the original meaning of the Constitution as Chief Justice of this in Tennessee

Arizona, Colorado, New Mexico & Utah meet at a spot called this

A cleaver in the head is part of Bellini's "Assassination of St. Peter" this, one who dies for his faith

Bodybuilding includes a fair amount of this activity, using barbells & other resistance training devices

In 1919 the society was able to confirm Einstein's theory of general relativity by photographing this event you shouldn't stare at

The 2015 Record of the Year was "Uptown Funk" by this guy & featuring Bruno Mars

Neil Gaiman won a Newbery Medal for "The Graveyard Book"; this Neil won a Pulitzer for "Lost in Yonkers"

The Aventine, Caelian, Capitoline, Esquiline, Palatine, Quirinal & Viminal are these

A Tahitian girl named Teha'amana stares at the viewer in his painting "Manaò Tupapaú (Spirit of the Dead Watching)"

The formula for this measure of a circle is pi times the diameter

In 1703 this scientist had enough gravitas to be named president of the society

1985's Song of the Year was this charity number with 21 soloists & a big chorus of stars

Before guitarist Neil Giraldo, there was this other Neil from Ohio who piloted the X-15 to the edge of space

It's in the middle of the Susquehanna River just south of Harrisburg

It's the term for repetitive echoing

The society first met in 1660 after a lecture by this architect, long before he designed St. Paul's Cathedral

"Talking for Clapping" by this man took the honors as Best Comedy Album in 2016

2 years before Neil Diamond was born there, this "Laughter In The Rain" singer-songwriter was born in Brooklyn

Chogori & Dapsang are local names for this very tall mountain

El Greco's painting of the Virgin Mary cradling her dead son is called this, like Michelangelo's famous sculpture of the same subject

13-letter adjective for the fluid that surrounds the brain & other parts of the nervous system

In one of the society's first experiments, this founding member soon to be known for his "law" of gases

test

ed an air pump

In 2006 this 90-year-old guitar innovator won Grammys for Best Rock & Best Pop Instrumental Performances

In journalism, before Neil Cavuto came Neil Sheehan, who got a huge scoop in 1971 with these Defense Department documents

There aren't actually 8 rivers in this Jamaica port, but there are plenty of resorts, like Sandals Royal Plantation

Jacques-Louis David painted "The Death of..." this Frenchman in 1793, the year of his assassination

This adjective with a meaning similar to "rebellious" refers to one who won't accept the authority of a superior

In 1920 the society awarded William Bateson a royal medal for his work in this field of biology he had named in 1905

2018's Album of the Year went to this country queen for "Golden Hour"
Scores at the end of the Double Jeopardy! Round:
| | | |
| --- | --- | --- |
| John | Heather | Ashwin |
| $10,600 | $9,200 | $6,000 |
| | | |
Final Jeopardy! Round
Now in her 70s, this author splits her time between Paris & San Francisco, often writing 20 to 22 hours a day on an old typewriter
Final scores:
| | | |
| --- | --- | --- |
| John | Heather | Ashwin |
| $2,799 | $7,799 | $5,999 |
| 3rd place: $1,000 | New champion: $7,799 | 2nd place: $2,000 |
Game dynamics: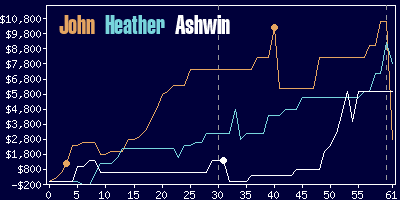 John
Heather
Ashwin
$14,200
$9,200
$7,400
20 R
(including 1 DD),
2 W
(including 1 DD)
15 R,
3 W
11 R,
3 W
(including 1 DD)
Game tape date: 2019-11-13