Show #2064 - Thursday, July 22, 1993
1993 Seniors Tournament final game 1.
Jeopardy! Round
| | | | | | |
| --- | --- | --- | --- | --- | --- |
| | | | | | REAL NAMES ON THE MARQUEE |
| In the 1390s King John I of Castile & King John I of Aragon both died by falling from these animals | This daughter of Ronald Reagan ran fifth in the 1982 California primary for the U.S. Senate | These rubber boots are called wellies for short | His writings include the 1920 publication "Relativity: The Special and General Theory" | He's a lumberjack & he's okay, his footprints became the Great Lakes | Ruth Elizabeth Davis & Lucille Le Sueur in "Whatever Happened to Baby Jane?" |
| Joachim of Fiore divided history into 3 ages: the ages of the Father, the Son & this entity | On Dec. 19, 1974 this former New York governor became vice president under the 25th Amendment | British theatregoers call it the interval | Past winners of this annual event include Bob Verini & Bob Blake | You might say that the source of this biblical hero's strength was hair today, gone tomorrow | Maria Farrow & Ruth Jones in "Rosemary's Baby" |
| Ancus Marcius, the legendary fourth king of this city, may have been the grandson of Numa Pompilus | In 1960s this senator from Arizona published "The Conscience of a Conservative" | Order candy floss at an amusement park & you'll get this fluffy confection | "A Gardener Touched with Genius" is Peter Dreyer's book on this American hoticulturist | A Big Bad one in song saved miners, a Little one in Sherwood Forest was a Merry Man | Frederick Auserlitz & Virginia McMath in "Flying Down to Rio" |
| In 1616 this Native American created a sensation in London, where she was known as Lady Rebecca | Son of a U.S. president, he served as a senator from Ohio from 1939 until his death in 1953 | Brits call this part of a car the silencer | Blaise Pascal is said to have mastered this Greek mathematician's "Elements" by age 12 | Name shared by a Titan & a former 97-pound runt | Greta Gustafsson & Melvin Hesselberg in "Ninotchka" |
| 2-word "seasonal" term given to the time of reform in Czechoslovakia after March 22, 1968 | This state's Mark Hatfield is the ranking Republican on the Senate Appropriations Committee | The ancient name for this city was Mancunium & a person from it is still called a Mancunian | After this coil inventor moved to America, he worked briefly with another genius⁠—Thomas Edison | This "Mania"-creating wrestler was born Terry Gene Bollea in 1953 | Bernard Schwartz & Jeanette Morrison in "Houdini" |
Scores at the first commercial break (after clue 13):
| | | |
| --- | --- | --- |
| Marilyn | Hugh | Will |
| $500 | $100 | $1,500 |
Scores at the end of the Jeopardy! Round:
| | | |
| --- | --- | --- |
| Marilyn | Hugh | Will |
| $2,500 | $1,000 | $3,100 |
Double Jeopardy! Round
On May 27, 1941 torpedoes from the cruiser Dorsetshire finished off this German battleship

The "van" in his name was from the Dutch, not the German

A 1954 survey by the Indian government set its official height at 29,028 feet

Despite filing for bankruptcy, this retailer's 1992 Thanksgiving Day Parade went off without a hitch

Earl Hamner Jr., later creator of "The Waltons", wrote 8 scripts for this Rod Serling series

His was the first voice Robinson Crusoe heard in 25 years on the island

In late May 1943 U.S. forces recaptured Attu in this island chain from the Japanese

His 1st opera, "La Finta Semplice", was composed for Vienna, but was 1st performed in Salzburg

Its eruption in 1980 was the first in the 48 contiguous states since Lassen Peak in 1921

In 1900 this company lit up New York City with an electric sign

--

a 40' pickle

This con man was staff sergeant of the motor pool at Fort Baxter, Kansas

Horace Walpole's 1764 "The Castle of Otranto" was the 1st of these novels with violence & gloomy settings

This French general entered Paris Aug. 25, 1944 & marched in a parade despite snipers

Most of Haydn's works were written while he was a court composer in Eisenstadt, now in this country

One of the most thickly populated areas in Sicily surrounds this volcano

Nicknamed "Manny Hanny", it merged with Chemical Bank in 1992 to create the 3rd-largest bank in the U.S.

Henry Fielding's first wife, Charlotte, was the model for Sophia in this 1749 novel

Operation Barbarossa, Germany's attack on this country, began June 22, 1941

This lieder composer gave his first public concert March 26, 1828, it was a success

It's the highest mountain in the world named for a U.S. president

In Japan Bridgestone not only ranks no. 1 in tires, but in these vehicles as well

In this Jane Austen novel, Mrs. Bennet tries to find a husband for each of her 5 daughters

After the attack on Pearl Harbor, he was named Commander in Chief of the U.S Pacific Fleet

Russian composer of "Rhapsody on a Theme by Pagnini" who became a U.S. cit. just before his death in 1943

State in which you'd find 3,290-foot Mount Oglethorpe

General Telephone added "Electronics" to its name after acquiring this light bulb company in 1959
Scores at the end of the Double Jeopardy! Round:
| | | |
| --- | --- | --- |
| Marilyn | Hugh | Will |
| $2,500 | $6,400 | $5,200 |
Final Jeopardy! Round
He once told Newsweek, "I have no country. For me a country is just a place to dance"
Final scores:
| | | |
| --- | --- | --- |
| Marilyn | Hugh | Will |
| $4,000 | $4,800 | $3,000 |
| | | |
Game dynamics: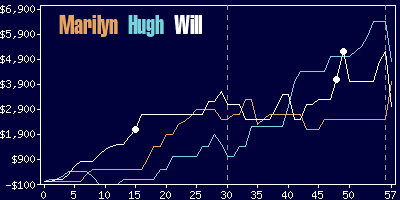 Marilyn
Hugh
Will
$2,500
$6,400
$6,100
14 R,
3 W
18 R,
4 W
21 R
(including 2 DDs),
4 W
(including 1 DD)
Game tape date: 1993-03-02