Show #7935 - Friday, February 22, 2019
2019 All-Star Games match 1, game 2.
Contestants
[<< previous game]

Team Brad (subtotal of $49,800)

Playing the Jeopardy! Round: David Madden, an academic competition director from Ridgewood, New Jersey

Playing the Double Jeopardy! Round: Brad Rutter, an actor and producer from Los Angeles, California

Playing the Final Jeopardy! Round: Larissa Kelly, an editor for academic competitions from Richmond, California

Team Colby (subtotal of $0)

Playing the Jeopardy! Round: Alan Lin, a software engineer from Riverside, California

Playing the Double Jeopardy! Round: Pam Mueller, a think tank researcher from Culver City, California

Playing the Final Jeopardy! Round: Colby Burnett, a college counselor from Chicago, Illinois

Team Buzzy (subtotal of $26,200)

Playing the Jeopardy! Round: Jennifer Giles, a third grade teacher from Longmont, Colorado

Playing the Double Jeopardy! Round: Alex Jacob, a freelance trivia writer from Greensboro, North Carolina

Playing the Final Jeopardy! Round: Buzzy Cohen, a music executive from Los Angeles, California

[next game >>]
Jeopardy! Round
ANAGRAMS OF EACH OTHER
(Alex: Each clue will require two words in a correct response.)

Agnes Nixon created this soap opera that focused on the Buchanan & Lord families

In 1925 travelers by car could check into this type of lodging for the first time

"Pommes frites" in Bourgogne are better known as these in the States

Numbering about 100, large & small, more battles were fought in New Jersey than in any other state during this war

Trace amounts of boron give the blue color to this gem that Harry Winston donated to the Smithsonian in 1958

A spring month & a type of tuber

1980s Fox series about youthful-looking undercover officers

Established by the League of Nations, the Permanent Court of International Justice opened in this city

Fried wonton strips, Mandarin orange & sesame dressing are key ingredients in this poultry salad

Methinks an annual gathering held in Florence is Alabama's official faire of this type

The Topkapi Palace Museum has the suitably magnificent yataghan (a sword) of this 16th century sultan

An educator's task & dishonestly taking a test

This '90s sitcom that starred Ryan Reynolds & Nathan Fillion dropped "A Pizza Place" from its title

After losing the heavyweight title in 1926, this boxer said, "Honey, I just forgot to duck"

2 Southwest restaurants claim to have created this deep-fried burrito with a 4-syllable name

It earned its "Equality State" nickname when it entered the Union as the first to give women the right to vote & hold office

A museum in Oslo is named for & displays this balsa raft that Thor Heyerdahl used to cross the Pacific in 1947

A hypersensitive reaction to a substance & a place to exhibit artworks

This Netflix series is a sort of Brazilian "Hunger Games"

The remains of Peking man, a member of this species of early "upright" human, were found in China

The name of this fast food hot dog chain refers to an Austrian food item not on its menu

In 1999, in a nod to this facility named for a president, Brevard County, Florida added 321 as an area code

Now at the Louvre, this sculpture was found on the Greek island of Samothrace

The act of betraying your nation & one who serves it as a state's representative

Bruce Boxleitner starred on this sci-fi series set in the 23rd century aboard the title space station

He set off from Britain for a fourth Antarctic expedition, but endured for only a few months before he took ill & died

Ham, roast pork, cheese & pickles are hallmarks of the sandwich that Floridians dubbed this

Located in a canyon, Phantom Ranch in this state still receives its mail by mule train

Made of pale blue & white jasperware, the Pegasus vase was given to the British Museum in 1786 by this English potter who made it

One brightens your face & the other is dumped on you in "Double Dare"
Scores at the first commercial break (after clue 15):
| | | |
| --- | --- | --- |
| Team Buzzy | Team Colby | Team Brad |
| $3,800 | $4,000 | $3,000 |
Scores at the end of the Jeopardy! Round:
| | | |
| --- | --- | --- |
| Team Buzzy | Team Colby | Team Brad |
| $4,000 | $5,000 | $3,800 |
Double Jeopardy! Round
Linda Brown, who as a young student was at the center of this landmark 1954 court case, died in Topeka at 75

The body's largest joint, it's susceptible to injury such as a torn meniscus

Herrick:
"Gather ye ____ while ye may, old time is still a-flying"

It's 17 letters long, but it means fear of the number 13

The Norway species of this furry, stubby-tailed little rodent is famous for Arctic mass migrations

This dance that shares its name with a Southern city was popularized by a 1923 Broadway show

He became a prominent neurologist in England, but he's best remembered for breaking the 4-minute mile

Highly oxygenated blood is carried away from the heart by this largest artery

Abel Meeropol:
"Southern trees bear a strange ____, blood on the leaves and blood at the root"

I get to say "aspirin"; you get to say this "acid", its other name

NASA's Themis project is dedicated to studying this display in the Arctic caused by charged particles in the magnetosphere

This dance calls for a line, as seen here

The book closed on this bestselling author in his trademark white suit, who died at 88

The dura mater is the outermost of these layers of protective membranes that surround the brain & the spinal cord

Kipling:
"We were promised abundance for all, by robbing selected Peter to pay for collective ____"

Smithsonian magazine called sleight-of-hand artist Ricky Jay "a leading scholar of" this "and illusion"

On a seal it forms a 3-4" thick layer & the Inuit make lollipops for children from it

In the 1890s a woman known as la goulue was said to be Paris' best at this dance dance

Friends & fans mourned the loss of this fashion designer in June; she was only 55

Lying beneath the trapezius muscles, these muscles of the shoulder look like an oblique parallelogram, hence the name

Eliot:
"I will show you fear in a handful of ____"

On May 23, 1618 3 guys were tossed out of a castle's windows in what is known as this, sparking a Bohemian revolt

Going from Norway to Alaska, this Scandinavian completed the first trip through the Northwest Passage in 1906

Bruno noted the "replacement hip action" of a "Dancing With the Stars" competitor in this dance dance dance

Famous for his iconic Love series, this pop artist who took his last name from his home state died at 89

This bone serves as an anchor for the tongue & does not directly articulate with any other bone

Carroll:
"Beware the jubjub bird, and shun the frumious ____!"

Horace's phrase for "words a foot & a half long" gives us this adjective meaning "given to using long words"

The largest on the Arctic Ocean, this Russian city was a base for the British, French & U.S. forces against the Bolsheviks

"La Bayadere" has 40 arabesques in the entrance for this group, a 3-word French term for a dance troupe's non-soloists
Scores at the end of the Double Jeopardy! Round:
| | | |
| --- | --- | --- |
| Team Buzzy | Team Colby | Team Brad |
| $16,800 | $11,000 | $4,200 |
| | | |
Final Jeopardy! Round
In 1901 this activist was jailed for inspiring the assassination of William McKinley, but the charge was later dropped
Final scores:
| | | |
| --- | --- | --- |
| Team Buzzy | Team Colby | Team Brad |
| $0 | $21,800 | $8,400 |
Cumulative scores:
| | | |
| --- | --- | --- |
| Team Buzzy | Team Colby | Team Brad |
| $26,200 | $21,800 | $58,200 |
| 2nd place: Wildcard competitor | 3rd place: $50,000 (split three ways) if eliminated | Winner: Automatic finalist |
Game dynamics: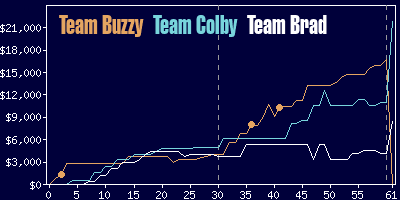 Team Buzzy
Team Colby
Team Brad
$17,400
$11,000
$4,200
Jennifer
Alan
David
$3,400
$5,000
$3,800
Alex
Pam
Brad
$14,000
$6,000
$400
23 R
(including 2 DDs),
3 W
(including 1 DD)
15 R,
2 W
12 R,
5 W
Game tape date: 2019-01-08