Show #4657 - Tuesday, November 30, 2004
Ken Jennings game 75. Nancy Zerg ends Ken's streak.
(Jerry Seinfield: The
Seinfeld gang
is out of jail--)
(George Costanza: --and coming to
Jeopardy!
--)
(Cosmo Kramer: --for a category.)
(Elaine Benes: Stay tuned!)
Jeopardy! Round
NO SOUP FOR YOU!
(Alex: ...we'll give you a list. You tell us which one is not a popular soup.)

SOME BRAINTEASERS ABOUT SEINFELD
(Alex: Now this is in honor of a new DVD release, Volumes I & II featuring all the shows from the first three seasons of Seinfeld.)

Mungo,
mulligatawny,
menudo

Days celebrating people going to heaven include Jesus' Ascension day & her Assumption day

In 1998 Rabbit Hash, Ky. elected Goofy, one of these, as mayor; sadly, the mayor had to be "put down" in 2001

Nothing, as a tennis score

Billi bi,
billet-doux,
bouillabaisse

Bitter herbs are featured on this holiday's Seder plate

Peter Ueberroth finished sixth in a 2003 race for this state's highest office, just ahead of Larry Flynt

In a 1775 speech he declared, "I know not what course others may take..." yada yada yada

Poudrette,
stracciatella,
Philadelphia Pepper Pot

In 1939 FDR moved this holiday one week earlier in an attempt to please the retail industry

This George W. Bush Cabinet member lost his 2000 Senate race to a man who died a month before the election

In a 1974 national TV address he conveyed, "Our long national nightmare is over..." yada yada yada

The "hour" for a military action to start

"She tells me that her ex-boyfriend was over late last night and 'yada yada yada', I'm really tired today.'"
"What do you think she was tired from?"
"Well obviously the 'yada yada.'"

(Jason Alexander [George Costanza] reads the clue.) That was a classic scene from Season 8; "yada yada yada" recently made it into one edition of this venerable British dictionary

Chlodnik,
cock-a-leekie,
kuttar

In 1876 Montreal's Mount Royal Park was officially inaugurated on May 24, a Canadian holiday because it's her birthday

In 1984 Walter Mondale got his 13 electoral votes by winning D.C. & this state

Before Congress in 1951, he announced, "I now close my military career..." yada yada yada

William Cowper: "What peaceful hours I once enjoyed... but they have left an aching" this

Bourride,
rond de jambe,
asopao de pollo

In 1955 the Pope moved the service for this observance, including St. John's Passion, to the afternoon

In 1884 a booster's attack on democratic "Rum, Romanism & Rebellion" backfired on this Down Easter

He humbly shared with the British in 1936, "A few hours ago I discharged my last duty as king..." yada yada yada

9-letter word for lack of existence, or a person of no importance

(Jerry Seinfeld reads the clue.) Kramer dated a "low-talker" who designed this, also the title of the episode from Season 5

"I... I can't wear this!"
"Hey, this looks better than anything you own."
Scores at the first commercial break (after clue 13):
| | | |
| --- | --- | --- |
| Ken | Nancy | David |
| $1,600 | $2,800 | $0 |
Scores at the end of the Jeopardy! Round:
| | | |
| --- | --- | --- |
| Ken | Nancy | David |
| $10,600 | $4,800 | $400 |
Double Jeopardy! Round
| | | | | | |
| --- | --- | --- | --- | --- | --- |
| | | | | | |
| Giraffes are divided by sex into cows & these | | This "Grand Ole Opry" comedy star used to wear a straw hat with the $1.98 price tag still attached | In 1909 George S. Patton graduated 46th out of 103 at this institution | Tom Kelly took the 1949 nude photographs of this actress that later appeared on the calendar "Golden Dreams" | Wifebeater is a controversial slang term for this ribbed white item of apparel |
| While swimming, the anaconda can close off a valve inside these to keep water out | | Featured in the "Harry Potter" movies, this hat takes its name from its function at Hogwarts School | Patton placed 5th at the 1912 Olympics in this event that includes swimming, fencing & the pistol | A wavy fabric made by twisting & then relaxing yarn, it's also found before "de Chine" | This kind of fruit is a Bronx cheer |
| It's the common litter size of llamas, hippos & kangaroos | The Detroit Red Wings' rink | Goya liked to paint at night, so he wore a hat rimmed with these | In 1916 Patton was an acting aide to this man, commander of WWI's American Expeditionary Forces | In 1956 the first transatlantic telephone cable was laid between Oban, Scotland & Clarenville in this Canadian province | This slang term for a fool or dolt is also the name of one of Archie's Riverdale friends |
| One type of terrier was specially bred in England to hunt this other member of the dog family | The New York Islanders' home ice | The name of this often brimless hat, popular in the 1920s, is French for "bell", after the shape of the hat | On December 26, 1944 Patton's forces relieved this town in Belgium's Ardennes; the Germans were driven out in January | The most popular color for this November birthstone is a rich orange-yellow, like the color of sherry | A university seminar on slang revealed that an unwelcome follower is known as a hanging this |
| As it's a fave of caribou, the lichen they eat is called this moss | ...and the home of the (Atlanta) Braves | In Wagner's operas, this eldest Valkyrie is stereotypically dressed in a horned helmet & breastplate | A few feet of the 998 square miles of this European country are Patton's grave in the American cemetery | This Ballets Russes founder had tried to be a composer, but Rimsky-Korsakov told him to stop | From the Latin for "duchy", it's slang for money or for a show ticket |
Scores at the end of the Double Jeopardy! Round:
| | | |
| --- | --- | --- |
| Ken | Nancy | David |
| $14,400 | $10,000 | -$2,800 |
| | | |
Final Jeopardy! Round
Most of this firm's 70,000 seasonal white-collar employees work only 4 months a year
Final scores:
| | | |
| --- | --- | --- |
| Ken | Nancy | David |
| $8,799 | $14,401 | -$2,800 |
| 2nd place: $2,000 | New champion: $14,401 | 3rd place: $1,000 |
Game dynamics: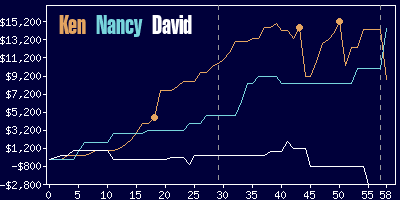 Ken
Nancy
David
$22,400
$10,000
-$2,800
29 R
(including 1 DD),
4 W
(including 2 DDs)
10 R,
1 W
7 R,
5 W
Game tape date: 2004-09-07