Show #899 - Thursday, June 30, 1988
Jeopardy! Round
In 1971, his autobiography, "Wunnerful, Wunnerful!" became an instant best seller

The book "Diamonds Are Forever" contains works by artists & writers dealing with this sport

In 1978, the 1st giant panda conceived by artificial insemination was born in this Asian country

"He that makes himself" one of these "shall be eaten by the wolf"

John Lennon insisted "Lucy in the Sky with Diamonds" was inspired by a painting by this boy, his son

Mexicans observe November 2 as "Dia de Muertos", Day of this

Growing up in N.D. she was Norma Delores Egstrom, but had the following hit under this name:

"Never know how much I love you / Never know how much I care..."

1 of the 2 people AP named greatest male & female athlete of the first half of this century

It takes the wool from as many as 40 of these Kashmir animals to make a cashmere overcoat

Do this "in haste & repent at leisure"

The original title of this Buddy Holly hit was "Cindy Lou"

The Festival of Fast Breaking isn't an NBA holiday, but one of this religion

Senator Bill Bradley played pro ball for this team

Largest of the anthropoid apes, they weren't discovered by Europeans until 1847

It's "not steel, yet it cuts"; it's "a woman's sword & she does not let it rust"

The Stone Poneys' hit "Different Drum" was written by Mike Nesmith before he joined this group

The Greeting Card Assn. says members of this profession receive the most Valentine cards

Prolific western novelist whose great-grandfather was scalped by the Sioux

1 of 2 AFL teams for which Congressman Jack Kemp played pro ball

Red Sindhi, Red Danish & Red Poll are 3 types of this common farm animal

According to the proverb on perserverance, it's how "the goose is plucked"

In 1956, Elvis' initial 2-week run at this famous resort city was shortened due to poor audience response

The French call this holiday "Fete nationale du 14 Juillet"

This Redskins defensive tackle is a nephew of former Agriculture Secretary Earl Butz

"Musical" name of the adorable baby seals hunted near Newfoundland for their soft white coats

In the rhyming proverb "What can't be" this, "must be endured"

Their 1977 hit "We Are the Champions" was once the theme song of the N.Y. Cosmos soccer team

Besides Lincoln & Washington, 1 of 2 other presidents whose birthdays fall in February
Scores at the first commercial break (after clue 13):
| | | |
| --- | --- | --- |
| Rick | Carol | Randy |
| $200 | $1,400 | $1,200 |
Scores at the end of the Jeopardy! Round:
| | | |
| --- | --- | --- |
| Rick | Carol | Randy |
| $600 | $2,900 | $3,300 |
Double Jeopardy! Round
THE PLAYWRIGHT IN QUESTION

At about 11 million, this Russian newspaper has, it's claimed, the world's biggest daily circulation

In ancient times this country popularized a loose, flowing tunic called the "chiton"

"The Wedding", "The Bear", "Uncle Vanya"

At one time, there were 48,000 South Koreans fighting in this other Asian country's "civil war"

Hannibal wore these accessories as a disguise, but Dolly Parton just wears them to look pretty

In 1973, this American financial institution was 1st to open an office in Russia in 50 years

"The Dreamy Kid", "More Stately Mansions", "Strange Interlude"

This city's "News" & "Free Press" are trying to get the Justice Dept. to okay joint operation

This Frankish king's war against Saxons was so brutal a court scholar politely complained

A 17th century woman wore her "commode", a silk-covered wired form 2 or 3 tiers high, on this

This TV series made money the old-fashioned way

--

it earned it

Originally a 16th c. medicine made by a monk, it's said only 3 people at a time know its complete formula

"The Jealous Husband", "The Seductive Countess", "The Misanthrope"

Atlanta paper which the Encyclopedia of American Journalism calls "leading paper of the South"

The Wars of the Roses ended when Richard III was "unhorsed" at the battle here

Though empire dresses of the 1800s had low necklines these features were especially high

Lincoln's Secretary of the Treasury, as Chief Justice he presided over Johnson's impeachment

A light Bohemian beer with a strong hops flavor, or the tall glass it's served in

"Curse fo the Starving Class", "Buried Child", "A Lie of the Mind"

A rider in the recent federal spending bill forced Rupert Murdoch to sell this paper

During the Gurkha War in the early 19th century, Britain invaded this mountainous country

A "chatelaine" was the mistress of a chateau or this, which she wore to hang keys on

Pulitzer Prize playwright who made us all see a 6-foot invisible rabbit named "Harvey"

It's said the heat from a ship's hold improved the taste of this Portuguese island dessert wine

"American Buffalo", "Glengarry Glen Ross", "Sexusal Perversity in Chicago"
Scores at the end of the Double Jeopardy! Round:
| | | |
| --- | --- | --- |
| Rick | Carol | Randy |
| $5,200 | $6,500 | $8,300 |
| | | |
Final Jeopardy! Round
The USA's 2 longest rivers meet just 10 miles north of this major city
Final scores:
| | | |
| --- | --- | --- |
| Rick | Carol | Randy |
| $10,200 | $10,500 | $3,500 |
| 2nd place: trip on Eastern and stay at Mullet Bay Resort on St. Martin + Jeopardy! box game | New champion: $10,500 | 3rd place: Emerson 25" TV + Jeopardy! box game |
Game dynamics: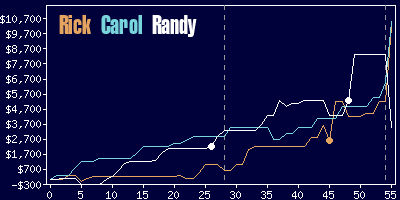 Rick
Carol
Randy
$3,200
$6,500
$5,600
14 R
(including 1 DD),
5 W
16 R,
1 W
19 R
(including 2 DDs),
3 W
Game tape date: 1988-03-21