Show #2791 - Monday, October 21, 1996
Contestants
MaryAnn Toner, a data entry operator from Westmont, Illinois

Andy McKay, a technical editor from Brielle, New Jersey

Charles Miller, from Maryland (whose 1-day cash winnings total $16,001)
Jeopardy! Round
| | | | | | |
| --- | --- | --- | --- | --- | --- |
| | | | | | |
| Francisco de Orellana said he ran into this race of warrior women while looking for El Dorado's gold | You should "make" this "slowly" because it "makes waste" | Sonny Crockett in the '80s, he became Nash Bridges in 1996 | Before you knead bread dough, sprinkle this on your board to prevent sticking | Reversing an earlier decision, in 1943 the court said no one can be forced to salute this | According to one story, Thomas Edison was responsible for making this word the standard phone greeting |
| 2 of Rio's leading ones are O Globo & Jornal do Brasil | It's "better late than never" but "better" this "than sorry" | On this series Chicago detective Ray Vecchio is aided by Canadian Mountie Benton Fraser | This spice from ground sweet red peppers is sprinkled on deviled eggs | In 1964 the court ruled that public officials must prove "actual malice" in suing a newspaper for this | In Japan this greeting is formally made by inclining the body at about 30 degrees |
| In this national language, X's sound like "sh", as in Xuxa | Based on biblical quotes, the 3 things you should do "because tomorrow we die" | The USA Network's "Pacific Blue" features cops who patrol on these vehicles | The arborio type of this grain is used in Italian risotto dishes | In his 34 years on the court, John Marshall Harlan delivered 316 of these opinions | "Greetings from Asbury Park, New Jersey", his first album, sold only about 20,000 copies when first released |
| Neighborhood samba groups rehearse months in advance for this annual celebration | Meaning intelligent people can take a hint, this proverb ends, "...is sufficient" | This NBC police drama is subtitled "Life on the Street" | When you select button ones at the market, the gills should not be showing | Tradition still has these types of pens placed daily on the counsel tables | This U.N. organization devoted to children is financed in part by the sale of greeting cards |
| Fodor's calls it the "largest, wealthiest metropolis in all of South America" | If Jim Carrey were to make a sequel to this 1985 film of his, it would probably be called "Twice Shy" | Comedy series on which Al Molinaro played Murray the cop | This spice made from the dried stigmas of a crocus comes in thread or powder form | He appointed 6 judges in a day & 5 were confirmed 2 days later | This Yiddish writer's pen name was a traditional greeting meaning "peace be with you" |
Scores at the first commercial break (after clue 12):
| | | |
| --- | --- | --- |
| Charles | Andy | MaryAnn |
| -$100 | $1,800 | -$200 |
Scores at the end of the Jeopardy! Round:
| | | |
| --- | --- | --- |
| Charles | Andy | MaryAnn |
| -$100 | $4,400 | $1,700 |
Double Jeopardy! Round
CONTEMPORARY WOMEN AUTHORS

Anne McCaffrey, author of the "Pern" novels, is a well-known writer in this genre

The Gulf Stream got its name from the belief that it starts in this gulf

This director played the title role in the 1953 cross-dressing classic "Glen or Glenda?"

Canadian architect Carlos Ott designed the Opera Bastille, which opened in this city in 1989

During the Caroline Affair in 1837, a group of Canadians sank a U.S. steamer above these falls

He fell ill after a farewell pilgrimage to Mecca in March 632 & died in June

"Malice", published in 1996, is her 37th bestseller

Allahabad, a place of pilgrimage for Hindus, lies at the confluence of the Yamuna River & this river

"She's Gotta Have It", his first feature, had a budget of $175,000

Verdi was paid 150,000 francs to compose this opera for the khedive of Egypt

Joan of Arc rose to fame during this long series of wars

In 1861 he told the people of Springfield, "I now leave not knowing when or whether ever I may return"

This author of "Heartburn" has written several films, including "When Harry Met Sally"

It's the closest continent to Vanuatu, a country that consists of about 80 islands

With "The Seventh Seal" he established the religious themes that characterize much of his work

"Das Liebesverbot", this German's only foray into Italian-style opera, was a total failure

Around 500 Clovis had the "Gaul" to unite these peoples; Pepin became "King of " them in 751

In a song this poet wrote, "Farewell to the highlands, farewell to the north..."

This African-American author set her first novel, "The Bluest Eye", in Lorain, Ohio, her birthplace

The town of Moshi in Tanzania lies at the base of this mountain

(Video Daily Double)
This man won his first of 3 Best Director Oscars for the film seen here:

Beethoven wrote 16 versions of the hero's entrance in this opera & we still don't know if he's satisfied

This Spanish princess was married to Henry VIII's brother before she married Henry

The last section of this fifth book of the Old Testament contains the farewell song of Moses

This creator of V.I. Warshawski co-founded Sisters in Crime, an organization for women mystery writers

This director of "Forrest Gump" also directed all 3 "Back to the Future" features

This capital city's Court Opera was renamed Staatsoper in 1918

Justinian built this Turkish church 532-537 intending to make it the most splendid in the world
Scores at the end of the Double Jeopardy! Round:
| | | |
| --- | --- | --- |
| Charles | Andy | MaryAnn |
| -$100 | $11,600 | $10,600 |
| | | |
Final Jeopardy! Round
Family who lived by the motto "Life is on the wire. The rest is just waiting."
Final scores:
| | | |
| --- | --- | --- |
| Charles | Andy | MaryAnn |
| -$100 | $600 | $2,600 |
| 3rd place: Towle 5-piece coffee/tea service | 2nd place: Trip to Washington, D.C. | New champion: $2,600 |
Game dynamics: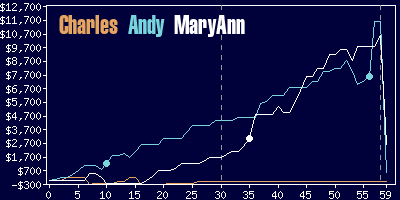 Charles
Andy
MaryAnn
-$100
$8,100
$9,700
6 R,
2 W
26 R
(including 2 DDs),
4 W
22 R
(including 1 DD),
4 W