Show #7481 - Monday, March 6, 2017
Jeopardy! Round
In "Khaki Wings" a young British man courts danger by joining the fledgling Royal Flying Corps during this war

In Islam misbaha is one name for a string of prayer beads like this Catholic equivalent

Funeral director David Fisher

A telecom company, or a quick burst of speed

British prime minister Theresa May is not only leader of the U.K., but this political party as well

A baby hedgehog isn't called a piglet, but this similar-sounding word

"Imperial Life in the Emerald City" is Rajiv Chandrasekaran's look at life in this war-torn city's Green Zone

This material used to make tennis racket strings comes from the dried in

test

ines of animals but not pets

Daisy Mason, who rose from kitchen maid to assistant cook

All 4 horse's feet can be off the ground while doing this fas

test

gait

Academic specialty of Drew Gilpin Faust, who made some herself in 2007 as the first female pres. of Harvard

A ring-shaped muscle extending almost the entire length of a hedgehog's body allows it to do this when scared

"In Country" is Bobbie Ann Mason's novel of a young woman coming to terms with her father's death in this war

The name of these stringed performers is from the French for "little Mary"

Darlene, a malware coder & Elliot's sister

Camera lens that brings a subject into closeup while retaining focus

Founder & CEO of amazon.com, he's been a leader in "predictive analytics", which matches ads to browsing history

"Rise to Rebellion" marks the start of the Revolution with this 1770 clash of British troops & colonists

According to Homer, Penelope agreed to marry the one who could string this man's huge bow

NYC police detective Danny Reagan

Suddenly, it's a door fastener! Completely "out of the blue"

Abbrev. FAO, this U.N. agency headed by Jose Da Silva of Brazil leads the world's efforts to defeat hunger

"The Winds of War" in the title of this man's 1971 bestseller blow the U.S. into World War II

Whither goes thou? Off to play this, which has been called the national instrument of Bavaria & Tyrol

Seen here is a carrying case for these sports items, also a word meaning "moves quickly"
Scores at the first commercial break (after clue 14):
| | | |
| --- | --- | --- |
| Rob | Alison | Ernie |
| $2,400 | $1,200 | $1,200 |
Scores at the end of the Jeopardy! Round:
| | | |
| --- | --- | --- |
| Rob | Alison | Ernie |
| $4,400 | -$1,000 | $2,400 |
Double Jeopardy! Round
STATE CAPITAL ATTRACTIONS

THIS CATEGORY GOES TO THE 1100s

The Illuminati pop up in this Tom Hanks film & antimatter is stolen from the large hadron collider

The state capitol building, naturally, designed by Thomas Jefferson

Every attorney who argues a case before the Supreme Court receives this type of pen, but not the inkwell

Gender & medications & beat-driven pop music

The Zen branch of this religion was introduced into Japan from China in 1191

Equus greyvi is a type of this found in Kenya & Ethiopia

In Marvel comics, this big guy is exiled to the planet Sakaar by "the Illuminati"; he comes back though, to smash

Its self-named icefield, which can be enjoyed via helicopter tour

One of the Supreme Court building dining rooms is named for this chief justice who served from 1801 to 1835

Traffic signals, a private chamber & the events of a drama

Welcher of Malvern introduced these units to measure latitude & longitude

Botanically, this edible squash is a berry known as a pepo

In her hit song "Formation", she says "haters" are "corny with that Illuminati mess"

Fairytale Town & the Leland Stanford mansion

In the 1962 case Engel v. Vitale, the Supreme Court banned sponsored this in public schools

Soil, air current & ignition

This magnificent temple complex was built under the rule of Khmer King Suryavarman II, who wanted it as his tomb

A Hostess cake, or a quick, witty retort

The Illuminati act all shadowy in the 2016 edition of this video game that doesn't end in "machina"

Morse Farm Maple Sugarworks

--

you can order online, but it's more fun to visit

This 4-letter interjection, French for "hear", is part of the announcement as the justices enter the court

Sir Francis, iceberg & heirloom

In 1141 this monk was condemned by a church court on theological grounds, not for fooling around with a student

The Sumerians like this type of rectangular temple

"Foucault's Pendulum" by this Italian conspiratorially mentions the Illuminati often

Orville was the middle name of this longest-serving justice who spent 36 years on the court, 1939 to 1975

A measurement on a gauge, an inscription & computation using integers
Scores at the end of the Double Jeopardy! Round:
| | | |
| --- | --- | --- |
| Rob | Alison | Ernie |
| $15,200 | $13,400 | $8,400 |
| | | |
Final Jeopardy! Round
These 2 countries whose names start with the same 4 letters were part of different countries until the 1990s
Final scores:
| | | |
| --- | --- | --- |
| Rob | Alison | Ernie |
| $3,599 | $23,200 | $1,599 |
| 2nd place: $2,000 | New champion: $23,200 | 3rd place: $1,000 |
Game dynamics: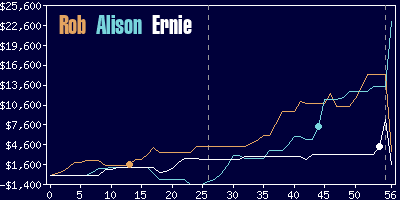 Rob
Alison
Ernie
$14,800
$10,600
$6,000
20 R
(including 1 DD),
4 W
16 R
(including 1 DD),
5 W
10 R
(including 1 DD),
3 W
Game tape date: Unknown