Show #7466 - Monday, February 13, 2017
2017 College Championship quarterfinal game 1.
Jeopardy! Round
| | | | | | |
| --- | --- | --- | --- | --- | --- |
| | CELEBRITY SIBLING SURNAMES | | | | |
| This 8-letter baby isn't ugly in the least | Dominant athletes Venus & Serena | Before 100 A.D.: manuscripts are stored in caves, to later be called these scrolls named for a body of water | A set of words complete in itself, or a criminal's punishment | This language has 2 main written forms: modern standard & classical, the language of the Koran | It's the precious variety of corundum seen here |
| Here's a not-so-giant panda at a giant panda base in this country | Liam, Chris & the lesser-known Luke | Around 840: Norse invaders establish this city they call Dyfflin on the banks of the River Liffey | To shape into a form, or a fungus that grows on food | This language is spoken by about 11 million in Europe & about 200 million in South America | This red shade precedes "letter" & "fever" |
| A wildlife rescue center in France is a bon place for a basket of these | | 5th century B.C.: Athenians carry out an ambitious building program on this hill with a name meaning "upper city" | Sensible & not easily upset, or a house for thoroughbreds | Almost extinct, the Coeur d'Alene language is spoken by a few Native Americans on a reservation in this U.S. state | It's what gives "The Red Badge of Courage" its redness |
| Look closely at the feet & you should be able to name this species of the flower aficionado seen here | Kelly, Jack & the seldom-seen Aimee | This year: Harold II becomes king of England for 9 months before getting conquered by another guy | A machine for moving heavy objects, or a long-necked, long-legged avian | Standard Chinese is based primarily on this form of Chinese spoken by the educated in Beijing | An intense, bright red named for an emergency vehicle |
| Despite the name, a cat with this color pattern is not a member of the turtle family | Donnie & Mark, the pride of Dorchester | Around 313: this Roman emperor starts championing Christianity | To hit with a fist or bat, or a terrestrial gastropod | Before 2009 Greenland had 2 official languages: Greenlandic & this | A Brunswick bowling ball & a Stratocaster guitar have both come in this red, named for a sugar-coated fruit |
Scores at the first commercial break (after clue 15):
| | | |
| --- | --- | --- |
| Lilly | Esteban | Netanel |
| $6,600 | $1,000 | $1,000 |
Scores at the end of the Jeopardy! Round:
| | | |
| --- | --- | --- |
| Lilly | Esteban | Netanel |
| $7,200 | $4,200 | $4,200 |
Double Jeopardy! Round
SEMILITERATE BEFORE & AFTER

REMEMBER 2016?
(Alex: It wasn't that long ago.)

A baby has a 1-in-1,461 chance of being this & having his 20th birthday also be his 5th

The Yucatan Channel connects the Gulf of Mexico & this sea

Team rope-pulling contest that becomes a Tolstoy novel

Seen here, they can sometimes be in black & white too

Other characters in this smash Broadway show include Lafayette & Peggy Schuyler

A Japanese company made the world's last one of these TV playback machines

Name of the Punxsutawney groundhog traditionally at the heart of the action on February 2

The river locally called Song Sai Gon runs mainly through the south of this country

A novel about a dog named Buck that can vary its value from 2 through ace

A hole for a fox, or what it does as it digs it

In 2016 Leona Lewis earned her whiskers playing Grizabella in the revival of this musical

On August 17th, she was named Donald Trump's campaign manager

The last month of the Roman year, February became our second month when this calendar was proclaimed in 1582

The "thumb" of Michigan's "mitten" juts north into this Great Lake

Tony Stark creation who becomes Don Quixote in a musical

Term for a chance onlooker, perhaps an innocent one

This superhero spun his magic on Broadway in a musical subtitled "Turn Off the Dark"

Protests began as the Standing Rock Sioux moved to block this pipeline that bears the name of a Sioux people

We'll lead you down this path named for a February birth flower & early spring bloomer

This river rises in the Alps & flows through France to the Mediterranean, the most important river to do so

Instead of ending so the ballgame can start, the national anthem leads into a 1932 novel of the future

These prevent a horse from being distracted by that cute filly off to the side

From Trey Parker & Matt Stone, it's described as "hilarious and irreverent"

Aung San Suu Kyi's friend Htin Kyaw was inaugurated as this country's first freely elected president in decades

These hyphenated Germanic people of Britain called February "Solmonath", meaning "mud month"

In 1992 North Korea & South Korea proposed that this sea off their east coasts be called the East Sea

9th century English king who lived in West Egg, New York in a 1920s novel

An ancient empire lends its name to this term meaning "intricate" or "complex"

Neil Patrick Harris won a 2014 Tony for his role in this musical about a transgender punk rocker from East Berlin

This Silicon Valley entrepreneur revealed he had bankrolled the lawsuit that took down Gawker
Scores at the end of the Double Jeopardy! Round:
| | | |
| --- | --- | --- |
| Lilly | Esteban | Netanel |
| $20,000 | $7,400 | $15,600 |
| | | |
Final Jeopardy! Round
It begins with God saying, "Take ye the sum of all the congregation of the children of Israel"
Final scores:
| | | |
| --- | --- | --- |
| Lilly | Esteban | Netanel |
| $24,399 | $0 | $18,000 |
| Automatic semifinalist | 3rd place: $5,000 if eliminated | 2nd place: $5,000 if eliminated |
Game dynamics: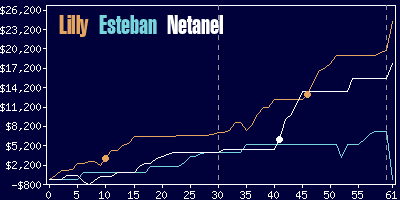 Lilly
Esteban
Netanel
$19,600
$7,400
$13,800
27 R
(including 2 DDs),
2 W
11 R,
1 W
17 R
(including 1 DD),
2 W
Game tape date: 2017-01-10