Show #2307 - Tuesday, September 20, 1994
Jeopardy! Round
| | | | | | |
| --- | --- | --- | --- | --- | --- |
| | | | | | |
| Sarah Phillips designed the stunning violet gown this first lady wore to the 1993 inaugural balls | On Oct. 4 1957 this sitcom starring Jerry Mathers premiered | A list of these, perhaps the largest ever published, included "Rah, rah, ru, Bucknell, B.U." | Louisiana has 3 of the nations top 6 ports, including New Orleans & this capital | A "Megabucks" system links these machines between Las Vegas casinos to increase their jackpots | This 4-letter prefix can denote opposition to abortion or slavery |
| She said, "There'll be great presidents again...but there'll never be another Camelot again" | "Diary of a Perfect Murder", which aired in 1986, was the pilot film for this Andy Griffith series | Of about 33, 51 or 72 years, the "average duration of human life" in 1893 | He coerced Spain to return Louisiana to him in 1800, then sold it to the U.S. in 1803 | The winning numbers for the Irish Sweepstakes came from the winners of this type of race | Oto- pertains to the ear, sono- pertains to sound & this pertains to hearing & sound |
| She said 1944 "was the year I fell in love with Jimmy's picture"; she was a close friend of his sister Ruth | In 1971 this former N.Y. Giants player joined the crew of "Monday Night Football" & he's still there | Chicago packed & marketed 5,249,798 of these animals in the year ending March 1, 1892 | These, Louisiana's equivalent of counties, are often governed by bodies called police juries | Knucklebones, made from the ankles of sheep, are considered the earliest of these | Before soil it means below; before human, nearly or almost |
| She was the oldest of Colonel John Dandridge's 8 children | On "Family Matters", this character was introduced as Laura Winslow's blind date from Hell | A fifth satellite was found orbiting this planet by E.E. Barnard in 1892; the others were found by Galileo | The Vieux Carre section of New Orleans is better known as this | 1962's "Beat the Dealer" by Edward O. Thorp was about card counting in this game | Meaning ancient and often involving fossils, it precedes -lithic, -zoic & zoology |
| In 1875 a jury decided this former first lady was insane; in 1876 another jury declared her sane | Dobie Gillis often gave his weekly monologues in the Central City Park in front of this statue | In terms of population, it was the largest city on Earth | In 1948 his son Russell was elected to the U.S. Senate from Louisiana | The 2 suits that feature one-eyed jacks | The 2 prefixes, one meaning large, the other meaning small, that describe 2 branches of economics |
Scores at the first commercial break (after clue 15):
| | | |
| --- | --- | --- |
| Jim | Neil | Chris |
| $500 | $2,700 | $700 |
Scores at the end of the Jeopardy! Round:
| | | |
| --- | --- | --- |
| Jim | Neil | Chris |
| $2,700 | $3,800 | $1,600 |
Double Jeopardy! Round
The fourth of the military expeditions never reached Palestine, capturing Constantinople instead

This fatty, eellike fish is the main ingredient in the French dish lamproie a la bordelaise

The top number in a 4/4 time signature refers to the number of quarter notes in one of these

Its name is from the Greek kyklos, "circle", & ops, "eye"

On computers this key is marked ESC

This author of "The Catcher in the Rye" was once an entertainer on a Caribbean cruise ship

This Spanish warrior served the Moors before undertaking the conquest of Moorish Valencia in 1089

Garum, a pungent flavoring made from fermented fish, was a specialty of this ancient civilization

A snare is played with drumsticks & tubular chimes are played with one of these

After he wounded Venus with an arrow, Venus fell in love with Adonis

When this device is moved along a tabletop, it causes a pointer to move across the screen

Thomas Wolfe was born in North Carolina & Tom Wolfe was born in this state directly north of North Carolina

Established in 640, this city at the south end of the Nile delta was first called Al-Fustat

It's the lizard most commonly eaten in the western hemisphere

After he wrote "William Tell", the French court broke its contract with him for 4 more operas

Zeus & Eurynome produced the 3 graces & Zeus & Mnemosyne produced this nonet

Despite its name, this type of thin plastic disk should not be bent

"The Autobiography of Alice B. Toklas" was her only bestseller

The Abbasid dynasty of caliphs moved the capital of the caliphate from Damascus to this city

Taramasalata, a taste treat from this country, is often made from carp roe

Chopin wrote 27 of these pieces designed to help the performers develop their techniques

These 4 were Boreas, Notus, Eurus & Zephyrus

It's the use of personal computers to design & produce professional-quality typeset documents

"Ragged Dick", his 1st successful rags-to-riches story, was 1st serialized in 1867

At its height some 100 towns belonged to this league of merchants & towns

Scots love to eat this sheep's stomach entree with neeps & tatties

--

turnips & potatoes

Term for a piece of music that suggests a rural scene

Since he couldn't escape from King Minos' prison by land or sea, he devised a way to do it by air

In CAD/CAM, called the "new Industrial Revolution", it's what the D stands for

In "The Tin Drum", this German author wrote, "Even bad books are books and therefore sacred"
Scores at the end of the Double Jeopardy! Round:
| | | |
| --- | --- | --- |
| Jim | Neil | Chris |
| $11,500 | $10,000 | $2,000 |
| | | |
Final Jeopardy! Round
With 5, she's won more Olympic gold medals than any other U.S. female athlete
Final scores:
| | | |
| --- | --- | --- |
| Jim | Neil | Chris |
| $9,500 | $12,000 | $2,500 |
| 2nd place: Lane video cabinet + Sanyo TV | New champion: $12,000 | 3rd place: Gibson freezer |
Game dynamics: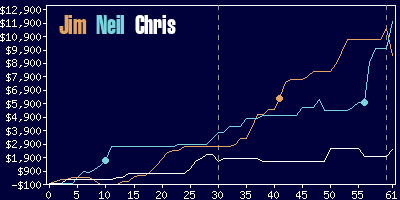 Jim
Neil
Chris
$11,300
$7,300
$2,000
26 R
(including 1 DD),
2 W
18 R
(including 2 DDs),
2 W
9 R,
3 W
Game tape date: 1994-07-26