Show #7276 - Monday, April 11, 2016
Jeopardy! Round
ENTOMOLOGIST'S DICTIONARY

Clydesdales are true draft horses, appearing with this beer since 1933

Central to his autobiography "Timebends" was his 4-year marriage to Marylin Monroe

6-letter word for a community of insects that live & work together

In 2015 this "Big Papi" with 500+ homers & a .455 World Series batting average said 2016 would be his final season

In the '50s, cake mixes were first sold under his name; they're "So moist. So delicious. And so much more"

This Dutch beer was honored with a Diplome de Grand Prix at the 1889 World's Fair in Paris

It's the Greta Garbo-esque title of Vanna White's 1987 autobiography

Clavate, meaning "club-shaped" is one type of these paired sensory appendages

A San Diego Padre from 1982 to 2001, this outfielder won 8 batting titles

This singer from Philadelphia says of his rich career that he was in the right place at the right time

This "cerveza mas fina" has been brewed & bottled in Mexico since 1925

1-word title of Cheryl Strayed's memoir subtitled "From Lost to Found on the Pacific Crest Trail"

Chitin is the main component of this tough, outer supporting structure of an insect

This Yankee outfielder hit 52 home runs in 1956 & 54 in 1961

This Swede was the second Secretary-General of the United Nations

Appropriately, this beer brand makes a Rebel IPA

This first memoir of Maya Angelou became a bestseller

Helpful in identification & classification, venation is the arrangement of veins in this part

In 1980 this Kansas City Royal hit .390

In "The Best and the Brigh

test

", this historian chronicled the failings of the U.S. military in Vietnam

Here's the logo of this beer that also comes in dark & non-alcoholic versions

In this 1956 autobiography, Billie Holiday wrote of her career & the hardships of her childhood

7-letter term for the imitation by harmless insect species of poisonous ones to fool predators

In the '50s and '60s, he was a true giant, becoming one of the grea

test

players of all time

His 1961 N.Y. Times obituary called him "The dean of the so-called 'hard-boiled' school of detective fiction"
Scores at the first commercial break (after clue 15):
| | | |
| --- | --- | --- |
| Ricky | Thaddeus | Catherine |
| $3,200 | $1,200 | $1,400 |
Scores at the end of the Jeopardy! Round:
| | | |
| --- | --- | --- |
| Ricky | Thaddeus | Catherine |
| $6,800 | $2,600 | $3,800 |
Double Jeopardy! Round
There was baby news upstairs with Lady Mary & downstairs with Anna as this series ended its 6-year run on PBS in 2016

Around 1000 B.C. this king from Judea united all Israel into one kingdom with Jerusalem as its capital

This state is "Birthplace of a mighty nation, keystone of the land"

To research this bestseller, Ayn Rand worked in the office of architect Ely Kahn

Several varieties of a fruit can be grown on the same tree using this practice that unites parts of different plants

Admirable, or NBA Hall of Famer James

Angus is the first name of this resourceful Phoenix Foundation member

Around 587 B.C. this empire conquered Judea & exiled most of the Jews

"All hail to grand old Bay State, the home of the bean and " this fish

When asked if this NYC-set novel was true, Betty Smith replied, "Not as it was but as it should have been"

Burpee offers the supersauce hybrid of one of these plants yielding Romas weighing 2 pounds

In the name of the folks that bring you Elmo, "Sesame" has replaced "Children's Television" before this word

Kappa Kappa Tau sees a lot of violence on this Fox show

He was the Roman prefect or governor of Judea from 26 to 36 A.D.

Out west "Blessed from Heaven above, it's the land that we love, this is the place"

Clergyman Lloyd Douglas was asked what became of Christ's garment at the crucifixion; he wrote this novel as a reply

For best flavor, herbs should be harvested in the morning, when these oils are at their highest concentration

Ricky Ricardo's signature song on "I Love Lucy"

Immediately before the Israelite conquest under Joshua, these people dominated Judea

Arkansans sing, "October morning in" these mountains, "hills ablazing like that sun in the sky"

John Hersey won a Pulitzer for his novel about a U.S. soldier helping find "A Bell for" this Sicilian town

The name of this flower bed plant of the balsam family comes from the speed with which its seeds are dispersed

In the Bible, this herb is a symbol of bitterness

"Looking" & "Full House" were both set in this city

"From New Castle's rolling meadows, through the fair rich fields of Kent, to the Sussex shores" is sung in this state

A young apprentice silversmith in 1770s
Boston is the title character of this 1943 historical fiction by Esther Forbes

The grass in your lawn might be Bermuda, rye or this variety that sounds like a city in Florida

This compactly twisted woolen yarn is named for a village in eastern England
Scores at the end of the Double Jeopardy! Round:
| | | |
| --- | --- | --- |
| Ricky | Thaddeus | Catherine |
| $16,000 | $3,200 | $7,200 |
| (lock game) | | |
Final Jeopardy! Round
Jazz musician Trombone Shorty performed the "voices" of just the adults in the movie about this title group
Final scores:
| | | |
| --- | --- | --- |
| Ricky | Thaddeus | Catherine |
| $14,401 | $6,150 | $7,999 |
| 2-day champion: $40,000 | 3rd place: $1,000 | 2nd place: $2,000 |
Game dynamics: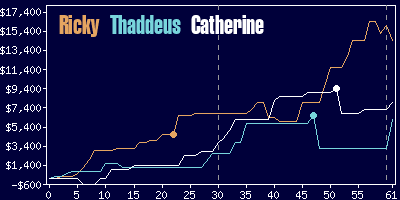 Ricky
Thaddeus
Catherine
$14,800
$6,600
$9,800
20 R
(including 1 DD),
3 W
9 R,
2 W
(including 1 DD)
14 R,
2 W
(including 1 DD)
Game tape date: 2016-03-01