Show #7260 - Friday, March 18, 2016
Jeopardy! Round
| | | | | | |
| --- | --- | --- | --- | --- | --- |
| | | | | | |
| | In May 2015 this prime minister & his Conservative Party defied the polls & won a clear majority in Parliament | | So, a man walked into a bar & said, give me this type of beer, & make it a large | This Dr. Seuss character is undoubtedly very patient & a really good listener | The title of this song by Drake refers to a late-night cellphone call |
| The 550-foot-tall "High Roller" is a landmark in this U.S. city | Mistaking cheering for a riot, William the Conqueror's guards burned local houses after his coronation on Xmas of this year | Don't want a landfill in your neighborhood? Then you know that NIMBY stands for this | Without a telescope, you are unable to see the Crab one of these clearly | "Beware, the Snowman" & "Night of the Living Dummy" are 2 titles in this R.L. Stine book series | George Harrison's first Beatles A-side, it says, "You're asking me will my love grow, I don't know, I don't know" |
| A wheel with a circumference of 1,392 feet, the "Eye" of this world capital is upon you | This group of islands was the only part of Britain occupied in WWII by the Germans | FOB refers to supporters & acquaintances of this politician | False alarm, Fido is free of these | In a Patricia MacLachlan title, these 2 words describe Sarah, an American mail order bride of the 19th century | This 1973 No. 1 hit by Roberta Flack won Grammys for Record of the Year & Song of the Year |
| Vienna's 212-foot giant Ferris wheel is featured in this post-WWII film with Orson Welles as baddie Harry Lime | Still negotiating for peace, this prime minister met with Mussolini in Rome in January 1939 | The format of Sunday morning political shows, BOGSAT is this group "sitting around talking" | We raced up the hill to this type of tree & then back down | Its apples & its branches are 2 of the offerings provided to the boy in this work about sacrifice | Wise men know that this Elvis Song was inspired by the French melody "Plaisir d'amour" |
| Enjoy a butler-served meal on the "Flyer" in this Asian island & city-state at the southern tip of the Malay Peninsula | In 598 St. Augustine built a monastery near this settlement, which became the main religious center of England | HR is short for one of these legislative proposals put forth by one part of Congress | The writer sent out several of these to Esquire magazine hoping to sell an article | In this Roald Dahl work, the title edible eventually comes to rest on top of the Empire State Building | Appropriately, this CCR hit was on the soundtrack to "An American Werewolf in London" |
Scores at the first commercial break (after clue 15):
| | | |
| --- | --- | --- |
| Gwen | Steve | Aurora |
| $2,200 | $3,000 | $3,600 |
Scores at the end of the Jeopardy! Round:
| | | |
| --- | --- | --- |
| Gwen | Steve | Aurora |
| $1,000 | $4,800 | $6,800 |
Double Jeopardy! Round
In 1986 the Giotto spacecraft became the first to fly by the nucleus of a comet, this comet

Over 1,000 feet long, the USS Harry S. Truman is one of these vessels

One who has succumbed to vainglory or gluttony

Legend says this 1964 Ford newcomer was born from a simple idea: give a European sports car a back seat

Possible titles for Monty Python's BBC series were "Owl Stretching Time" & "A Toad Elevating Moment", but they chose this

The 1st commercial facility built as a spaceport, spaceport America lies north of Las Cruces in this state

With songs like "Day-O", a 1950s fad for Calypso music was begun by this man

Andes' Creme de Menthe are the bestselling this type of mint

The late 1800s brought surgical innovations: wearing gloves & these, the latter pioneered by Dr. Paul Berger

The "flying" this was a masonry structure found in Gothic architecture & had no wings

In 1975 a Soviet spacecraft landed on this planet & sent back the first photographs from the surface; the craft soon melted

He played John Fitzgerald, one of the folks against whom "The Revenant" Leonardo DiCaprio sought vengeance

Washington, D.C. chefs suggest that one way to rid this bay of the invasive blue catfish is to simply eat more blue catfish

A Stephen King novel, writing as Richard Bachman

Newton & Leibniz both came up with the fundamental theorem that unites 2 types of this branch of math

Back casts & reach casts are part of this fly activity

The mission of this first Mars rover lasted 3 months in 1997 before communications were cut from Pathfinder

Named for a 5-time All Pro, this award goes to the best linebacker in high school, college & pro football

The beach at Magens Bay near Charlotte Amalie on this island has been called one of the world's most beautiful beaches

3-letter surname of Belgian instrument maker Adolphe; it's also slang for his grea

test

invention

This dancing group on TV's "In Living Color" could jump but not sustain any significant altitude

A former governor of Iowa, Tom Vilsack has served as this Cabinet secretary since 2009

These spider organs produce the silk used to make webs

It seemed wasteful to "live much by candlelight and sleep by sunshine", so Ben Franklin came up with this "timely" idea

Looks like Phil Silvers just caught this dog breed in the act of not flying
Scores at the end of the Double Jeopardy! Round:
| | | |
| --- | --- | --- |
| Gwen | Steve | Aurora |
| $15,800 | $8,800 | $15,600 |
| | | |
Final Jeopardy! Round
His creator sometimes found him a "de

test

able, bombastic, tiresome little creature"
Final scores:
| | | |
| --- | --- | --- |
| Gwen | Steve | Aurora |
| $399 | $17,599 | $7,600 |
| 3rd place: $1,000 | New champion: $17,599 | 2nd place: $2,000 |
Game dynamics: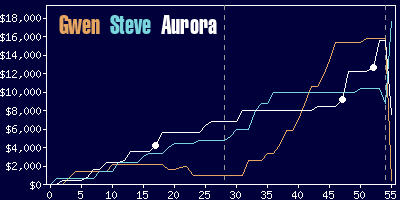 Gwen
Steve
Aurora
$15,800
$8,800
$11,600
16 R,
2 W
14 R,
1 W
16 R
(including 3 DDs),
0 W
Game tape date: 2016-01-27