Show #7245 - Friday, February 26, 2016
Jeopardy! Round
"King Creole", Elvis' favorite of his 31 films, was the first shot on location

--

the French Quarter in this city

Pennsylvania

--

this architectural mainstay

This synonym for a slim briefcase with a handle is also a word for a diplomatic official

An 1867 appeal to scientists by Napoleon III led to the creation of this butter substitute

In 1968 Richard Hooker published this book subtitled "A Novel About Three Army Doctors"

Illinois

--

this tract of grassland

Perhaps due to a bias against the household chore, this Monopoly token was voted out & replaced by a cat in 2013

From words meaning "outside the work" , it's an appetizer served before a meal

The 2014 National Book Award for Fiction went to Iraq vet Phil Klay's book with this title, meaning going back to overseas duty

You love your best these, also where flowers spring from

It's the sport Elvis takes up in "Kid Galahad"

This star group in Ursa Major is also called the Plow

It's the main course in Norman Rockwell's painting "Freedom from Want"

Horatio Hornblower came to the big screen with this word, Horatio's job, before his name in the title

Milwaukee's MLB team is sometimes referred to as the "Brew" this

"Ku-U-I-Po" & "Island of Love" are on the soundtrack of this "colorful" movie, a No. 1 album for 20 weeks

Montana

--

this collection of wealth

This name of a whip used for flogging tells you the number of lines tied to its handle

This fruit is named for its flower, parts of which are said to resemble Christ's crucifixion

For refusing to box, Private Prewitt faces harsh treatment in this James Jones novel of pre-WWII Hawaii

Rest easy

--

Tunisia's on our side; in 2015 it was even designated a major non-NATO this

Elvis' last feature, with Mary Tyler Moore as a nun, was called "Change of" this

--

get it?

South Dakota

--

this canine

Traditional stickball was played with the handle of this cleaning item as the "bat"

The 2-word name of this dish of large prawns uses an English word & an Italian word that mean the same thing

This Hemingway novel about a G.I. injured in Italy during WWI shares its peaceable title with a 16th c. poem

This word for a friend can also mean bait to attract sharks
Scores at the first commercial break (after clue 15):
| | | |
| --- | --- | --- |
| Chris | David | Bill |
| -$400 | $4,400 | $2,400 |
Scores at the end of the Jeopardy! Round:
| | | |
| --- | --- | --- |
| Chris | David | Bill |
| $4,200 | $6,600 | $4,800 |
Double Jeopardy! Round
A cruise to the Bahamas likely includes a stop in this largest city & seaport

(I'm Hiroko Tabuchi.) In 2015 I reported on the Japanese company Takata's delay investigating why inflators on these in cars were exploding

"Bossypants" by this funny lady

Poussin & Leonardo each painted an "Adoration of" the biblical trio known by this 4-letter name

One lacking in or hostile to culture; I'm talkin' to you, Goliath!

Home to the Queen Mary, it's one of the busiest ports in the United States

Of his VP opponent, he said, "Sen. Edwards got picked for... his great hair... How do you think I got the job?'"

James Whitaker, royal reporter for the Daily Mirror, shocked Britain with the news of this woman's eating disorder

"Life Itself" by this late film critic

Uh oh! The organ affected by this inflammation may burst & cause peritonitis (another 3 "I" word!)

France's second-busiest seaport, it was founded under a longer name meaning "haven of grace"

1 of the 2 20th century VPs who had been governor of New York

"An age-old journalistic dilemma": getting the story or protecting this "S"-person

"I Am Not Spock" &, then again, "I Am Spock", both by this actor & director

German artist Max Ernst married a girl named Peggy who came from this art-loving American family

This 9-letter word means not perceptible by the eye

In September 1950 a surprise landing at this port changed the course of the Korean War

By taking over for a deceased prez, he established a precedent

The thrilling Zachary Taylor/Lewis Cass con

test

of 1848 was the first presidential election for this new wire service

"Everybody's Got Something" by this "Good Morning America" anchor

The area around a place, or a synonym for proximity

This port & year-round resort lies at the southern tip of Israel & at the head of the Gulf of Aqaba

He shares his full name (but probably not much else) with a P-Funk music legend

The first reporter in space, Japanese journalist Akiyama Toyohiro trained at Star City in this country

"Kicking & Dreaming: A Story of Heart, Soul, and Rock & Roll" by these 2 sisters

He likened crawling Christina Olson, the subject of his famed 1948 painting, to "a crab on a New England shore"

Often found before "value", this adjective means belonging to a thing by its very nature
Scores at the end of the Double Jeopardy! Round:
| | | |
| --- | --- | --- |
| Chris | David | Bill |
| $13,400 | $17,000 | $12,200 |
| | | |
Final Jeopardy! Round
This title of a British ceremonial march comes from a line in Shakespeare that continues "of glorious war!"
Final scores:
| | | |
| --- | --- | --- |
| Chris | David | Bill |
| $26,800 | $27,000 | $10,200 |
| 2nd place: $2,000 | New champion: $27,000 | 3rd place: $1,000 |
Game dynamics: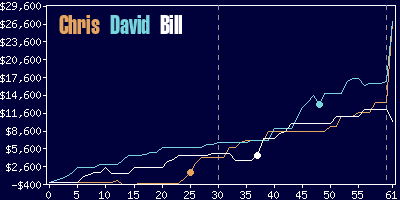 Chris
David
Bill
$12,600
$17,000
$10,400
14 R
(including 1 DD),
1 W
24 R
(including 1 DD),
2 W
16 R
(including 1 DD),
2 W
Game tape date: 2016-01-12