Show #7225 - Friday, January 29, 2016
Jeopardy! Round
ANAGRAMMED BOOKS OF THE BIBLE

DOUBLE-LETTER BRANDS BY SLOGAN

Has its name on a ferry that transports approximately 70,000 passengers each weekday

Served with or without matzo balls, C is for this soup "for the Soul"

Dwight Schrute, on this sitcom: "I did not become a... volunteer sheriff's deputy to make friends. & by the way, I haven't"

"When you care enough to send the very best"

(Po delivers the clue.) This British admiral, killed during his greatest victory at Trafalgar, was blind in one eye but didn't wear an eyepatch. You know I would have. Nobody messes with you when you wear an eyepatch

Shares its name with a city in northeastern Kansas

T is for this soup that's paired with grilled cheese on the Campbell's Kitchen website

Episodes of this 1970s show included "Some 38th Parallels" & "Patent 4077"

(Po delivers the clue.) This Danish master wrote a tale about a brave one-legged tin soldier & his love for a tiny toy dancer; he ended up being melted by the fire into the shape of a heart

--

sorry, that one always kinda gets me

"F" is for this soup with a little cheesy goodness on top

On "The Simpsons" this character said, "You may remember me from such medical films as 'Alice Doesn't Live Anymore'"

(Po delivers the clue.) In the American Revolution, I would have been grateful to this woman for bringing water in the heat of battle... though Molly Bowl of Noodles & Molly Dessert would have been nice to see, too

Is the only one entirely on the U.S. mainland

B is for this thick 6-letter soup, perhaps lobster or mushroom

Mark Wahlberg produced & guest starred on this series that ran on HBO from 2004 to 2011

"The toughest 4-letter word on wheels"

(Po delivers the clue.) I'm a big fan of this Shakespeare knight but Prince Hal ends up telling him, "the grave doth gape for thee thrice wider"

--

c'mon, that's not what you say to an old buddy

Hosted the 1939 & 1964 World's Fairs

A is for this spicy Mexican soup whose name is Spanish for "meatball"

Before he was Leonard on "The Big Bang Theory", this actor made out with future co-star Mayim Bialik on "Blossom"

(Po delivers the clue.) Jordan Noble was just 14 when he played the long roll in this 1815 battle, Andrew Jackson's victory over the British; so was a drummer, but's that's OK. We can't alI be, you know, in the thick of the fight
Scores at the first commercial break (after clue 15):
| | | |
| --- | --- | --- |
| Mara | Chris | Sandy |
| $5,600 | $2,400 | $2,400 |
Scores at the end of the Jeopardy! Round:
| | | |
| --- | --- | --- |
| Mara | Chris | Sandy |
| $7,800 | $5,800 | $5,000 |
Double Jeopardy! Round
WHERE'S THAT BOOK?
(Alex: And next, we have an interesting twist to [*]. You'll see when we get into the category.)

STARTS & ENDS WITH DIFFERENT VOWELS

BAND WITH
(Alex: ...not width.)

In the early 1900s some ketchup used rotten tomatoes masked by sodium benzoate, but this co. went artificial-preservative-free

"Where the Sidewalk Ends" is a collection of his poems & drawings

In 1952 Thomas Watson Sr. turned over the presidency of this tech company to Thomas Jr.

Leo Durocher said that he "never questioned the integrity of" one; his eyesight, yes

The area of this capital of Peru stretches over 1,500 square miles

Freddie Mercury &
Brian May

Begun during the Franco era, the tomato-hurling event known as "La Tomatina" is a fixture of this country

This title of E.M. Forster's first novel completes the line "fools rush in..."

This "senior" pastor was born with the first name Michael but changed that to Martin & did the same for his son

From the Latin for "not known", it means having one's identity concealed

Mike Love,
Al Jardine &
the Wilson brothers

On PETA's website you can play a video game where you throw tomatoes at people who wear this

If you are looking for the title guy of this series, you might also spot his gal pal Wenda & his foe Odlaw

This sr. hit 152 home runs in his major league career; add Jr.'s total & you get 782

A term for military weapons, ammunition & combat vehicles; insert an "I" & you get a statute

"Canada's Breadbasket", this province is sandwiched between Alberta & Manitoba, eh?

In 2013 Russian activists pelted King Willem-Alexander of this country with tomatoes

Max is wearing his wolf suit & causing mischief at the start of this Sendak classic

This "Father of the Waltz" (& of Jr.) composed more than 150 waltzes

You'll find K-I, ki, meaning "energy", within the name of this martial art

Rivers emptying into this gulf include the Sonora & Colorado

When people don't get enough of this element, it may lead to osteoporosis; when tomatoes don't, they get blossom end rot

In Maria Semple's novel, Bee is the daughter of this woman & asks the title question, "Where'd you go"

Around 1830 this pere wrote a series of historical plays like "Napoleon Bonaparte"

It's the central dark spot of the shadow cast by the Moon or Earth during an eclipse

It's believed that Lake Nicaragua & this city-named lake to the northwest once formed part of a Pacific Ocean bay

Donald Fagen &
Walter Becker
Scores at the end of the Double Jeopardy! Round:
| | | |
| --- | --- | --- |
| Mara | Chris | Sandy |
| $12,200 | $21,400 | $9,800 |
| | | |
Final Jeopardy! Round
He wrote, "As life and fortune are risked by serving his majesty, it is necessary that the latter shall be secured"
Final scores:
| | | |
| --- | --- | --- |
| Mara | Chris | Sandy |
| $2,999 | $18,399 | $1 |
| 2nd place: $2,000 | New champion: $18,399 | 3rd place: $1,000 |
Game dynamics: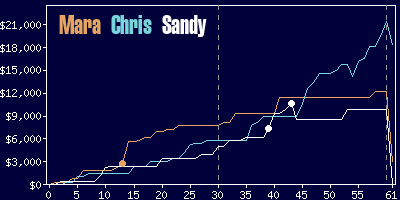 Mara
Chris
Sandy
$10,200
$21,400
$11,400
15 R
(including 1 DD),
0 W
24 R,
1 W
14 R
(including 1 DD),
1 W
(including 1 DD)
Game tape date: 2015-12-15