Show #2057 - Tuesday, July 13, 1993
1993 Seniors Tournament quarterfinal game 2.
Jeopardy! Round
Carson City, Nevada was named for this frontier scout

--

scout's honor

Bandleader brothers who played themselves in the musical bio "The Fabulous Dorseys"

Baked beans & steamed brown bread are a famous combination from this New England city

This southern California newspaper is the flagship paper in the Times Mirror chain

The Shadow knows that this shadow seeker is a marmot

A sign that says "Chiens interdits" means these pets are not allowed

You'll find the Menninger CLinic in this Kansas City

Lee Remick made her film debut as this actor's wife in "A Face in the Crowd" before he moved to Mayberry

This sauce is the traditional topping for eggs Benedict

This gasoline chain's former song begins, "You can trust your car to the man who wears the star"

Its pond lodge may have a shredded-bark carpet & several entranceways

The French word for this nationality is Irlandaise

The Eagle Gate in this capital city was once the entrance to Brigham Young's estate

Ads for "Viva Las Vegas" called her "That 'bye-bye' gal", a reference to "Bye Bye Birdie"

Before making bread, bakers usually "proof" this leavening agent to see if it's alive

Rumor has it Wendy's founder Dave Thomas told this man to open a "chicken only" restaurant chain

It's name comes from the French for "honeycomb" & it honeycombs the ground with its burrows

If you want to buy this sports equipment, ask for les skis nautiques

This state capital of New Mexico is nicknamed "The City Different"

John Wayne & Montgomery Clift hit the Chisholm Trail & each other in this western named for a river

These bivalves should have their beards removed before cooking

This major grocery chain began in 1859 when 2 men set up shop on the New York docks to sell tea

Wood rats are also known by this name because they collect shiny objects for their nests

The sky is le ciel, & this phenomenon seen in the sky is l'arc-en-ciel

It's the capital of the Sooner State

J.D. Salinger wrote the story on which this Susan Hayward film with the following theme was based:

Used in Middle Eastern cooking, tahini is a paste made of these seeds

The largest U.S. drugstore chain in terms of sales, it used to be known for its soda fountains

In one downward leap one of these rodents may glide for over 150 feet

If you want to know who's doing this at a concert, ask, "Qui chante?"
Scores at the first commercial break (after clue 15):
| | | |
| --- | --- | --- |
| Will | Marilyn | Hugh |
| $600 | $2,100 | $1,200 |
Scores at the end of the Jeopardy! Round:
| | | |
| --- | --- | --- |
| Will | Marilyn | Hugh |
| $1,700 | $4,600 | $100 |
Double Jeopardy! Round
| | | | | | |
| --- | --- | --- | --- | --- | --- |
| | | | | | |
| Explorer Bartholomew Gosnold gave this Massachusetts cape its "fishy" name | Because they believed in an afterlife, these people mummified animals as well as pharaohs | A 1992 study revealed that for an average adult this is 98.2°, not 98.6° as long believed | Thought to have been designed by an American, Chile's flag features these 3 colors | The name shared by Claudio's beloved in "Measure for Measure" & Romeo's beloved in another play | Hey, Vern! Vern is short for this name that means "youthful" or "springlike" |
| Legend says Caribbean Indians told him about the Fountain of Youth, for which he explored Florida | The people of this empire centered in the valley of Mexico worshipped a corn god named Centeotl | Scarlatina is another name for this illness characterized by a rash & "strawberry tongue" | Appropriately, it's the type of tree found on Lebanon's flag | Of Laertes, Claudius or Polonius, the one who's Hamlet's stepfather | The English name Jennifer comes from the name of this Arthurian queen |
| Fridtjof Nansen was the first to ski across this largest island in the world | This leader of the Reformation wrote the famous hymn "A Mighty Fortress is Our God" | For women over 50, the American Cancer Society recommends having this breast exam once a year | Israel's coat of arms shows a menorah & its state flag shows this symbol | The sails of her barge were "so perfumed that the winds were love-sick with them" | From the Greek meaning "of Dionysius", it's a great name for a "menace" |
| Ibn Battutah, who visited almost all Muslim countries in the 14th century, began with a pilgrimage here | The name of these ancient Celtic priests may be derived from daur, an old Irish word for "oak tree" | In 1902 Dr. Eugene Opie established that this disorder results from damage to the pancreatic tissue | The Union Jack of the U.K. combines the crosses of St. Andrew, St. Patrick & this saint | His last speech begins, "I will not yield, to kiss the ground before young Malcolm's feet" | This female name means "young & verdant", as Daphnis could have told you |
| This Norwegian established a shipping business with funds from his conquest of the South Pole | This late Archbishop of New York became a cardinal in 1946 | Many people omit raw eggs from their diet because they're known to cause this type of food poisoning. | Once part of the United Arab Republic, this country adopted the republic's flag in 1980 | One of this title character's last lines is "Strike a free march to Troy!" | Many women named this are nicknamed Trixie, though Dante's beloved probably wasn't |
Scores at the end of the Double Jeopardy! Round:
| | | |
| --- | --- | --- |
| Will | Marilyn | Hugh |
| $5,300 | $11,600 | $7,700 |
| | | |
Final Jeopardy! Round
He used his fishing boat, the Pilar, for counter-intelligence work during World War II
Final scores:
| | | |
| --- | --- | --- |
| Will | Marilyn | Hugh |
| $10,300 | $12,600 | $10,010 |
| 2nd place: $1,000 if eliminated | Automatic semifinalist | 3rd place: $1,000 if eliminated |
Game dynamics: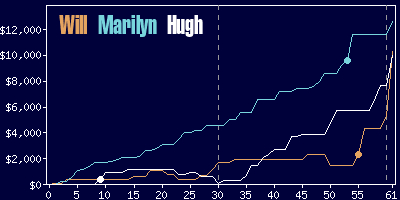 Will
Marilyn
Hugh
$4,100
$10,200
$7,700
12 R
(including 1 DD),
3 W
28 R
(including 1 DD),
0 W
16 R
(including 1 DD),
3 W
Game tape date: 1993-03-01