Show #7158 - Wednesday, October 28, 2015
Jeopardy! Round
PRESIDENTS' MIDDLE NAMES
(Alex: We'll give it to you.)

In Berlin's Philharmonie you might sit behind the orchestra; it's built "in-the-" this, also a term used of theaters

Time to head to Nevada in its Tahoe

Just "think"

--

in 2012 Ginni Rometty became this company's first female CEO

Chaud, as in chocolat chaud

The tag line of this film was "A murdered wife. A one-armed man. An obsessed detective. The chase begins"

In the 1940s the BBC Proms concerts moved from Queen's Hall to this one named for a prince

Max out storage space in its Sienna minivan

A make-out session in a restaurant or at a ballgame

For dinner it's poisson (note the double "S")

In 2014 ninnies Lloyd & Harry were back in the sequel to this 1994 movie

Manchester's Bridgewater Hall is so sonically tight that workmen in it didn't hear a 2-ton bomb this org. set off 1/2 mile away

I think I could learn to enjoy its Ghost Series II

Resembling a flying saucer, the Theme Building located here is a cultural & historical landmark

Don't let le gazon grow under your feet

The hall in Lahti, Finland is named after this composer

Perhaps its Impreza will imprezz you

This network's original series have included "Monk", "Psych" & "Suits"

A reporter should carry un stylo

In 1996 Woody Harrelson portrayed this publisher & champion of free speech

This European city's philharmonic has a glorious showcase to play Mozart & more at its Musikfreunde

Don't crash its Cadenza into a credenza

Timothy Leary was a leading advocate for the use of psychedelic drugs, this one in particular

La mariee, perhaps all in white

They're the title objects that split Gwyneth Paltrow's life in two
Scores at the first commercial break (after clue 15):
| | | |
| --- | --- | --- |
| Sean | Chris | Nikki |
| $1,400 | $2,000 | $4,400 |
Scores at the end of the Jeopardy! Round:
| | | |
| --- | --- | --- |
| Sean | Chris | Nikki |
| $800 | $4,200 | $4,600 |
Double Jeopardy! Round
THINK MUSIC
(Alex: In [*], you have to name the artist famous for the lyric we will give you.)

This horse: "An American Legend" by Laura Hillenbrand

Australian vineyards provide the grapes for this singer's Koala Blue wines

You take the left half of the old name, we'll take the right, said these 2 new European countries in 1993

"If you want my body & you think I'm sexy, come on sugar let me know"

A photo of the flag-raising on this island was used as a model for the Marine Memorial at Arlington

It partners with "whole kit" to denote something in its entirety

This number: "A Portrait of My Father" by George W. Bush

Her most famous role came in 1939 as Melanie Wilkes

This Pacific island nation dropped the "Western" from its name & it's now just "the Independent State of" it

"You probably think this song is about you"

The Mameluke sword carried by officers dates to 1805, when the Marines rid the "shores of" this place of pirates

A pipe of near eastern origin with a flexible intake tube

"Endurance": this Antarctic explorer's "Incredible Voyage"

Nothing is ordinary for Olivia in this Shakespeare comedy: she loves Cesario, who is Viola in disguise

In its official name this nation now describes itself as a "Bolivarian Republic"

"You're the reason I'm a-travelin' on, but don't think twice, it's all right" (he wrote it)

In the Pacific, Marine bases are located at Oahu, Hawaii & this Japanese island in the Ryukyus

A funny reel of footage is named for this type of goof

These "Sisters: The Lost Lives of the Daughters of Nicholas and Alexandra"

Olivia Goldsmith, who wrote this 1992 novel about women whose exes acquire younger spouses, died during a facelift

Bombay has become Mumbai & this southern city famous for its fabrics is now known as Chennai

"I'm thinking out loud, maybe we found love right where we are"

Marine recruits receive basic training in one of 2 places: Parris Island, S.C. or this Southern California city

French & English are the official languages of this country on Africa's west coast

This one-word title: "Confessions of an Unredeemed Drug Addict" by William S. Burroughs

Olivia Williams is stuck in 1940s New Mexico as a physicist's wife on this WGN series without "Project" in its title

Tshwane, after a local chief, is the new name of this South African city formerly named for a Boer leader

"You might think I'm foolish or maybe it's untrue, you might think I'm crazy, all I want is you"

In 1962 he became the first Marine to orbit the Earth

Imperative & subjunctive are 2 examples of this property of verbs
Scores at the end of the Double Jeopardy! Round:
| | | |
| --- | --- | --- |
| Sean | Chris | Nikki |
| $8,400 | $7,400 | $7,600 |
| | | |
Final Jeopardy! Round
Anna Freud wrote, "The infantile ego resorts to" this behavior "in order not to become aware of some painful impression"
Final scores:
| | | |
| --- | --- | --- |
| Sean | Chris | Nikki |
| $1,599 | $1,700 | $14,801 |
| 3rd place: $1,000 | 2nd place: $2,000 | New champion: $14,801 |
Game dynamics: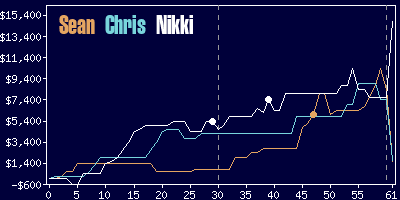 Sean
Chris
Nikki
$7,600
$7,400
$9,400
16 R
(including 1 DD),
3 W
12 R,
2 W
18 R,
7 W
(including 2 DDs)
Game tape date: 2015-09-15