Show #2445 - Friday, March 31, 1995
Bruce Borchardt game 5.
Jeopardy! Round
In Dec. the Wyoming Territory passed the 1st U.S. law giving women the right to do this & hold office

Aired Nov. 7 & 8, 1976, this 1939 film is TV's highest-rated movie

This sturdy, all-purpose automobile was first mass-produced for U.S. Armed Forces in 1940

After Rome burned in 64 A.D., this emperor rebuilt his palace on a colossal scale

In the 1910s, this magician was famous for his escape from the "water torture cell"

This term for a phone linkup between superpowers implies that it's for heated exchanges

In September a scheme to corner this commodity resulted in "Black Friday"

This Don Johnson series was derived from a 2-word note by NBC's president: "MTV cops"

Many trace the development of this vehicle back to Carl Eliason's motorized toboggan of 1927

Maria Theresa ordered La Scala built in this Italian city after fire destroyed the old theatre

In June 1994 Robert Shepard escaped from a W. Va. jail by braiding this teeth cleaner into a rope

When you're "on a roll", you may "relish" expressing you're delight with this tasty interjection

N.Y. Herald publisher James Gordon Bennett, Jr. financed an African expedition to find this man

During the first season, Linda Purl played Andy Griffith's daughter on this series

The Inter-American Highway, a section of this longer roadway, runs from Laredo, Texas to Panama City

This theatre burned in 1613 when a prop cannon ignited its roof, but was rebuilt within a year

This famous Kentucky frontiersman was captured by the Shawnee in 1778, but he escaped

In other words, this play could be "Tabby atop one Steamy Metal Housetop"

A ceremony in this future state marked the completion of the transcontinental railroad

In the 1991 drama "Son of the Morning Star", Gary Cole played this 19th century military figure

The pedals on this type of motorized bicycle are used to assist & start the small motor

In 1947 fire destroyed most of Bar Harbor on this state's Mount Desert Island

In 1838 this black abolitionist & author escaped from slavery to

New

Bedford

, Massachusetts

Tuber term for a problem so sensitive that handling it is risky

The Indiana Agricultural College in West Lafayette adopted this name, after its benefactor

In 1983 Judy Woodruff replaced Jessica Savitch as host of this PBS documentary program

Germany's Schwebebahn is the oldest example of this single guideway transport system

Over 2,000 died when the Church of la Compania burned in this Chilean capital

In 1814 this pirate's base in Barataria Bay was destroyed by the U.s. Navy, but he escaped

In the film "The Wizard of Oz", the Cowardly Lion asks, "What makes" these African people "so hot"
Scores at the first commercial break (after clue 15):
| | | |
| --- | --- | --- |
| Bruce | Bob | Arthur |
| $4,300 | $800 | $200 |
Scores at the end of the Jeopardy! Round:
| | | |
| --- | --- | --- |
| Bruce | Bob | Arthur |
| $5,200 | $2,600 | $1,700 |
Double Jeopardy! Round
It's the capital of South Africa's Cape Province

Part of Marius Pepita's ballet based on this novel is set at a gypsy camp near windmills

One of Michael Graves' most important commissions was the addition to this city's Whitney Museum

She didn't live to see son John Quincy become president; she passed away 7 years earlier

In 1872 this British naturalist wrote "The Expression of the Emotions in Man and Animals"

Buck kills Spitz over control of the dog team in this Jack London story

Boulevard St.-Laurent divides this Quebec city into Eastern & Western sections

Set in Hungary, "Carnival at Pest" is a 1930 ballet danced to this composer's rhapsodies

Ancient Roman architect Vitruvius served as an artillery engineer to this first Roman emperor

In 1976, she campaigned for son-in-law Charles Robb, who was running for Lt. Gov. of Virginia

The Monterey cypress is named for the Monterrey Peninsula in this state, its native region

Sal Paradise & Dean Moriarity travel around the county in this Jack Kerouac work

This Welsh capital borders the Bristol Channel, an arm of the Atlantic

it's the number of basic positions of the feet in classical ballet

Richard Morris Hunt designed The Breakers, an opulent Renaissance palazzo in this Rhode Island city

Myra Bradwell, the first woman admitted to the Illinois bar, helped secure her release from an institution

From the Greek for "earthquake" & "to write", it's an instrument used to record an earthquake's intensity

In this Ray Bradbury work, Granger leads a secret group of intellectuals who've memorized great books

The largest city in southern China, it's also known as Guangzhou

When this dancer choreographed "The Afternoon of a Faun" in 1912, his sister Bronislava played a nymph

Guarino Guarini designed this Italian city's chapel of the Holy Shroud on a circular plan

Her influence on her husband may never be known since she destroyed many papers after his 1923 death

The Yucca flower is pollinated by the female of the Yucca species of this winged insect

Faye Greener is a second-rate actress seeking to advance her career in this Nathanael West novel

This Spanish city was founded by Carthaginians; the Romans called it Carthago Nova, or "

New

Carthage"

In 1895 Pierina Legnani became the 1st ballerina to play Odette & Odile as a dual role in this ballet

He designed the German Pavilion as well as his Barcelona chair for the 1929 Barcelona Exhibition

She outlived the president by nearly 40 years, having married him in 1886 when she was 21

When light moves between clear substances of different densities, its speed changes & this happens

In Edna Ferber's "Giant", he's a poor ruffian who becomes an oil baron
Scores at the end of the Double Jeopardy! Round:
| | | |
| --- | --- | --- |
| Bruce | Bob | Arthur |
| $7,200 | $4,200 | $1,700 |
| | | |
Final Jeopardy! Round
The most common name for rulers of ancient Egypt was Ptolemy at 15; the next most common was this name at 11
Final scores:
| | | |
| --- | --- | --- |
| Bruce | Bob | Arthur |
| $6,000 | $10 | $3,399 |
| 5-day champion: $54,099+Jeopardy! sports edition | 3rd place: a Magnavox TV/VCR combo + Jeopardy! Sports Edition | 2nd place: a trip to Carmel Valley Ranch resort + his & her Fox tennis rackets & bags + Jeopardy! Sports Edition |
Game dynamics: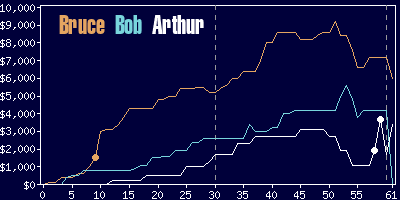 Bruce
Bob
Arthur
$6,200
$4,200
$2,900
25 R
(including 1 DD),
5 W
17 R,
3 W
10 R
(including 1 DD),
4 W
(including 1 DD)
Game tape date: 1994-12-07