Show #3105 - Friday, February 13, 1998
1998 Tournament of Champions final game 2.
Jeopardy! Round
LOOK WHO'S TALKING
(Alex: We'll give you the name of the individual who's talking; you have to identify the work of literature that that's from.)

In 1945 he became the oldest veep to succeed to the presidency upon the death of a president

He later went back to Mellencamp, but under this name his album "American Fool" was No. 1 in 1982

Benjamin Franklin encouraged this pamphleteer's 1774 move from England to America

This cylindrical kitchen tool is useful for making pie crusts, or for keeping wayward husbands in line

One can be "tetched" in this body part

In November 1910 he was elected governor of New Jersey; 2 years later he was elected president

It's the name of King John's crusading older brother

On June 14, 1777, he was given command of the Sloop Ranger

Their exploits included a quest for the "Kurwood Derby" & the discovery of upsadaisium, a new mineral

A "bombilation" is this type of sound often heard near beehives

After a 19% showing in 1992, this presidential candidate could only muster 8 1/2% of the vote in 1996

Jing-Mei Woo, Rose Hsu Jordan, Waverly Jong, Lena St. Clair & their mothers

Role shared by Eartha Kitt on TV & Michelle Pfeiffer on the big screen

It's been said that about 1/3 of all British troops in the colonies were these German mercenaries

For an incredible 50 years, 1926-76, he illustrated the official Boy Scout calendar

An "avuncular" person behaves in a way that reminds one of this relative

This Texan served a record 17 years as Speaker of the House between 1940 & 1961

Amanda Blake played this saloon owner on "Gunsmoke" for 19 seasons

The Boston Port Act was one of these laws passed by England to retaliate for the Boston Tea Party

In 1986, Austrian-born Falco topped the charts with this song about another Austrian:

A "monoglot" only knows one of these

Known as "Battling Bob", he represented Wisconsin in the U.S. Senate from 1906 to 1925

This character describes herself as the title animal in "Cat on a Hot Tin Roof"

On Dec. 10, 1778 this New York attorney was chosen president of the Continental Congress

George Carlin's feature debut & Doris Day's last starring role were in the 1968 film "With Six You Get" this

When a joke causes people to "cachinnate", they're doing this too loudly
Scores at the first commercial break (after clue 11):
| | | |
| --- | --- | --- |
| Bob | Dan | Kim |
| $300 | $900 | $1,000 |
Scores at the end of the Jeopardy! Round:
| | | |
| --- | --- | --- |
| Bob | Dan | Kim |
| $1,500 | $4,800 | $1,300 |
Double Jeopardy! Round
WHERE THE WILD THINGS ARE

Found in Central & South American forests, the spider monkey hangs from trees by this type of tail

This "Pieta" artist was born in Caprese, a village in Tuscany, in 1475

In 1962, his pop version of "I Can't Stop Loving You" was the No. 1 single of the year

Few were surprised when Julia Roberts split from this singer after 21 months of marriage

Jesus was still dripping from this event when a voice from heaven called him "my beloved Son"

In 1997, as her daughter left for Stanford, she wondered "why I ever agreed to let her skip third grade"

These smallest apes spend most of their lives, including mating & giving birth, in trees

This Dutchman's 1660s painting of "The Jewish Bride" is in the Rijksmuseum

Hit in which Sinatra sang, "Love was just a glance away, a warm embracing dance away" ...dooby dooby do

Unhappy in his marriage, he loved his wife's sister & memorialized her in "Oliver Twist"

After his name was changed to Israel, God still called him this, to tell him to go down to Egypt

Ironically, Marianne Moore began a poem about this literary form, "I, Too, Dislike It"

This banded mammal can be seen in the Southern U.S. & in The Clash's "Rock The Casbah" video

He painted the scandalous picture seen here:

Henry Mancini topped the pop charts just once, with this movie theme heard here:

One of the things she asked Tom to return in their ugly divorce was her Emmy award

In Eden the Lord told Adam he would return to this & told the serpent he would eat it

In 1776 she wrote to husband John, "Remember the ladies, and be more generous... to them than your ancestors"

The wild horned aoudad, or Barbary sheep, lives in the Aures & these northern African mountains

The name of his 1896 painting "No Te Aha Oe Riri" means "Why Are You Angry"?

In 1986 Whitney Houston found this title lyric is "easy to achieve"

In 1762 after Peter III threatened divorce, this wife deposed him & became empress of Russia

God told Joshua, "Make thee sharp knives" & do this to the male Israelites "A second time"

"One is not born a woman, one becomes one", this Frenchwoman wrote in "The Second Sex"

Resembling the antelope, this animal named for its forked horns is the fastest in the Western Hemisphere

This Belgian surrealist painted a 1957 mural called "La Fee Ignorante"

--

"The Ignorant Elf"

They're "an institute you can't disparage. Ask the local gentry, and they will say it's element'ry"

To end his marriage in 1877, this Russian composer tried to catch a lethal case of pneumonia

In 1 Kings 19 God tells him "Anoint Hazael", but he doesn't tell him to visit homes during the Seder

This British novelist & essayist thought human character changed "on or about December 1910"
Scores at the end of the Double Jeopardy! Round:
Final Jeopardy! Round
City where Goethe & Nietzsche died, & a republic & a breed of dog were born
Final scores:
| | | |
| --- | --- | --- |
| Bob | Dan | Kim |
| $1 | $10,000 | $1,700 |
Cumulative scores:
| | | |
| --- | --- | --- |
| Bob | Dan | Kim |
| $1 | $20,300 | $7,800 |
| 2nd runner-up: $10,000 | Tournament champion: $100,000 | 1st runner-up: $15,000 |
Game dynamics: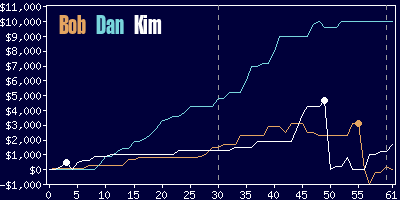 Bob
Dan
Kim
$3,300
$10,000
$6,400
14 R,
5 W
(including 1 DD)
23 R,
1 W
17 R,
3 W
(including 2 DDs)
Game tape date: Unknown